Articles | Volume 24, issue 6
https://doi.org/10.5194/hess-24-2931-2020
© Author(s) 2020. This work is distributed under
the Creative Commons Attribution 4.0 License.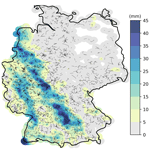 Rainfall estimation from a German-wide commercial microwave link network: optimized processing and validation for 1 year of data
Rainfall is one of the most important environmental variables. However, it is a challenge to measure it accurately over space and time. During the last decade, commercial microwave links (CMLs), operated by mobile network providers, have proven to be an additional source of rainfall information to complement traditional rainfall measurements. In this study, we present the processing and evaluation of a German-wide data set of CMLs. This data set was acquired from around 4000 CMLs distributed across Germany with a temporal resolution of 1 min. The analysis period of 1 year spans from September 2017 to August 2018. We compare and adjust existing processing schemes on this large CML data set. For the crucial step of detecting rain events in the raw attenuation time series, we are able to reduce the amount of misclassification. This was achieved by using a new approach to determine the threshold, which separates a rolling window standard deviation of the CMLs' signal into wet and dry periods. For the compensation for wet antenna attenuation, we compare a time-dependent model with a rain-rate-dependent model and show that the rain-rate-dependent model performs better for our data set. We use RADOLAN-RW, a gridded gauge-adjusted hourly radar product from the German Meteorological Service (DWD) as a precipitation reference, from which we derive the path-averaged rain rates along each CML path. Our data processing is able to handle CML data across different landscapes and seasons very well. For hourly, monthly, and seasonal rainfall sums, we found good agreement between CML-derived rainfall and the reference, except for the winter season due to non-liquid precipitation. We discuss performance measures for different subset criteria, and we show that CML-derived rainfall maps are comparable to the reference. This analysis shows that opportunistic sensing with CMLs yields rainfall information with good agreement with gauge-adjusted radar data during periods without non-liquid precipitation.
Received: 13 Aug 2019 – Discussion started: 19 Aug 2019 – Revised: 21 Apr 2020 – Accepted: 01 May 2020 – Published: 04 Jun 2020
Measuring precipitation accurately over space and time is challenging due to its high spatiotemporal variability. It is a crucial component of the water cycle, and knowledge of the spatiotemporal distribution of precipitation is an important quantity in many applications across meteorology, hydrology, agriculture, and climate research.
Typically, precipitation is measured by rain gauges, ground-based weather radars, or spaceborne microwave sensors. Rain gauges measure precipitation at the point scale. Errors can be caused, for example, by wind, solid precipitation, or evaporation losses (Sevruk, 2005). The main disadvantage of rain gauges is their lack of spatial representativeness.
Weather radars overcome this spatial constraint, but they are affected by other error sources. They do not directly measure rainfall but rather estimate it from related observed quantities, typically via the Z−R relation, which links the radar reflectivity "Z" to the rain rate "R". This relation, however, depends on the rain drop size distribution (DSD), resulting in significant uncertainties. Dual-polarization weather radars reduce these uncertainties, but they still struggle with the DSD-dependence of the rain rate estimation (Berne and Krajewski, 2013). Additional error sources can stem from the measurement high above ground, from beam blockage, or from ground clutter effects.
Satellites can observe large parts of the Earth, but their spatial and temporal coverage also has limits. Geostationary satellites can provide a high temporal sampling rate of a specific part of the Earth; however, rain rate estimates show large uncertainties because they have to be derived from measurements of visible and infrared channels, which were not meant for this purpose. Satellites in low Earth orbits typically use dedicated sensors for rainfall estimation (microwave radiometers and radars), but their revisiting times are constrained by their orbits. Typical revisit times are in the order of hours to days. As a result, even merged multi-satellite products have a latency of several hours; for example, the Integrated Multi-satellite Retrievals (IMERG) early run of the Global Precipitation Measurement (GPM) mission has a latency of 6 h, while it is limited to a spatial resolution of 0.1∘. The retrieval algorithms employed are highly sophisticated, and several calibration and correction stages are potential error sources (Maggioni et al., 2016).
Additional rainfall information, such as that derived from commercial microwave links (CMLs) maintained by cellular network providers, can be used to compare and complement existing rainfall data sets (Messer et al., 2006). In regions with sparse observation networks, they might even provide unique rainfall information.
The idea of deriving rainfall estimates from the opportunistic usage of attenuation data from CML networks emerged over a decade ago, independently in Israel (Messer et al., 2006) and the Netherlands (Leijnse et al., 2007). The main research foci in the first decade of dedicated CML research were the development of processing schemes for the rainfall retrieval and the reconstruction of rainfall fields. The first challenge for rainfall estimation from CML data is to distinguish between fluctuations of the raw attenuation data during rainy and dry periods. This was addressed by different approaches which either compared neighboring CMLs using the spatial correlation of rainfall (Overeem et al., 2016a) or focused on analyzing the time series of individual CMLs (Chwala et al., 2012; Polz et al., 2019; Schleiss and Berne, 2010; Wang et al., 2012). Another challenge is to estimate and correct the effect of wet antenna attenuation. This effect stems from the attenuation caused by water droplets on the covers of CML antennas, which leads to rainfall overestimation (Fencl et al., 2019; Leijnse et al., 2008; Schleiss et al., 2013).
As many hydrological applications require spatial rainfall information, several approaches have been developed for the generation of rainfall maps from the path-integrated CML measurements. Kriging was successfully applied to produce countrywide rainfall maps for the Netherlands (Overeem et al., 2016b), representing CML rainfall estimates as synthetic point observations at the center of each CML's path. More sophisticated methods can account for the path-integrated nature of the CML observations, using an iterative inverse distance weighting approach (Goldshtein et al., 2009), stochastic reconstruction (Haese et al., 2017), or tomographic algorithms (D'Amico et al., 2016; Zinevich et al., 2010).
CML-derived rainfall products have also been used to derive combined rainfall products from various sources (Fencl et al., 2017; Liberman et al., 2014; Trömel et al., 2014). In parallel, the first hydrological applications were tested. CML-derived rainfall was used as model input for hydrologic modeling studies for urban drainage modeling with synthetic (Fencl et al., 2013) and real-world data (Stransky et al., 2018) or on runoff modeling in natural catchments (Brauer et al., 2016; Smiatek et al., 2017).
With the exception of the research carried out in the Netherlands, where more than 2 years of data from a countrywide CML network were analyzed (Overeem et al., 2016b), CML processing methods have only been tested on small data sets. We advance the state of the art by performing an analysis of rainfall estimates derived from a German-wide network of close to 4000 CMLs. In this study, one CML is counted as the link along one path, typically with two sub-links, for communication in both directions. The temporal resolution of the data set is 1 min, and the analysis period is 1 year (from September 2017 to August 2018). The network covers various landscapes from the North German Plain to the Alps in the south, which feature individual precipitation regimes.
The objectives of this study are (1) to compare and adjust selected existing CML data processing schemes for the classification of wet and dry periods and for the compensation of wet antenna attenuation and (2) to validate the derived rain rates with an established rainfall product, namely RADOLAN-RW, both on the countrywide scale of Germany.
2.1

 Reference data set

The Radar-Online-Aneichung data set (RADOLAN-RW) from the German Weather Service (DWD) is a radar-based and gauge-adjusted precipitation data set. We use data from the archived real-time RADOLAN-RW product as a reference data set throughout this work (DWD, 2019). It is a compiled radar composite from 17 dual-polarization weather radars operated by DWD and adjusted by more than 1000 rain gauges in Germany and 200 rain gauges from surrounding countries. However, RADOLAN-RW does not use dual-pol information. It is based on the reflectivity observations in horizontal polarization from each radar site, which are available in real time every 5 min. These data are then used to compile a national composite of reflectivities, from which rain rates are derived. For the hourly rainfall information of the RADOLAN-RW product, the national composite of 5 min radar rain rates is then aggregated and adjusted with the hourly rain gauge observations. A weighted mixture of additive and multiplicative corrections is applied. The rain gauges used for the adjustment have a spatial density of approximately one gauge per 300 km2.

The gridded RADOLAN-RW data set has a spatial resolution of 1 km, covering Germany with 900 × 900 grid cells. The temporal resolution is 1 h, and the rainfall values are given with a quantization of 0.1 mm. RADOLAN-RW is available with a lag time of around 15 min. Detailed information on the RADOLAN processing and products is available from DWD (Bartels et al., 2004; Winterrath et al., 2012).

Kneis and Heistermann (2009) and Meissner et al. (2012) compared RADOLAN-RW products to gauge-based data sets for small catchments and found differences in daily, area-averaged precipitation sums of up to 50 %, especially for the winter season. Nevertheless, no data set with comparable temporal and spatial resolution, as well as extensive quality control, is available.

In order to compare the path-integrated rainfall estimates from CMLs and the gridded RADOLAN-RW product, RADOLAN-RW rain rates are resampled along the individual CML paths. For each CML, the weighted average of all intersecting RADOLAN-RW grid cells is calculated, with the weights being the lengths of the intersecting CML path in each cell. As a result, one time series of the hourly rain rate is generated from RADOLAN-RW for each CML. The temporal availability of this reference is 100 %; however, we excluded the CML and RADOLAN-RW pairs for which CML data were unavailable from the evaluation. We chose the RADOLAN-RW product because it provides both a high temporal and spatial resolution throughout Germany. This resolution is the basis for the evaluation of the path-averaged rain rates derived from CMLs. The rain gauge adjustment, while not perfect, assures that the RADOLAN-RW rainfall estimates have an increased accuracy compared with a radar-only data set.
2.2

 Commercial microwave link data

We present data from 3904 CMLs operated by Ericsson in Germany. Their distribution throughout Germany is shown in Fig. 1. The CMLs are distributed countrywide and cover all landscapes, ranging from the North German Plain to the Alps in the south. The uneven distribution, with large gaps in the northeast can be explained by the fact that we only access one subset of all CMLs installed, the Ericsson MINI-LINK Traffic Node systems operated for one cell phone provider.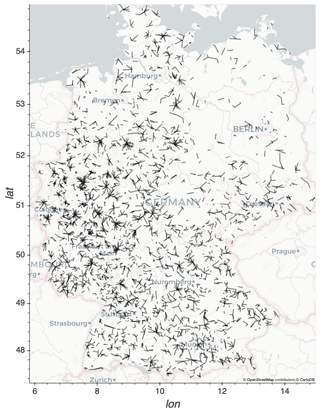 CML data are retrieved with a real-time data acquisition system that we operate in cooperation with Ericsson (Chwala et al., 2016). Every minute, the current transmitted signal level (TSL) and received signal level (RSL) are requested from more than 4000 CMLs for both ends of each CML. The data are then immediately sent to and stored at our server. For the complete processing chain presented in this work, we used this 1 min instantaneous TSL and RSL data for the period from September 2017 to August 2018 for 3904 CMLs to derive rain rates with a temporal resolution of 1 min. For comparison with the reference data, the 1 min data are then aggregated. Due to missing, unclear, or corrupted metadata, we could not use all CML data. Furthermore, we only used data from one sub-link per CML. There was no specific criterion for selecting the sub-link. We simply used the pair of TSL and RSL that came first in our listing.
The available power resolution is 1 dB for TSL and 0.3 dB (with occasional jumps of 0.4 dB) for RSL. The TSL is constant for 25 % of the CMLs. An automatic transmit power control (ATPC), which is able to increase TSL by several decibels to prevent blackouts due to heavy attenuation, is active at 75 % of the CMLs. While the length of the CMLs ranges from a few hundred meters to almost 30 km, most CMLs have a length of 5 to 10 km. They are operated at frequencies ranging from 10 to 40 GHz, depending on their length. Figure 2 shows the distributions of path lengths and frequencies. For shorter CMLs, higher frequencies are used.
To derive rainfall from CMLs, we used the difference between TSL and RSL (the transmitted minus received signal level, TRSL). An example of a TRSL time series is shown in Fig. 3a. To compare the rain rate derived from CMLs with the reference rain rate, we resampled the temporal resolution from 1 min to 1 h after the processing.
In our CML data set, 2.2 % of the data are missing time steps due to outages of the data acquisition systems. Additionally 1.2 % of the raw data show missing values (Nan) and 0.1 % show default fill values (e.g., −99.9 or 255.0) of the CML hardware, which we excluded from the analysis. In order to increase the data availability, we linearly interpolated gaps in the raw TRSL time series that were up to 5 min long. This increased the data availability by 0.5 %. These gaps could have been the result of missing time steps and missing values, but we also found cases where we suspect very high rainfall to be the reason for short blackouts of a CML.
The size of the complete CML data set is approximately 100 GB (in memory). The data set is continuously extended by the operational data acquisition, also allowing for the possibility of near-real-time rainfall estimation.
3.1

 Performance measures

To evaluate the performance of the CML-derived rain rates against the reference data set, we used several measures which we calculated on an hourly basis. We defined a confusion matrix according to Table 1 where "Wet" and "Dry" refer to hours with and without rain, respectively.

The Matthews correlation coefficient (MCC) summarizes the four values of the confusion matrix in a single measure (Eq. 1) and is typically used as measure of binary classification in machine learning. This measure accounts for the skewed ratio of wet and dry events. It is only high if the classifier performs well on both classes.

The mean detection error (MDE; Eq. 2) is introduced as a further binary measure, focusing on the misclassification of rain events.

It is calculated as the average of missed wet and false wet rates of the confusion matrix (Table 1).

The linear correlation between CML-derived rainfall and the reference is expressed by the Pearson correlation coefficient (PCC). The coefficient of variation (CV) in Eq. (3) gives the distribution of CML rainfall around the reference expressed by the ratio of the residual standard deviation to the mean reference rainfall:

where RCML and Rreference are hourly rain rates of the respective data set. Furthermore, we computed the mean absolute error (MAE) and the root-mean-squared error (RMSE) to measure the accuracy of the CML rainfall estimates. The relative bias is given as follows:

Often, in studies comparing CML-derived rainfall and radar data, a threshold is used as a lower boundary for rainfall. The performance measures, summarized in Table 2, were calculated with different subset criteria or thresholds. This gives insight into how CML-derived rainfall compares to the reference for different rain rates and on how the large number of data points without rain influences the performance measures. Another reason for listing the performance measures with several thresholds is the increased comparability with other studies on CML rainfall estimation, which do not uniformly use the same threshold (see, e.g., Table A1 in de Vos et al., 2019). Therefore, we defined a selection of subset criteria and thresholds and show performance measures for data without any thresholds ("None"), for the data set with RCML and Rreference<0.1 mm h−1 set to 0 mm h−1, for two thresholds where at least RCML or Rreference must be >0 and ≥0.1 mm h−1, and two thresholds where Rreference must be ≥0.1 and ≥1 mm.
3.2

 From raw signal to rain rate

As CMLs are an opportunistic sensing system rather than part of a dedicated measurement system, data processing has to be done with care. Most of the CML research groups have developed their own methods that are tailored to their needs and data sets. Overviews of these methods are summarized by Chwala and Kunstmann (2019), Messer and Sendik (2015), and Uijlenhoet et al. (2018).

The size of our data set is a challenge in itself. As TRSL can be attenuated by rain or other sources, as described in Sect. 3.2.1, and only raw TSL and RSL data are provided, the large size of the data set is advantageous but also challenging. Developing and evaluating methods was significantly sped up by the use of an automated processing workflow, which we implemented as a parallelized workflow on a high-performance computing (HPC) system using the "xarray" and "Dask" Python packages for data processing and visual exploration. The major challenges that arose from the processing of raw TRSL data into rain rates and the selected methods from the literature are described in the following sections. We used parameters in this processing that are either based on the literature, modified from the literature, or which we developed in this study. An overview of all of the parameters used is given in Appendix A1.
German-wide rainfall estimates derived from CML data compared well with RADOLAN-RW, a hourly gridded gauge-adjusted radar product from the DWD. The methods used to process the CML data showed promising results over 1 year and several thousand CMLs across all landscapes in Germany, except for the winter season.
We presented the data processing of almost 4000 CMLs with a temporal resolution of 1 min from September 2017 to August 2018. We developed a parallelized processing work flow that could handle the size of this large data set. This workflow enabled us to test and compare different processing methods over a large spatiotemporal scale.
A crucial processing step is the rain event detection from the TRSL, which is the raw attenuation data recorded for each CML. We used a scheme from Schleiss and Berne (2010) that utilizes the 60 min rolling standard deviation (RSD) and a threshold. We derived this threshold from a fixed multiple of the 80th quantile of the RSD distribution of each TRSL. Compared with the original threshold using the 95th quantile, which is based on rainfall climatology, the 80th quantile reflects the general tendency of each CML's TRSL to fluctuate. We were able to reduce the amount of misclassification of wet and dry events, reaching a yearly average MDE of 0.27, with a MDE for the summer months below 0.20. A potential approach to further decrease the amount of misclassifications could be the use of additional data sets. For example, cloud cover information from geostationary satellites could be employed to reduce false wet classification, by (as a first simple approach) defining periods without clouds as dry. Another opportunity might be additionally implementing algorithms exploiting information from neighboring CMLs.
To compensate for WAA (the attenuation caused by water droplets on the cover of CML antennas), we compared and adjusted two approaches from the literature. In order to evaluate WAA compensation approaches, we used the reference data set. We were able to reduce the overestimation caused by WAA, while maintaining the detection of small rain events, using an adjustment of the approach introduced by Leijnse et al. (2008). The compensation for WAA without evaluation against a reference data set is not feasible with the CML data set we use.
Compared to the reference data set (RADOLAN-RW), the CML-derived rainfall performs well for periods with liquid precipitation alone. For winter months, the performance of CML-derived rainfall is limited. Melting snow and snowy or icy antenna covers can cause additional attenuation, resulting in the overestimation of precipitation, whereas dry snow cannot be measured at the frequencies and the TRSL quantizations that the CMLs in our data set use. We found high correlations for hourly, monthly, and seasonal rainfall sums between CML-derived rainfall and the reference. To increase the comparability of our analysis with existing and future studies on CML rainfall estimation, we calculated all performance metrics for different subset criteria (e.g., requiring that either CML or reference rainfall is larger than 0 mm).
We found the performance measures of this study to be in accordance with similar CML studies, although the comparability is limited due to differences in the CML and reference data sets. CML-derived rainfall maps calculated with a simple yet robust IDW interpolation showed the plausibility of CMLs as a stand-alone rainfall measurement system.
With the analysis presented in this study, the need for reference data sets in the processing routine of CML data is reduced; thus, the opportunistic sensing of countrywide rainfall with CMLs is at a point, where it should be transferable to (reference) data-scarce regions. Especially in Africa, where water availability and management are critical, this task should be challenged, as in Doumounia et al. (2014). The high temporal resolution of the data set presented can be used in future studies, such as those focusing on urban water management. In addition, CML-derived rainfall can also be used to complement other rainfall data sets; for example, it can be utilized to improve the radar data adjustment in RADOLAN-RW in regions with high CML density and regions, like mountain ranges, where radar data are often compromised. Thus, CMLs can contribute substantially to improving the spatiotemporal estimations of rainfall.
Code used for the processing of CML data can be found in the "pycomlink" Python package (Chwala et al., 2020).
A video of a 48 h showcase with an hourly temporal resolution is published alongside this study; please refer to Graf et al. (2020).
MG, CC, and HK designed the study layout, and MG carried it out with contributions from CC and JP. Data were provided by CC. The code was developed by MG with contributions from CC. MG prepared the paper with contributions from all co-authors.
The authors declare that they have no conflict of interest.
We are grateful to Ericsson especially to Reinhard Gerigk, Michael Wahl, and Declan Forde for their support and cooperation with respect to the acquisition of the CML data. This work was funded by the Helmholtz Association of German Research Centres within the "Digital Earth" project. We would also like to thank the German Research Foundation for funding the "IMAP" and "RealPEP" projects and the Bundesministerium für Bildung und Forschung for funding the "HoWa-innovativ" project. We further thank the three anonymous reviewers for their valuable comments that improved this paper.
This research has been supported by the Helmholtz Association (grant no. ZT-0025), the Bundesministerium für Bildung und Forschung (grant no. 13N14826), and the Deutsche Forschungsgemeinschaft (grant nos. CH 1785/1-1 and KU 2090/7-2).

The article processing charges for this open-access
publication were covered by a Research
Centre of the Helmholtz Association.
This paper was edited by Nadav Peleg and reviewed by three anonymous referees.
Atlas, D. and Ulbrich, C. W.: Path- and Area-Integrated Rainfall Measurement by Microwave Attenuation in the 1–3 cm Band, J. Appl. Meteorol., 16, 1322–1331, https://doi.org/10.1175/1520-0450(1977)016<1322:PAAIRM>2.0.CO;2, 1977. a
Bartels, H., Weigl, E., Reich, T., Lang, P., Wagner, A., Kohler, O., and Gerlach, N.: Routineverfahren zur Online-Aneichung der Radarniederschlagsdaten mit Hilfe von automatischen Bodenniederschlagsstationen(Ombrometer), Tech. rep., DWD, Offenbach, Germany, 2004. a
Berne, A. and Krajewski, W. F.: Radar for hydrology: Unfulfilled promise or unrecognized potential?, Adv. Water Resour., 51, 357–366, https://doi.org/10.1016/j.advwatres.2012.05.005, 2013. a
Brauer, C. C., Overeem, A., Leijnse, H., and Uijlenhoet, R.: The effect of differences between rainfall measurement techniques on groundwater and discharge simulations in a lowland catchment, Hydrol. Process., 30, 3885–3900, https://doi.org/10.1002/hyp.10898, 2016. a
Chwala, C. and Kunstmann, H.: Commercial microwave link networks for rainfall observation: Assessment of the current status and future challenges, WIRES Water, 6, e1337, https://doi.org/10.1002/wat2.1337, 2019. a, b, c
Chwala, C., Gmeiner, A., Qiu, W., Hipp, S., Nienaber, D., Siart, U., Eibert, T., Pohl, M., Seltmann, J., Fritz, J., and Kunstmann, H.: Precipitation observation using microwave backhaul links in the alpine and pre-alpine region of Southern Germany, Hydrol. Earth Syst. Sci., 16, 2647–2661, https://doi.org/10.5194/hess-16-2647-2012, 2012. a, b
Chwala, C., Keis, F., and Kunstmann, H.: Real-time data acquisition of commercial microwave link networks for hydrometeorological applications, Atmos. Meas. Tech., 9, 991–999, https://doi.org/10.5194/amt-9-991-2016, 2016. a
Chwala, C., Keis, F., Graf, M., Sereb, D., and Boose, Y.: pycomlink software package, available at: https://github.com/pycomlink/pycomlink, last access: 1 June 2020. a
D'Amico, M., Manzoni, A., and Solazzi, G. L.: Use of Operational Microwave Link Measurements for the Tomographic Reconstruction of 2-D Maps of Accumulated Rainfall, IEEE Geosci. Remote S., 13, 1827–1831, https://doi.org/10.1109/LGRS.2016.2614326, 2016. a
de Vos, L. W., Overeem, A., Leijnse, H., and Uijlenhoet, R.: Rainfall Estimation Accuracy of a Nationwide Instantaneously Sampling Commercial Microwave Link Network: Error Dependency on Known Characteristics, J. Atmos. Ocean. Tech., 36, 1267–1283, https://doi.org/10.1175/JTECH-D-18-0197.1, 2019. a, b, c, d, e
Doumounia, A., Gosset, M., Cazenave, F., Kacou, M., and Zougmore, F.: Rainfall monitoring based on microwave links from cellular telecommunication networks: First results from a West African test bed, Geophys. Res. Lett., 41, 6016–6022, https://doi.org/10.1002/2014GL060724, 2014. a
DWD, C. D. C.: Historische stündliche RADOLAN-Raster der Niederschlagshöhe (binär), version V001, available at: https://opendata.dwd.de/climate_environment/CDC/grids_germany/hourly/radolan/historical/bin/, last access: 28 August 2019. a, b
Fencl, M., Rieckermann, J., Schleiss, M., Stránský, D., and Bareš, V.: Assessing the potential of using telecommunication microwave links in urban drainage modelling, Water Sci. Technol., 68, 1810–1818, https://doi.org/10.2166/wst.2013.429, 2013. a
Fencl, M., Dohnal, M., Rieckermann, J., and Bareš, V.: Gauge-adjusted rainfall estimates from commercial microwave links, Hydrol. Earth Syst. Sci., 21, 617–634, https://doi.org/10.5194/hess-21-617-2017, 2017. a
Fencl, M., Valtr, P., Kvičera, M., and Bareš, V.: Quantifying Wet Antenna Attenuation in 38-GHz Commercial Microwave Links of Cellular Backhaul, IEEE Geosci. Remote S., 16, 514–518, https://doi.org/10.1109/LGRS.2018.2876696, 2019. a, b, c
Goldshtein, O., Messer, H., and Zinevich, A.: Rain Rate Estimation Using Measurements From Commercial Telecommunications Links, IEEE T. Signal Proces., 57, 1616–1625, https://doi.org/10.1109/TSP.2009.2012554, 2009. a
Graf, M., Chwala, C., Polz, J., and Kunstmann, H.: Showcase video of hourly RADOLAN and CML rainfall maps, Zenodo, https://doi.org/10.5281/zenodo.3759208, 2020. a, b, c
Haese, B., Hörning, S., Chwala, C., Bárdossy, A., Schalge, B., and Kunstmann, H.: Stochastic Reconstruction and Interpolation of Precipitation Fields Using Combined Information of Commercial Microwave Links and Rain Gauges, Water Resour. Res., 53, 10740–10756, https://doi.org/10.1002/2017WR021015, 2017. a
ITU-R: Specific attenuation model for rain for use in prediction methods (Recommendation P.838-3), ITU-R, Geneva, Switzerland, available at: https://www.itu.int/rec/R-REC-P.838-3-200503-I/en (last access: 30 September 2018), 2005. a
Kneis, D. and Heistermann, M.: Bewertung der Güte einer Radar-basierten Niederschlagsschätzung am Beispiel eines kleinen Einzugsgebiets. Hydrologie und Wasserbewirtschaftung, Hydrol. Wasserbewirts., 53, 160–171, 2009. a
Leijnse, H., Uijlenhoet, R., and Stricker, J. N. M.: Rainfall measurement using radio links from cellular communication networks, Water Resour. Res., 43, W03201, https://doi.org/10.1029/2006WR005631, 2007. a
Leijnse, H., Uijlenhoet, R., and Stricker, J. N. M.: Microwave link rainfall estimation: Effects of link length and frequency, temporal sampling, power resolution, and wet antenna attenuation, Adv. Water Resour., 31, 1481–1493, https://doi.org/10.1016/j.advwatres.2008.03.004, 2008. a, b, c, d, e, f, g
Liberman, Y., Samuels, R., Alpert, P., and Messer, H.: New algorithm for integration between wireless microwave sensor network and radar for improved rainfall measurement and mapping, Atmos. Meas. Tech., 7, 3549–3563, https://doi.org/10.5194/amt-7-3549-2014, 2014. a
Maggioni, V., Meyers, P. C., and Robinson, M. D.: A Review of Merged High-Resolution Satellite Precipitation Product Accuracy during the Tropical Rainfall Measuring Mission (TRMM) Era, J. Hydrometeorol., 17, 1101–1117, https://doi.org/10.1175/JHM-D-15-0190.1, 2016. a
Meissner, D., Gebauer, S., Schumann, A. H., and Rademacher, S.: Analyse radarbasierter Niederschlagsprodukte als Eingangsdaten verkehrsbezogener Wasserstandsvorhersagen am Rhein, Hydrol. Wasserbewirts., 1, 16–28, https://doi.org/10.5675/HyWa_2012,1_2, 2012. a
Messer, H. and Sendik, O.: A New Approach to Precipitation Monitoring: A critical survey of existing technologies and challenges, IEEE Signal Proc. Mag., 32, 110–122, https://doi.org/10.1109/MSP.2014.2309705, 2015. a
Messer, H., Zinevich, A., and Alpert, P.: Environmental Monitoring by Wireless Communication Networks, Science, 312, 713–713, https://doi.org/10.1126/science.1120034, 2006. a, b
Moroder, C., Siart, U., Chwala, C., and Kunstmann, H.: Microwave Instrument for Simultaneous Wet Antenna Attenuation and Precipitation Measurement, IEEE T. Instrum. Meas., https://doi.org/10.1109/TIM.2019.2961498, in press, 2019. a
Moroder, C., Siart, U., Chwala, C., and Kunstmann, H.: Modeling of Wet Antenna Attenuation for Precipitation Estimation From Microwave Links, IEEE Geosci. Remote S., 17, 386–390, https://doi.org/10.1109/LGRS.2019.2922768, 2020. a, b
Ostrometzky, J., Raich, R., Bao, L., Hansryd, J., and Messer, H.: The Wet-Antenna Effect – A Factor to be Considered in Future Communication Networks, IEEE T. Antenn. Propag., 66, 315–322, https://doi.org/10.1109/TAP.2017.2767620, 2018. a
Overeem, A., Leijnse, H., and Uijlenhoet, R.: Retrieval algorithm for rainfall mapping from microwave links in a cellular communication network, Atmos. Meas. Tech., 9, 2425–2444, https://doi.org/10.5194/amt-9-2425-2016, 2016a. a, b
Overeem, A., Leijnse, H., and Uijlenhoet, R.: Two and a half years of country‐wide rainfall maps using radio links from commercial cellular telecommunication networks, Water Resour. Res., 52, 8039–8065, https://doi.org/10.1002/2016WR019412, 2016b. a, b, c, d
Paulson, K. and Al‐Mreri, A.: A rain height model to predict fading due to wet snow on terrestrial links, Radio Science, 46, RS4010, https://doi.org/10.1029/2010RS004555, 2011. a
Polz, J., Chwala, C., Graf, M., and Kunstmann, H.: Rain event detection in commercial microwave link attenuation data using convolutional neural networks, Atmos. Meas. Tech. Discuss., https://doi.org/10.5194/amt-2019-412, in review, 2019. a
Rios Gaona, M. F., Overeem, A., Leijnse, H., and Uijlenhoet, R.: Measurement and interpolation uncertainties in rainfall maps from cellular communication networks, Hydrol. Earth Syst. Sci., 19, 3571–3584, https://doi.org/10.5194/hess-19-3571-2015, 2015. a, b, c
Schip, T. I. v. h., Overeem, A., Leijnse, H., Uijlenhoet, R., Meirink, J. F., and Delden, A. J. v.: Rainfall measurement using cell phone links: classification of wet and dry periods using geostationary satellites, Hydrolog. Sci. J., 62, 1343–1353, https://doi.org/10.1080/02626667.2017.1329588, 2017. a
Schleiss, M. and Berne, A.: Identification of Dry and Rainy Periods Using Telecommunication Microwave Links, IEEE Geosci. Remote S., 7, 611–615, https://doi.org/10.1109/LGRS.2010.2043052, 2010. a, b, c, d, e, f, g, h, i, j, k
Schleiss, M., Rieckermann, J., and Berne, A.: Quantification and Modeling of Wet-Antenna Attenuation for Commercial Microwave Links, IEEE Geosci. Remote S., 10, 1195–1199, https://doi.org/10.1109/LGRS.2012.2236074, 2013. a, b, c, d, e, f, g, h
Sevruk, B.: Rainfall Measurement: Gauges, in: Encyclopedia of Hydrological Sciences, edited by: Anderson, M. G. and McDonnell, J. J., John Wiley & Sons, Ltd, Chichester, UK, https://doi.org/10.1002/0470848944.hsa038, 2005. a
Smiatek, G., Keis, F., Chwala, C., Fersch, B., and Kunstmann, H.: Potential of commercial microwave link network derived rainfall for river runoff simulations, Environ. Res. Lett., 12, 034026, https://doi.org/10.1088/1748-9326/aa5f46, 2017. a
Stransky, D., Fencl, M., and Bares, V.: Runoff prediction using rainfall data from microwave links: Tabor case study, Water Sci. Technol., 2017, 351–359, https://doi.org/10.2166/wst.2018.149, 2018. a
Trömel, S., Ziegert, M., Ryzhkov, A. V., Chwala, C., and Simmer, C.: Using Microwave Backhaul Links to Optimize the Performance of Algorithms for Rainfall Estimation and Attenuation Correction, J. Atmos. Ocean. Tech., 31, 1748–1760, https://doi.org/10.1175/JTECH-D-14-00016.1, 2014. a
Uijlenhoet, R., Overeem, A., and Leijnse, H.: Opportunistic remote sensing of rainfall using microwave links from cellular communication networks, WIRES Water, 5, e1289, https://doi.org/10.1002/wat2.1289, 2018. a
Upton, G., Holt, A., Cummings, R., Rahimi, A., and Goddard, J.: Microwave links: The future for urban rainfall measurement?, Atmos. Res., 77, 300–312, https://doi.org/10.1016/j.atmosres.2004.10.009, 2005. a
van de Beek, C. Z., Leijnse, H., Torfs, P. J. J. F., and Uijlenhoet, R.: Seasonal semi-variance of Dutch rainfall at hourly to daily scales, Adv. Water Resour., 45, 76–85, https://doi.org/10.1016/j.advwatres.2012.03.023, 2012.  a, b
van Leth, T. C., Overeem, A., Leijnse, H., and Uijlenhoet, R.: A measurement campaign to assess sources of error in microwave link rainfall estimation, Atmos. Meas. Tech., 11, 4645–4669, https://doi.org/10.5194/amt-11-4645-2018, 2018. a
Wang, Z., Schleiss, M., Jaffrain, J., Berne, A., and Rieckermann, J.: Using Markov switching models to infer dry and rainy periods from telecommunication microwave link signals, Atmos. Meas. Tech., 5, 1847–1859, https://doi.org/10.5194/amt-5-1847-2012, 2012. a, b
Winterrath, T., Rosenow, W., and Weigl, E.: On the DWD quantitative precipitation analysis and nowcasting system for real-time application in German flood risk management, IAHS Publ., 351, 323–329, 2012. a
Zinevich, A., Messer, H., and Alpert, P.: Prediction of rainfall intensity measurement errors using commercial microwave communication links, Atmos. Meas. Tech., 3, 1385–1402, https://doi.org/10.5194/amt-3-1385-2010, 2010. a, b