Research article | 01 Aug 2022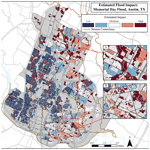 1

Environmental and Water Resources Engineering, University of Texas at Austin, Austin, Texas, USA

2

LBJ School of Public Affairs, University of Texas at Austin, Austin, Texas, USA

3

Institute of Hydraulic Engineering and Water Resources Management, RWTH Aachen University, Aachen, Germany
Correspondence: Paola Passalacqua (paola@austin.utexas.edu)
Received: 15 Mar 2022 – Discussion started: 05 Apr 2022 – Revised: 09 Jun 2022 – Accepted: 17 Jul 2022 – Published: 01 Aug 2022
Increased interest in combining compound flood hazards and social vulnerability has driven recent advances in flood impact mapping. However, current methods to estimate event-specific compound flooding at the household level require high-performance computing resources frequently not available to local stakeholders. Government and non-governmental agencies currently lack the methods to repeatedly and rapidly create flood impact maps that incorporate the local variability in both hazards and social vulnerability. We address this gap by developing a methodology to estimate a flood impact index at the household level in near-real time, utilizing high-resolution elevation data to approximate event-specific inundation from both pluvial and fluvial sources in conjunction with a social vulnerability index. Our analysis uses the 2015 Memorial Day flood in Austin, Texas, as a case study and proof of concept for our methodology. We show that 37 % of the census block groups in the study area experience flooding from only pluvial sources and are not identified in local or national flood hazard maps as being at risk. Furthermore, averaging hazard estimates to cartographic boundaries masks household variability, with 60 % of the census block groups in the study area having a coefficient of variation around the mean flood depth exceeding 50 %. Comparing our pluvial flooding estimates to a 2D physics-based model, we classify household impact accurately for 92 % of households. Our methodology can be used as a tool to create household compound flood impact maps to provide computationally efficient information to local stakeholders.
Flooding is the natural hazard with the greatest economic and societal impacts in the United States, and these impacts are becoming more severe over time (National Academies of Sciences Engineering and Medicine, 2019). In conjunction, as of 2019, over 80 % of the United States population lives in urban areas. The total USA population at risk of serious flooding (i.e., having an annual exceedance probability of less than 1 %) ranges from 13 to 41 million people, depending on the flood model, with high amounts of uncertainty and underestimation in urban centers (Wing et al., 2018). Urban flood waters come from the following three main sources: fluvial sources, as rivers and streams exceed their banks, pluvial sources from overland runoff, and coastal sources such as storm surges, tides, and waves. While coastal and fluvial threats are reported in leading flood hazard maps, such as those produced by the Federal Emergency Management Agency (FEMA) or the city of Austin's FloodPro software (the leading source for local floodplain information in Austin, Texas), these maps lack information regarding the threat of pluvial flood waters, potentially underreporting flood hazards. Furthermore, end-users, such as emergency responders and city planners, frequently request maps in terms of more concrete reference points including pluvial flood hazards and ponded water depths/extents instead of in terms of exceedance probability (Luke et al., 2018). It is of specific concern to numerous government agencies that pluvial flooding is included in flood warning, mapping, and risk management efforts, including the specific identification of topographic depressions that allow for the ponding of water (Falconer et al., 2009). The goal of this study is to produce a flooding impact index at the residential parcel level (i.e., a lot or plot of land zoned for human occupancy, also referred to as a household in this study), using a near-real-time inland compounding flooding estimate and a region-specific social vulnerability index.
Compound flooding broadly refers to the co-occurrence of flooding from rainfall (pluvial and fluvial flooding) and coastal sources (Wahl et al., 2015; Muthusamy et al., 2019). Pluvial flooding predominantly occurs in topographic depressions, defined as areas that do not drain and have no outward flow when only partially filled with water. These areas have either a lower elevation in reference to their surrounding boundaries (Lewin and Ashworth, 2014) or have no change in elevation, producing no lateral flow (Le and Kumar, 2014). This study is specifically concerned with inland compound flooding and focuses on two possible fluvial–pluvial mechanisms, i.e., compounding in both time and space or compounding only in time (Wahl et al., 2015). For the former, fluvial and pluvial floodwaters impact depressions directly adjacent to and within fluvial floodplains and are therefore compounding at the same location at the same time. For the latter, compound effects are only in time, meaning that pluvial and fluvial flooding occur at the same time over a broader region. When pluvial and fluvial flooding occur simultaneously across a city in multiple locations, emergency services have to be spread out over larger regions, thus constraining access to resources. Urban flood planning can integrate topographic depressions to identify risk associated with the compounding effects of fluvial and pluvial flooding.
Overlaying flood hazard maps with social or sociodemographic vulnerability maps can identify the people and neighborhoods impacted the most during flooding events (Rufat et al., 2015). This process is useful in order to discern emergency management plans and identify potential environmental justice concerns (Chakraborty et al., 2014). Kaźmierczak and Cavan (2011) identified four characteristics of people and their households that influence vulnerability in the context of flooding: access to information, ability to prepare for flooding, ability to respond to flooding, and ability to recover. These characteristics are influenced by the individual and household's social and demographic characteristics. Survey data measuring household flood vulnerability (the four previous characteristics) can target specific flooding scenarios or events and can be insightful to local and regional planners. However, low survey response rates, inadequate sampling methods, and time between surveys can make these surveys obsolete after a few years when considering the long-term effects and trends of urban flooding (Collins et al., 2019). Therefore, researchers, city planners, and emergency managers utilize social vulnerability indices (SVIs) based on more commonly measured metrics (e.g., household income, household size, age, race, ethnicity, housing type, access to healthcare, and access to transportation) in general vulnerability applications.
SVIs measure a population's ability to respond to and recover from the impacts of a hazard. SVIs often rely on national level survey data, such as the U.S. Census Bureau's American Community Survey (ACS). ACS data have numerous strengths when compared to primary survey methods because the methods/data are standardized across geographies, are available for all geographies, and are free to use. Researchers often aggregate survey data at coarser resolutions than those of flood models (census block groups, tracts, zip codes, counties, etc.). This operation can protect individual privacy and can assist for strategic statistical sampling purposes to reduce the necessary resources (time and money). However, the use of such boundaries does not provide a level of precision sufficient enough for the identification of significant disparities in flooding impacts, thus limiting a community's ability to provide emergency services adequately to those most in need (Nelson et al., 2015).
Our study acts as a proof of concept for a new workflow to create storm-specific flood hazard and subsequent flood impact maps in near-real time using the 2015 Memorial Day flood in Austin, Texas, as a case study. We quantify the fluvial and pluvial flood hazard using high-resolution digital elevation models (DEMs), identifying if there is a significant difference in flood hazard estimates when considering only fluvial and both fluvial/pluvial sources. Furthermore, we combine residential flood hazard with relative sociodemographic vulnerability scores to estimate a storm-specific impact index at the parcel level. In the context of census block groups, these results highlight how aggregating flood hazard and impact estimates to cartographic boundaries fails to capture important variability at local scales.
The inequitable distribution of flood impacts on different communities is more accurately described when examining hazard and vulnerability values at the parcel level. This information can be helpful for local officials, natural resource managers, city planners, emergency responders, non-profits, and community leaders to better discern the extent to which flood events will impact their community. Our simplified (i.e., elevation-based) approach to estimate inundation allows for our workflow to be efficiently computed in near-real time, allowing for numerous flood scenarios to be calculated rapidly on personal computing resources without burdensome data requirements or specialized technical backgrounds.
This paper is organized as follows: first, we provide background information (Sect. 2) on terrain, social vulnerability, and flood impact mapping, cover the characteristics of our study area and data sources (Sect. 3), and then explain our workflow and methodology (Sect. 4). We present results (Sect. 5) for the 2015 Memorial Day flood and discuss them (Sect. 6). Finally, we state the conclusions of this work and opportunities for future research (Sect. 7).
3
 Study area and data sources
Austin, Texas, considered one of the fastest-growing cities in the USA, has a population approaching 1 million residents. In conjunction with rapid urbanization to accommodate for the influx of new residents, central Texas has seen an increase in the occurrence of 1 % annual exceedance probability storms, experiencing three in a 5-year window, including the 2013 Halloween Day flood, 2015 Memorial Day flood, and the 2018 Hill Country flood. These events pose a risk to new residents, as increased development, and subsequent expansion of impervious surfaces, increase people's potential exposure to both pluvial and fluvial flooding. Dividing Austin, Texas, in the middle is the Colorado River, which is dammed by the Tom Miller Dam to the northwest (upstream) and the Longhorn Dam to the southeast (downstream). There are also numerous major creeks throughout the northern and southern sections of Austin. This study focuses on the region of Austin that is north of the Colorado River and contains the majority of new developments, major creeks, and population groups within Austin (Fig. 1). Furthermore, this area encompasses a wide range of demographic groups stretching from west to east Austin and encompassing the downtown and University of Texas at Austin areas. When discussing hazard, vulnerability, and impacts at the parcel level, our analysis only considers residential parcels within the formally defined Austin neighborhood boundary.
We use the 2015 Memorial Day (25 May 2015) flood in our analysis, as locals refer to this as being the worst flood in recent Austin history. In 2015, Texas saw intense rainfall events from April through May, causing state and local emergency response agencies to be active throughout the entire month of May and the majority of June (Schumann et al., 2016). On Memorial Day, starting at 13:00 Central Standard Time (CST), it began to rain in Austin, TX, pouring 5.2 in. (13.2 cm) in the following 5 h, with 80 % falling within a 2 h period. This value is the second-highest amount of precipitation in a single day in Austin, Texas, since 2002 and the eighth-highest amount since 1927, which is the farthest back that uninterrupted records for this region extend. All stream reaches in this study reached their peak instantaneous flow rates within the 3 h immediately following the end of the precipitation (i.e., by 20:00 CST).
The data sources and tools used in our analysis were deliberately chosen for their broad accessibility across the country, allowing the application of this methodology to occur across the U.S. with little to no data availability concerns (Table 2). Stream reaches, their boundaries, streamflow discharge, and rainfall are all publicly available and provided by the United States Geological Survey (USGS) and the National Oceanic and Atmospheric Administration (NOAA; Table 1). The 1 m DEMs for the contiguous United States are also broadly available from the USGS and through other state and regional agencies. Parcel boundaries are well defined across the country, and while a single national source is not publicly available, most city and state agencies will provide this information for free. For example, the Texas Natural Resources Information System (TNRIS) currently has 228 of 254 counties' parcel data available for free.
Barnes et al. (2019)
Passalacqua et al. (2010)
Zheng et al. (2018)
The ACS 5-Year Estimates are period estimates that represent data from the previous 60 months, which is the largest sample size when compared to other ACS reports. For example, the 2017 data used in this analysis are an aggregation of data collected from 2013 through 2017. This large sample size is able to dampen outliers and potential errors in sociodemographic data. ACS 5-Year Estimates are available for all block groups across the U.S., which is the highest spatial resolution at which the Census Bureau publishes data, and are therefore able to capture the variation in the demographic make-up of a region. Block groups have a population ranging from 600 to 3000 people, depending on if the block group is in a more rural or urban location.
ACS 5-Year Estimate reports at the block group level are not without disadvantages. Block groups are not perfect delineations of neighborhoods, and can unintentionally group dissimilar neighborhoods (e.g., a predominantly black neighborhood that is grouped with an adjacent predominantly white neighborhood might not capture socioeconomic differences and give a false illusion of neighborhood heterogeneity), creating a large margin of error in some estimations. ACS 5-Year Estimates are also the least current datasets available due to their 5-year look back nature. This 5-year look back period also limits comparisons that can be made between datasets. For example, the 2017 ACS 5-Year Estimate used in this study could not be compared to the 2018 5-Year Estimate, as they would have 4 out of 5 years of overlapping coverage. However, compared to other ACS reports and the difficulties and expenses of other survey data sources, the advantages of using the ACS 5-Year Estimates reports outweigh the disadvantages presented. This analysis uses social and demographic data from the 2017 ACS 5-Year Estimates report, as they best capture the socioeconomic conditions of 2015 (i.e., 2015 is the midpoint of the 2017 dataset). In applications of this methodology in terms of future planning and emergency response, the most relevant 5-Year Estimate will be the one most recently released.
4
 Methodology and workflow
The following subsections detail the methodology and workflow for calculating the flood hazard map, sociodemographic vulnerability, and flood impact index at the parcel level (Fig. 2).
Following the initial preprocessing steps (i.e., initializing GeoNet and GeoFlood), we computed the flood inundation layers (fluvial and pluvial components) in under 28 min on a Linux machine with a 4.2 GHz i5-10210U processor with four cores (eight threads). In the following figures (excluding Fig. 3), inset areas (A) and (B) compare two different locations within Austin, TX, and represent the same area across all figures. Inset (A) to the north highlights an area that is dominated by fluvial flooding. Inset (B) to the south highlights an area that is dominated by pluvial flooding.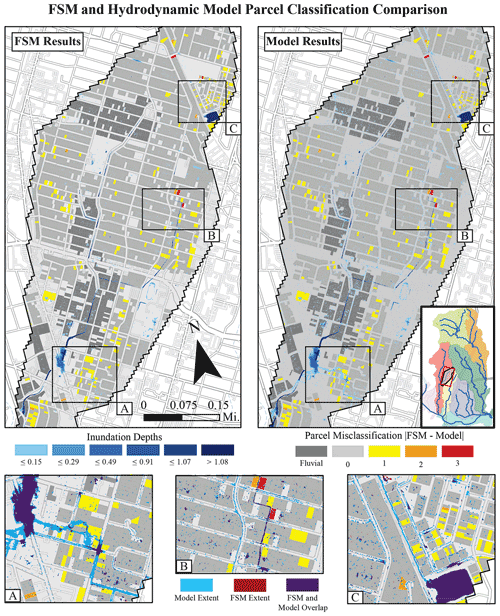 5.1

 Pluvial flooding comparison

To compare the inundation extent estimates from Fill–Spill–Merge to the physically based model, we overlaid and intersected both rasters (Fig. 3). The intersected raster was then classified into four categories of wet–wet, wet–dry, dry–wet, and dry–dry, with each term in each pair referring to one of the raster layers (i.e., wet–wet refers to a cell that is flooded in both rasters, whereas wet–dry refers to a cell that is flooded in only one raster; Johnson et al., 2019). We define accuracy of the Fill–Spill–Merge model as the number of wet–wet cells divided by the sum of the wet–wet, wet–dry, and dry–wet cells. We found the Fill–Spill–Merge model to be 31 % accurate when excluding any inundated depths less than 1 cm. When the lower limit of allowable depths is increased to 6 cm and 15 cm, the accuracy increases to 44 % and 66.5 % respectively, suggesting that Fill–Spill–Merge performs comparably well at depths that are more likely to affect on the final impact index. Fill–Spill–Merge is predominantly underestimating inundated extents when compared to the model, and this is occurring at larger intersections and along some roadways (Fig. 3; insets A–C).

With the overarching goal to be able to produce a comparable impact map in a fraction of the time, we thus compare reclassified parcel impact maps. Comparing our reclassified parcel level pluvial flood hazard estimates to that of a hydrodynamic model's output, we classified 92 % of the 3015 parcels similarly (Fig. 3). Of the 251 misclassified parcels, 94.4 % (237 parcels) of them were misclassified by only one class (Eq. 3). For example, a residential parcel may have an exposure classification of 2 (between 15 and 29 cm of flooding) in the model output but only a hazard classification of 1 (between 1 and 15 cm of flooding) in the Fill–Spill–Merge estimate. Furthermore, of the misclassified parcels, 69 % (173 parcels) involve a misclassification between no flooding and less than 15 cm of flooding, which is the lowest hazard level. Therefore, the misclassified parcels have a minimal effect on final impact values across the subbasin. Misclassifications are not specifically concentrated in any one area and appear across the subbasin. By reporting the impact at the parcel level and by using hazard classes for flood depths (Eq. 3), we produce comparable impact maps.
5.2

 Flood hazard

Through the application of our workflow (Fig. 2) we estimated the worst-case fluvial and pluvial flood extent for the Memorial Day flood (Fig. 4). Insets A1 and B1 show only the fluvial inundation component, while insets A2 and B2 show only the pluvial inundation component of the flood event. The compounding mechanism varies across the study region, with some locations experiencing both fluvial and pluvial flooding in time and space (insets A1 and A2) and other locations compounding only in time (insets B1 and B2).

Overall floodwater extents increase when considering both pluvial and fluvial sources (Fig. 5). However, pluvial and fluvial flooding do not affect all locations equally, with some locations being affected more by fluvial flooding and others being affected more by pluvial flooding. Of the 177 block groups within the study area, 67 (37.9 %) experience flooding from only pluvial sources. Flood mapping that exclusively considers fluvial sources would not identify the potential flood hazard of these block groups. Only five block groups have an increase in flood extents greater than 100 %, suggesting that, while pluvial flooding can greatly increase inundation extents across a city or region, fluvial flooding remains the dominant source of flood waters (i.e., the majority of flooding comes from fluvial sources) in those block groups that already experience fluvial flooding. This increase in floodwater extents is also visible by catchment area, showing that the increase in floodwater extents is equally substantial across an entire watershed and not limited to certain locations along a stream reach (Table 4). The increase in floodwater extents within catchment areas, when considering the combined effects of fluvial and pluvial flood sources, ranges from 40 % to 156 %.

Analyzing flood hazard results by block groups produces a high level of variability, both between and within block groups (Fig. 6). High coefficients of variation (standard deviation divided by mean) signals a wide distribution, suggesting that mean hazard within the giving boundary is going to significantly over- and underestimate household hazard. This is represented in Fig. 6 by the circles, with larger darker circles equating to a higher coefficient of variation. Furthermore, the high dispersion in the average by block group suggests that aggregating at a higher-level boundary (e.g., county) would result in similarly high coefficients of variation.

Reporting hazard values by residential parcels allows for this variability and dispersion to be captured in the final impact calculation (Fig. 7). The reclassification of hazard values (Eq. 3) allows for easier comparisons between regions, thus allowing for quicker identification of potential hot spots. High hazard results predominantly appear along streamlines, which is expected, as fluvial channel floodplains offer more locations for higher depths as compared to topographic depressions which have a much smaller scale in size. Conversely, areas further away from streamlines overwhelmingly appear to be classified in the lowest hazard level and thus are directly impacted, to a lesser extent, by high depth values (Fig. 7).
5.3

 Sociodemographic vulnerability

Clear geographic disparities exist between the eastern and western portions of the study area in terms of the SVI estimates (Fig. 8). Each residential parcel's SVI value is equivalent to the SVI value of the block group that it coincides with. It is important to remember that the SVI estimate shown is relative and is therefore an arbitrary value that can be compared between locations. Parcels with a score of 1 are the most vulnerable, and parcels with a score of 0 are the least vulnerable. The purpose of dissolving the SVI down to the parcel level is to intersect it with our household hazard estimate to compute a parcel specific impact.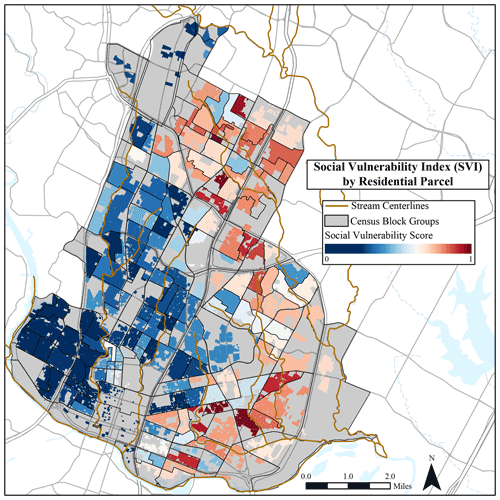 5.4

 Impact

There is a clear distinction in the flood impact index between the eastern and western portions of the study area; however, individual block groups themselves also contain variability (Fig. 9). Some locations have varying levels of impact within the same block group, which aggregated estimates would not capture. This is especially prevalent in areas with a higher concentration of higher impact households. Furthermore, high-impact parcels exist in areas not directly adjacent to stream reaches.
The proposed workflow in this study creates a storm-specific urban flood impact index at the parcel level using high-resolution topographic data, near-real-time pluvial and fluvial flood estimations, and a region-specific social vulnerability index. The application of this workflow to the Memorial Day flood in Austin, TX, showed that estimating fluvial flooding alone is not enough to predict urban flood hazards. We showed that our pluvial hazard estimate can accurately determine the parcel level impact index 94.4 % of the time, when compared to a full hydrodynamic model, in near-real time. Furthermore, we show that aggregating results to cartographic boundaries masks the dispersion of hazards and impacts, thus making it difficult to identify priority locations that must be addressed in planning, management, and emergency response scenarios. Through the inclusion of a social vulnerability index, end-users are better informed in identifying those individuals facing the greatest impact (a product of flood hazard and vulnerability).
This methodology's power lies in the ability to calculate a 1 m horizontal resolution inundation estimate for large urban areas (>250 km2) in under 30 min on a personal computer while strictly using open-source data that are theoretically available for the entire United States (i.e., census data, USGS stream gauge data, rainfall data, DEMs, and residential parcels can generally be found free online for the majority of the country). Therefore, this framework can estimate a region- and storm-specific impact index in near-real time, anywhere, with widely available computing resources. Future work will explore more, including more flooding and vulnerability factors, such as non-census sociodemographic data, social and governance networks, coastal compound flooding, and local infrastructure data to improve impact estimates.
Code and data availability
PP and RPB supervised MP during the entire research process, assisting with the conceptualization and the development of the methodology of the presented research. MP conducted the data collection, investigation, and analysis that make up the presented research. JH created the hydrodynamic comparison datasets that MP utilized in the analysis. MP wrote the original draft and created the visualizations of the paper, with all co-authors contributing to reviewing and editing subsequent drafts.
The contact author has declared that none of the authors has any competing interests.
Publisher's note: Copernicus Publications remains neutral with regard to jurisdictional claims in published maps and institutional affiliations.
We thank the reviewers and editor for providing valuable comments that have improved the clarity and contents of this paper.
This material is based upon work supported by the National Science Foundation Graduate Research Fellowship (grant no. DGE-1610403), the NOAA-JTTI Program (grant no. NA19OAR4590229), and Planet Texas 2050, a research grand challenge at the University of Texas at Austin.
This paper was edited by Hongkai Gao and reviewed by two anonymous referees.
Abbas, H. B. and Routray, J. K.: Vulnerability to flood-induced public health risks in Sudan, Disast. Prevent. Manage., 23, 395–419, https://doi.org/10.1108/DPM-07-2013-0112, 2014. a
Agard, J. and Schipper, E. L. F.: Glossary, Annex II, in: Managing the Risks of Extreme Events and Disasters to Advance Climate Change Adaptation: Special Report of the Intergovernmental Panel on Climate Change, edited by: Birkmann, J., Campos, M., Dubeux, C., Nojiri, Y., Olsson, L., Osman-Elasha, B., Pelling, M., Prather, M., Rivera-Ferre, M., Ruppel, O., Sallenger, A., Smith, K., and St. Clair, A., Cambridge Univesrity Press, Cambridge, UK, and New York, NY, USA, 1757–1776, https://doi.org/10.1016/s0959-3780(06)00031-8, 2012. a
Ahmed, F., Khan, M. S. A., Warner, J., Moors, E., and Terwisscha Van Scheltinga, C.: Integrated Adaptation Tipping Points (IATPs) for urban flood resilience, Environ. Urbaniz., 30, 575–596, https://doi.org/10.1177/0956247818776510, 2018a. a
Ahmed, F., Moors, E., Khan, M. S. A., Warner, J., and Terwisscha van Scheltinga, C.: Tipping points in adaptation to urban flooding under climate change and urban growth: The case of the Dhaka megacity, Land Use Policy, 79, 496–506, https://doi.org/10.1016/j.landusepol.2018.05.051, 2018b. a
Antoine, M., Javaux, M., and Bielders, C.: What indicators can capture runoff-relevant connectivity properties of the micro-topography at the plot scale?, Adv. Water Resour., 32, 1297–1310, https://doi.org/10.1016/j.advwatres.2009.05.006, 2009. a
Appels, W. M., Bogaart, P. W., and van der Zee, S. E.: Influence of spatial variations of microtopography and infiltration on surface runoff and field scale hydrological connectivity, Adv. in Water Resour., 34, 303–313, https://doi.org/10.1016/j.advwatres.2010.12.003, 2011. a
Bachmann, D.: Beitrag zur Entwicklung eines Entscheidungsunterstützungssystems zur Bewertung und Planung von Hochwasserschutzmaßnahmen, PhD thesis, Institut für Wasserbau und Wasserwirtschaft, RWTH Aachen, Aachen, https://d-nb.info/1023005069/34 (last access: 15 March 2022), 2012. a
Bachmann, D.: ProMaIDes: State-of-the Science Flood Risk Management Tool, https://promaides.h2.de/promaides/ (last access: 15 March 2022), 2021. a
Bakkensen, L. A., Fox-Lent, C., Read, L. K., and Linkov, I.: Validating Resilience and Vulnerability Indices in the Context of Natural Disasters, Risk Anal., 37, 982–1004, https://doi.org/10.1111/risa.12677, 2017. a
Barnes, R.: r-barnes/Barnes2020-FillSpillMerge, GitHub [code], https://github.com/r-barnes/Barnes2020-FillSpillMerge, last access: 28 July 2022. a
Barnes, R., Callaghan, K., and Wickert, A.: Computing water flow through complex landscapes – Part 3: Fill-Spill-Merge: Flow routing in depression hierarchies, Earth Surf. Dynam., 7, 737–753, https://doi.org/10.5194/esurf-7-737-2019, 2019. a, b, c, d, e, f
Barnes, R., Callaghan, K. L., and Wickert, A. D.: Computing water flow through complex landscapes – Part 2: Finding hierarchies in depressions and morphological segmentations, Earth Surf. Dynam., 8, 431–445, https://doi.org/10.5194/esurf-8-431-2020, 2020. a
Bates, P. D., Quinn, N., Sampson, C., Smith, A., Wing, O., Sosa, J., Savage, J., Olcese, G., Neal, J., Schumann, G., Giustarini, L., Coxon, G., Porter, J. R., Amodeo, M. F., Chu, Z., Lewis-Gruss, S., Freeman, N. B., Houser, T., Delgado, M., Hamidi, A., Bolliger, I., McCusker, K., Emanuel, K., Ferreira, C. M., Khalid, A., Haigh, I. D., Couasnon, A., Kopp, R., Hsiang, S., and Krajewski, W. F.: Combined Modeling of US Fluvial, Pluvial, and Coastal Flood Hazard Under Current and Future Climates, Water Resour. Res., 57, 1–29, https://doi.org/10.1029/2020WR028673, 2021. a, b, c
Bermúdez, M., Ntegeka, V., Wolfs, V., and Willems, P.: Development and Comparison of Two Fast Surrogate Models for Urban Pluvial Flood Simulations, Water Resour. Manage., 32, 2801–2815, https://doi.org/10.1007/s11269-018-1959-8, 2018. a
Bernini, A. and Franchini, M.: A Rapid Model for Delimiting Flooded Areas, Water Resour. Manage., 27, 3825–3846, https://doi.org/10.1007/s11269-013-0383-3, 2013. a, b
Bin, O. and Kruse, J. B.: Real Estate Market Response to Coastal Flood Hazards, Nat. Hazards Rev., 7, 137–144, https://doi.org/10.1061/(asce)1527-6988(2006)7:4(137), 2006. a
Bixler, R. P., Yang, E., Richter, S. M., and Coudert, M.: Boundary crossing for urban community resilience: A social vulnerability and multi-hazard approach in Austin, Texas, USA, Int. J. Disast. Risk Reduct., 66, 102613, https://doi.org/10.1016/j.ijdrr.2021.102613, 2021. a, b, c, d
Bulti, D. T. and Abebe, B. G.: A review of flood modeling methods for urban pluvial flood application, Model. Earth Syst. Environ., 6, 1293–1302, https://doi.org/10.1007/s40808-020-00803-z, 2020a. a
Bulti, D. T. and Abebe, B. G.: A review of flood modeling methods for urban pluvial flood application, Model. Earth Syst. Environ., 6, 1293–1302, https://doi.org/10.1007/s40808-020-00803-z, 2020b. a
Burton, C. and Cutter, S. L.: Levee Failures and Social Vulnerability in the Sacramento-San Joaquin Delta Area, California, Nat. Hazards Rev., 9, 136–149, https://doi.org/10.1061/(asce)1527-6988(2008)9:3(136), 2008. a, b
Burton, C. G.: Social Vulnerability and Hurricane Impact Modeling, Nat. Hazards Rev., 11, 58–68, https://doi.org/10.1061/(asce)1527-6988(2010)11:2(58), 2010. a
Calianno, M., Ruin, I., and Gourley, J. J.: Supplementing flash flood reports with impact classifications, J. Hydrol., 477, 1–16, https://doi.org/10.1016/j.jhydrol.2012.09.036, 2013. a
Callaghan, K. L. and Wickert, A. D.: Computing water flow through complex landscapes – Part 1: Incorporating depressions in flow routing using FlowFill, Earth Surf. Dynam., 7, 737–753, https://doi.org/10.5194/esurf-7-737-2019, 2019. a, b
Cardona, O. D., Van Aalst, M. K., Birkmann, J., Fordham, M., Mc Gregor, G., Rosa, P., Pulwarty, R. S., Schipper, E. L. F., Sinh, B. T., Décamps, H., Keim, M., Davis, I., Ebi, K. L., Lavell, A., Mechler, R., Murray, V., Pelling, M., Pohl, J., Smith, A. O., and Thomalla, F.: Determinants of risk: Exposure and vulnerability, in: Managing the Risks of Extreme Events and Disasters to Advance Climate Change Adaptation: Special Report of the Intergovernmental Panel on Climate Change, Cambridge Univesrity Press, Cambridge, UK, and New York, NY, USA, 65–108, https://doi.org/10.1017/CBO9781139177245.005, 2012. a, b, c, d
Chakraborty, J., Collins, T. W., Montgomery, M. C., and Grineski, S. E.: Social and Spatial Inequities in Exposure to Flood Risk in Miami, Florida, Nat. Hazards Rev., 15, 04014006, https://doi.org/10.1061/(asce)nh.1527-6996.0000140, 2014. a, b, c, d
Chu, X., Yang, J., Chi, Y., and Zhang, J.: Dynamic puddle delineation and modeling of puddle-to-puddle filling-spilling-merging-splitting overland flow processes, Water Resour. Res., 49, 3825–3829, https://doi.org/10.1002/wrcr.20286, 2013a. a, b
Chu, X., Yang, J., Chi, Y., and Zhang, J.: Dynamic puddle delineation and modeling of puddle-to-puddle filling-spilling-merging-splitting overland flow processes, Water Resour. Res., 49, 3825–3829, https://doi.org/10.1002/wrcr.20286, 2013b. a
Collins, T. W., Grineski, S. E., Chakraborty, J., Montgomery, M. C., and Hernandez, M.: Downscaling Environmental Justice Analysis: Determinants of Household-Level Hazardous Air Pollutant Exposure in Greater Houston, Ann. Assoc. Am. Geogr., 105, 684–703, https://doi.org/10.1080/00045608.2015.1050754, 2015. a
Collins, T. W., Grineski, S. E., Chakraborty, J., and Flores, A. B.: Environmental injustice and Hurricane Harvey: A household-level study of socially disparate flood exposures in Greater Houston, Texas, USA, Environ. Res., 179, 108772, https://doi.org/10.1016/j.envres.2019.108772, 2019. a
Cutter, S. L., Boruff, B., and Shirley, W. L.: Social vulnerability to environmental hazards, Social Sci. Quart., 84, 242–261, https://doi.org/10.1111/1540-6237.8402002, 2003. a, b
Cutter, S. L., Emrich, C. T., Morath, D. P., and Dunning, C. M.: Integrating social vulnerability into federal flood risk management planning, J. Flood Risk Manage., 6, 332–344, https://doi.org/10.1111/jfr3.12018, 2013. a, b
de Carvalho Júnior, O. A., Guimarães, R. F., Montgomery, D. R., Gillespie, A. R., Gomes, R. A. T., Martins, É. D. S., and Silva, N. C.: Karst depression detection using ASTER, ALOS/PRISM and SRTM-derived digital elevation models in the Bambuí group, Brazil, Remote Sens., 6, 330–351, https://doi.org/10.3390/rs6010330, 2013. a
de Moel, H. and Aerts, J. C.: Effect of uncertainty in land use, damage models and inundation depth on flood damage estimates, Nat. Hazards, 58, 407–425, https://doi.org/10.1007/s11069-010-9675-6, 2011. a
Downton, M. W., Morss, R. E., Wilhelmi, O. V., Gruntfest, E., and Higgins, M. L.: Interactions between scientific uncertainty and flood management decisions: Two case studies in Colorado, Environ. Hazards, 6, 134–146, https://doi.org/10.1016/j.hazards.2006.05.003, 2005. a
Fahy, B., Brenneman, E., Chang, H., and Shandas, V.: Spatial analysis of urban flooding and extreme heat hazard potential in Portland, OR, Int. J. Disast. Risk Reduct., 39, 101117, https://doi.org/10.1016/j.ijdrr.2019.101117, 2019. a
Falconer, R. H., Cobby, D., Smyth, P., Astle, G., Dent, J., and Golding, B.: Pluvial flooding: New approaches in flood warning, mapping and risk management, J. Flood Risk Manage., 2, 198–208, https://doi.org/10.1111/j.1753-318X.2009.01034.x, 2009. a
Fekete, A.: Validation of a social vulnerability index in context to river-floods in Germany, Nat. Hazards Earth Syst. Sci., 9, 393–403, https://doi.org/10.5194/nhess-9-393-2009, 2009. a
Fielding, J. and Burningham, K.: Environmental inequality and flood hazard, Local Environ., 10, 379–395, https://doi.org/10.1080/13549830500160875, 2005. a
Finch, C., Emrich, C. T., and Cutter, S. L.: Disaster disparities and differential recovery in New Orleans, Populat. Environ., 31, 179–202, https://doi.org/10.1007/s11111-009-0099-8, 2010. a
Flanagan, B. E., Gregory, E. W., Hallisey, E. J., Heitgerd, J. L., and Lewis, B.: A Social Vulnerability Index for Disaster Management, J. Homeland Secur. Emerg. Manage., 8, 1–22, https://doi.org/10.2202/1547-7355.1792, 2011. a
Freni, G., La Loggia, G., and Notaro, V.: Uncertainty in urban flood damage assessment due to urban drainage modelling and depth-damage curve estimation, Water Sci. Technol., 61, 2979–2993, https://doi.org/10.2166/wst.2010.177, 2010. a
Fritsch, K., Assmann, A., and Tyrna, B.: Long-term experiences with pluvial flood risk management, in: E3S Web of Conferences, 7, https://doi.org/10.1051/e3sconf/20160704017, 2016. a
Grahn, T. and Nyberg, L.: Assessment of pluvial flood exposure and vulnerability of residential areas, Int. J. Disast. Risk Reduct., 21, 367–375, https://doi.org/10.1016/j.ijdrr.2017.01.016, 2017. a
Grimm, C., Wöffler, T., Bachmann, D., and Schüttrumpf, H.: Risk management in coastal engineering: Applied coastal research projects for Northern Germany, Wasser Abfall, 14, 53–55, 2012. a
Guo, K., Guan, M., and Yu, D.: Urban surface water flood modelling – a comprehensive review of current models and future challenges, Hydrol. Earth Syst. Sci., 25, 2843–2860, https://doi.org/10.5194/hess-25-2843-2021, 2021. a
Hapuarachchi, H. A. P., Wang, Q. J., and Pagano, T. C.: A review of advances in flash flood forecasting, Hydrol. Process., 2784, 2771–2784, https://doi.org/10.1002/hyp.8040, 2011. a
Houston, D., Werrity, A., Bassett, D., Geddes, A., Hoolachan, A., and McMillan, M.: Pluvial(rain-related) flooding in urban areas: the invisible hazard, Joseph Rowntree Foundation, https://www.jrf.org.uk/report/pluvial-rain-related-flooding-urban-areas-invisible-hazard#jl_downloads_0 (last access: 15 March 2022), 2011. a
ISDR: UNISDR Terminology on Disaster Risk, Tech. rep., ISDR, https://doi.org/10.7591/9781501701498-008, 2009. a, b
Jenson, S. K. and Domingue, J. O.: Extracting topographic structure from digital elevation data for geographic information system analysis, Photogram. Eng. Remote Sens., 54, 1593–1600, 1988. a
Johnson, M. J., Munasinghe, D., Eyelade, D., and Cohen, S.: An integrated evaluation of the National Water Model (NWM)–Height above nearest drainage (HAND) flood mapping methodology, Nat. Hazards Earth Syst. Sci., 19, 2405–2420, https://doi.org/10.5194/nhess-19-2405-2019, 2019. a
Kaźmierczak, A. and Cavan, G.: Surface water flooding risk to urban communities: Analysis of vulnerability, hazard and exposure, Landsc. Urban Plan., 103, 185–197, https://doi.org/10.1016/j.landurbplan.2011.07.008, 2011. a
Kron, W.: Flood risk = hazard ⋅ values ⋅ vulnerability, Water Int., 30, 58–68, https://doi.org/10.1080/02508060508691837, 2005. a
Le, P. V. V. and Kumar, P.: Power law scaling of topographic depressions and their hydrologic connectivity, Geophys. Res. Lett., 41, 1553–1559, https://doi.org/10.1002/2013GL059114, 2014. a
Lee, D. and Jung, J.: The growth of low-income population in floodplains: A case study of Austin, TX, KSCE J. Civ. Eng., 18, 683–693, https://doi.org/10.1007/s12205-014-0205-z, 2014. a
Lewin, J. and Ashworth, P. J.: The negative relief of large river floodplains, Earth-Sci. Rev., 129, 1–23, https://doi.org/10.1016/j.earscirev.2013.10.014, 2014. a
Lhomme, J., Sayers, P., Gouldby, B., Wills, M., and Mulet-Marti, J.: Recent development and application of a rapid flood spreading method, in: Flood Risk Management: Research and Practice, Taylor & Francis Group, 15–24, ISBN 9780429207129, 2008. a, b, c, d
Li, S., MacMillan, R. A., Lobb, D. A., McConkey, B. G., Moulin, A., and Fraser, W. R.: Lidar DEM error analyses and topographic depression identification in a hummocky landscape in the prairie region of Canada, Geomorphology, 129, 263–275, https://doi.org/10.1016/j.geomorph.2011.02.020, 2011. a
Lindsay, J. B. and Creed, I. F.: Removal of artifact depressions from digital elevation models: Towards a minimum impact approach, Hydrol. Process., 19, 3113–3126, https://doi.org/10.1002/hyp.5835, 2005. a
Luke, A., Sanders, B. F., Goodrich, K. A., Feldman, D. L., Boudreau, D., Eguiarte, A., Serrano, K., Reyes, A., Schubert, J. E., Aghakouchak, A., Basolo, V., and Matthew, R. A.: Going beyond the flood insurance rate map: Insights from flood hazard map co-production, Nat. Hazards Earth Syst. Sci., 18, 1097–1120, https://doi.org/10.5194/nhess-18-1097-2018, 2018. a, b, c
Martz, L. W. and Garbrecht, J.: An outlet breaching algorithm for the treatment of closed depressions in a raster DEM, Comput. Geosci., 25, 835–844, https://doi.org/10.1016/S0098-3004(99)00018-7, 1999. a
McCarthy, S., Tunstall, S., Parker, D., Faulkner, H., and Howe, J.: Risk communication in emergency response to a simulated extreme flood, Environ. Hazards, 7, 179–192, https://doi.org/10.1016/j.envhaz.2007.06.003, 2007. a
McGrath, H., Bourgon, J. F., Proulx-Bourque, J. S., Nastev, M., and Abo El Ezz, A.: A comparison of simplified conceptual models for rapid web-based flood inundation mapping, Nat. Hazards, 93, 905–920, https://doi.org/10.1007/s11069-018-3331-y, 2018. a
Metz, M., Mitasova, H., and Harmon, R. S.: Efficient extraction of drainage networks from massive, radar-based elevation models with least cost path search, Hydrol. Earth Syst. Sci., 15, 667–678, https://doi.org/10.5194/hess-15-667-2011, 2011. a
Middelmann-Fernandes, M. H.: Flood damage estimation beyond stage-damage functions: An Australian example, J. Flood Risk Manage., 3, 88–96, https://doi.org/10.1111/j.1753-318X.2009.01058.x, 2010. a
Ming, X., Liang, Q., Xia, X., Li, D., and Fowler, H. J.: Real-Time Flood Forecasting Based on a High-Performance 2-D Hydrodynamic Model and Numerical Weather Predictions, Water Resour. Res., 56, 7, https://doi.org/10.1029/2019WR025583, 2020. a, b, c
Moftakhari, H. R., AghaKouchak, A., Sanders, B. F., Allaire, M., and Matthew, R. A.: What Is Nuisance Flooding? Defining and Monitoring an Emerging Challenge, Water Resour. Res., 54, 4218–4227, https://doi.org/10.1029/2018WR022828, 2018. a, b, c
Muthusamy, M., Casado, M. R., Salmoral, G., Irvine, T., and Leinster, P.: A remote sensing based integrated approach to quantify the impact of fluvial and pluvial flooding in an urban catchment, Remote Sens., 11, 577, https://doi.org/10.3390/rs11050577, 2019. a
National Academies of Sciences Engineering and Medicine: Framing the Challenge of Urban Flooding in the United States, The National Academies Press, Washington, DC, https://doi.org/10.17226/25381, 2019. a
Nelson, K. S., Abkowitz, M. D., and Camp, J. V.: A method for creating high resolution maps of social vulnerability in the context of environmental hazards, Appl. Geogr., 63, 89–100, https://doi.org/10.1016/j.apgeog.2015.06.011, 2015. a, b, c, d
Nobre, A. D., Cuartas, L. A., Hodnett, M., Rennó, C. D., Rodrigues, G., Silveira, A., Waterloo, M., and Saleska, S.: Height Above the Nearest Drainage – a hydrologically relevant new terrain model, J. Hydrol., 404, 13–29, https://doi.org/10.1016/j.jhydrol.2011.03.051, 2011. a, b
PassaH2O Group: passaH2O/GeoFlood, GitHub [code], https://github.com/passaH2O/GeoFlood, last access: 28 July 2022. a
Passalacqua, P., Do Trung, T., Foufoula-Georgiou, E., Sapiro, G., and Dietrich, W. E.: A geometric framework for channel network extraction from lidar: Nonlinear diffusion and geodesic paths, J. Geophys. Res., 115, 1–18, https://doi.org/10.1029/2009jf001254, 2010. a, b
Peduzzi, P.: The Disaster Risk, Global Change, and Sustainability Nexus, Sustainability (Switzerland), 11, 1–21, https://doi.org/10.3390/su11040957, 2019. a
Pregnolato, M., Ford, A., Wilkinson, S. M., and Dawson, R. J.: The impact of flooding on road transport: A depth-disruption function, Transport. Res. Pt. D, 55, 67–81, https://doi.org/10.1016/j.trd.2017.06.020, 2017. a
Preisser, M., Passalacqua, P., Bixler, R. P., and Hofmann, J.: Data, Scripts, and Results for "Intersecting Near-Real Time Fluvial and Pluvial Inundation Estimates with Sociodemographic Vulnerability to Quantify a Household Flood Impact Index". In Hydrology and Earth System Sciences, Zenodo [data set and code], https://doi.org/10.5281/zenodo.6584401, 2022. a
Rolfe, M. I., Pit, S. W., McKenzie, J. W., Longman, J., Matthews, V., Bailie, R., and Morgan, G. G.: Social vulnerability in a high-risk flood-affected rural region of NSW, Australia, Nat. Hazards, 101, 631–650, https://doi.org/10.1007/s11069-020-03887-z, 2020. a
Rufat, S., Tate, E., Burton, C. G., and Maroof, A. S.: Social vulnerability to floods: Review of case studies and implications for measurement, Int. J. Disast. Risk Reduct., 14, 470–486, https://doi.org/10.1016/j.ijdrr.2015.09.013, 2015. a, b
Rufat, S., Tate, E., Emrich, C. T., and Antolini, F.: How Valid Are Social Vulnerability Models?, Ann. Am. Assoc. Geogr., 109, 1131–1153, https://doi.org/10.1080/24694452.2018.1535887, 2019. a
Samuels, P. and Goudby, B.: Language of Risk, Tech. rep., Floodsite Program, http://www.floodsite.net/html/partner_area/project_docs/FLOODsite_Language_of_Risk_v4_0_P1.pdf (last access: 27 July 2022), 2009. a, b, c
Sangireddy, H., Carothers, R. A., Stark, C. P., and Passalacqua, P.: Controls of climate, topography, vegetation, and lithology on drainage density extracted from high resolution topography data, J. Hydrol., 537, 271–282, https://doi.org/10.1016/j.jhydrol.2016.02.051, 2016. a
Schumann, G., Frye, S., Wells, G., Adler, R., Brakenridge, R., Bolten, J., Murray, J., Slayback, D., Policelli, F., Kirschbaum, D., Wu, H., Cappelaere, P., Howard, T., Flamig, Z., Clark, R., Stough, T., Chini, M., Matgen, P., Green, D., and Jones, B.: Unlocking the full potential of Earth observation during the 2015 Texas flood disaster, Water Resour. Res., 52, 3288–3293, https://doi.org/10.1002/2015WR018428, 2016. a
Smit, B. and Wandel, J.: Adaptation, adaptive capacity and vulnerability, Global Environ. Change, 16, 282–292, https://doi.org/10.1016/j.gloenvcha.2006.03.008, 2006. a, b, c, d, e
Soille, P., Vogt, J., and Colombo, R.: Carving and adaptive drainage enforcement of grid digital elevation models, Water Resour. Res., 39, 1–13, https://doi.org/10.1029/2002WR001879, 2003. a
Syvitski, J. P., Overeem, I., Brakenridge, G. R., and Hannon, M.: Floods, floodplains, delta plains – A satellite imaging approach, Sediment. Geol., 267–268, 1–14, https://doi.org/10.1016/j.sedgeo.2012.05.014, 2012. a
Tate, E.: Uncertainty Analysis for a Social Vulnerability Index, Ann. Assoc. Am. Geogr., 103, 526–543, https://doi.org/10.1080/00045608.2012.700616, 2013. a
Tate, E., Strong, A., Kraus, T., and Xiong, H.: Flood recovery and property acquisition in Cedar Rapids, Iowa, Nat. Hazards, 80, 2055–2079, https://doi.org/10.1007/s11069-015-2060-8, 2016. a
Tate, E., Rahman, M. A., Emrich, C. T., and Sampson, C. C.: Flood exposure and social vulnerability in the United States, Nat. Hazards, 106, 435–457, https://doi.org/10.1007/s11069-020-04470-2, 2021. a, b, c, d
Tellman, B., Schank, C., Schwarz, B., Howe, P. D., and de Sherbinin, A.: Using disaster outcomes to validate components of social vulnerability to floods: Flood deaths and property damage across the USA, Sustainability (Switzerland), 12, 1–28, https://doi.org/10.3390/su12156006, 2020. a, b
Teng, J., Jakeman, A. J., Vaze, J., Croke, B. F., Dutta, D., and Kim, S.: Flood inundation modelling: A review of methods, recent advances and uncertainty analysis, Environ. Model. Softw., 90, 201–216, https://doi.org/10.1016/j.envsoft.2017.01.006, 2017. a
Tsai, C. W.: Applicability of Kinematic, Noninertia, and Quasi-Steady Dynamic Wave Models to Unsteady Flow Routing, J. Hydraul. Eng., 129, 613–627, https://doi.org/10.1061/(ASCE)0733-9429(2003)129:8(613), 2003.  a
Tsakiris, G.: Flood risk assessment: Concepts, modelling, applications, Nat. Hazards Earth Syst. Sci., 14, 1361–1369, https://doi.org/10.5194/nhess-14-1361-2014, 2014. a, b, c
Ueland, J. and Warf, B.: Racialized Topographies: Altitude and Race in Southern Cities, Geogr. Rev., 96, 50–78, https://doi.org/10.1111/j.1931-0846.2006.tb00387.x, 2006. a
UNDP: Human Development Report 2010: The Real Wealth of Nations – Pathways to Human Development, Tech. rep., UNDP, New York, https://doi.org/10.2307/2137795, 2010. a
Wahl, T., Jain, S., Bender, J., Meyers, S. D., and Luther, M. E.: Increasing risk of compound flooding from storm surge and rainfall for major US cities, Nat. Clim. Change, 5, 1093–1097, https://doi.org/10.1038/nclimate2736, 2015. a, b, c
Wang, Y. and Marsooli, R.: Physical Instability of Individuals Exposed to Storm-Induced Coastal Flooding: Vulnerability of New Yorkers During Hurricane Sandy, Water Resour. Res., 57, https://doi.org/10.1029/2020WR028616, 2021. a
Wing, O. E., Bates, P. D., Smith, A. M., Sampson, C. C., Johnson, K. A., Fargione, J., and Morefield, P.: Estimates of present and future flood risk in the conterminous United States, Environ. Res. Lett., 13, 1–7, https://doi.org/10.1088/1748-9326/aaac65, 2018. a, b, c
Wing, O. E., Pinter, N., Bates, P. D., and Kousky, C.: New insights into US flood vulnerability revealed from flood insurance big data, Nat. Commun., 11, 1–10, https://doi.org/10.1038/s41467-020-15264-2, 2020. a
Wu, Q. and Lane, C. R.: Delineation and Quantification of Wetland Depressions in the Prairie Pothole Region of North Dakota, Wetlands, 36, 215–227, https://doi.org/10.1007/s13157-015-0731-6, 2016. a
Wu, Q., Deng, C., and Chen, Z.: Automated delineation of karst sinkholes from LiDAR-derived digital elevation models, Geomorphology, 266, 1–10, https://doi.org/10.1016/j.geomorph.2016.05.006, 2016. a
Zheng, X., Maidment, D. R., Tarboton, D. G., Liu, Y. Y., and Passalacqua, P.: GeoFlood: Large-Scale Flood Inundation Mapping Based on High-Resolution Terrain Analysis, Water Resour. Res., 54, 10013–10033, https://doi.org/10.1029/2018WR023457, 2018. a, b, c, d, e, f, g
Zheng, X., D'Angelo, C., Maidment, D., and Passlacqua, P.: Application of a large-scale terrain-analysis-based flood mapping system to Hurricane Harvey, J. Am. Water Resour. Assoc., 58, 149–163, https://doi.org/10.1111/1752-1688.12987, 2022. a