Articles | Volume 25, issue 2
https://doi.org/10.5194/hess-25-653-2021
© Author(s) 2021. This work is distributed under
the Creative Commons Attribution 4.0 License.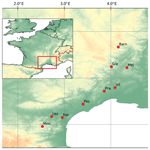 Modeling the response of soil moisture to climate variability in the Mediterranean region
Future climate scenarios for the Mediterranean region indicate a possible decrease in annual precipitation associated with an intensification of extreme rainfall events in the coming years. A major challenge in this region is to evaluate the impacts of changing precipitation patterns on extreme hydrological events such as droughts and floods. For this, it is important to understand the impact of climate change on soil moisture since it is a proxy for agricultural droughts, and the antecedent soil moisture condition plays a key role on runoff generation. This study focuses on 10 sites, located in southern France, with available soil moisture, temperature, and precipitation observations for a 10-year time period. Soil moisture is simulated at each site at the hourly time step using a model of soil water content. The sensitivity of the simulated soil moisture to different changes in precipitation and temperature is evaluated by simulating the soil moisture response to temperature and precipitation scenarios generated using a delta change method for temperature and a stochastic model (the Neyman–Scott rectangular pulse model) for precipitation. Results show that soil moisture is more impacted by changes in precipitation intermittence than precipitation intensity and temperature. Overall, increased temperature and precipitation intensity associated with more intermittent precipitation leads to decreased soil moisture and an increase in the annual number of days with dry soil moisture conditions. In particular, a temperature increase of +4 ∘C combined with a decrease of annual rainfall between 10 % and 20 %, corresponding to the current available climate scenarios for the Mediterranean, lead to a lengthening of the drought period from June to October with an average of +28 d of soil moisture drought per year.
Received: 17 Jun 2020 – Discussion started: 25 Jun 2020 – Revised: 30 Nov 2020 – Accepted: 11 Jan 2021 – Published: 11 Feb 2021
The Mediterranean region is a transitional zone between dry and wet climates, and in these semiarid areas the direct evaporation from the soil plays an important role on the surface energy balance, with evapotranspiration strongly dependent on available soil moisture (Koster et al., 2004; Seneviratne et al., 2010; Taylor, 2015). Consequently, the Mediterranean has been identified as a region with a strong coupling between the atmosphere and the land surface, with feedback effects of soil moisture on temperature and precipitation (Seneviratne et al., 2010; Knist et al., 2017; Hertig et al., 2019). Indeed, soil moisture is a key variable in the hydrological cycle for the partitioning of rainfall into infiltration and runoff and also for the mass and energy balance between land surface and the atmosphere (Seneviratne et al., 2010; Brocca et al., 2017). The water contained in the unsaturated, or vadose zone, is an important driver for floods with soils close to saturation having more probability to produce runoff when subjected to precipitation inputs (Zehe et al., 2005; Ivancic and Shaw, 2015; Woldemeskel and Sharma, 2016; Bennett et al., 2018; Wasko and Nathan, 2019). This is particularly true in the Mediterranean context where several studies have shown the strong influence of soil moisture on flood generation processes (Brocca et al., 2008; Penna et al., 2011; Tramblay et al., 2010, 2019; Uber et al., 2018). Similarly, soil moisture is an important parameter for drought analysis, since low soil moisture content is a good proxy for drought impacts on agriculture or wildfires occurrence (Vidal et al., 2010; Ruffault et al., 2013).
There is a climatic trend towards a drying of the Mediterranean region, both during the historical period but also in future climate scenarios, showing a decrease in precipitation amounts and occurrence, associated with an increasing frequency of drought episodes (Hoerling et al., 2012; Polade et al., 2014, 2017; Hertig and Tramblay, 2017; Lionello and Scarascia, 2018; Tramblay et al., 2020). For a RCP8.5 emission scenario, Giannakopoulos et al. (2009) and Polade et al. (2014) both estimate a mean decrease up to −30 % of the annual precipitation in the Mediterranean region by the end of the century and an increase of dry days ranging between +1 to +3 weeks per year. The precipitation decrease associated with higher temperatures leading to stronger evaporation rates is causing a decrease in soil moisture for large parts of the Mediterranean (Vidal et al., 2010; Vicente-Serrano et al., 2014; Hanel et al., 2018). Samaniego et al. (2018) and Grillakis (2019) provided future projections of soil moisture for Europe using different combinations of climate scenarios from general circulation models (GCMs), regional climate models (RCMs), and hydrological and land surface models, showing a clear climate signal towards a future decrease in soil moisture content and consequently an increase in agricultural droughts for Mediterranean regions.
Only a few studies have attempted to validate the soil moisture simulated by the GCM or RCM land surface schemes, probably due to the lack of sufficient networks with in situ soil moisture measurements, which show high spatial variability (Brocca et al., 2007; Crow et al., 2012; Holgate et al., 2016). Yuan and Quiring (2017) validated the ensemble of Coupled Model Intercomparison Project Phase 5 (CMIP5) GCMs over North America with in situ and satellite soil moisture observations. Knist et al. (2017) evaluated the Coordinated Regional Climate Downscaling Experiment (CORDEX) RCMs over Europe using GLEAM (Global Land Evaporation Amsterdam Model) and FLUXNET reference data. Hertig et al. (2019) tested the ability of two GCMs (CNRM-CM5 and MPI-ESM-MR) from CMIP5 to reproduce soil moisture dynamics as modeled by the Global Land Data Assimilation System (GLDAS) over Europe. If the main patterns of seasonal soil moisture were found to be adequately represented from climate models, these studies also pointed out the large multimodel variability in particular in the transitional climate zones. Indeed, many studies reported a high model dependence of soil moisture simulations (Koster et al., 2009; Berg et al., 2017). This is particularly true for the Mediterranean regions due to structural uncertainty, different process representations, soil depths, and interactions with vegetation that are not currently adequately reproduced by land surface models (Knist et al., 2017; Quintana-Seguí et al., 2020). As a consequence, the direct use of soil moisture from climate models may not be the best option to assess small-scale soil moisture variability in relation with climate conditions.
Besides the use of climate models, scenario-neutral approaches are increasingly employed to assess the vulnerability of water resources under different climate change scenarios (Prudhomme et al., 2010; Guo et al., 2017; Stephens et al., 2018; Keller et al., 2019). The approach is similar to a sensitivity analysis aiming at quantifying the changes in a given hydrological variable for a plausible range of changes in hydrometeorological conditions. Several studies have previously used stochastic approaches to investigate the sensitivity of soil moisture to precipitation patterns with various levels of complexity in the representation of precipitation properties and soil moisture dynamics (Rodriguez-Iturbe et al., 1999; Milly, 2001; Calanca, 2004; Laio et al., 2001; Teuling et al., 2007; Zhu et al., 2020). This type of approach can provide useful information to identify the hydrometeorological parameters that have the greatest impact on a given response variable. Guo et al. (2018) provided an example of such a scenario-neutral approach based on a stochastic weather generator to explore possible rates of changes in rainfall intermittence and extremes in southern Australia. Yoo et al. (2005) coupled a stochastic generator of rainfall to a soil moisture model in the Walnut Gulch experimental watershed in southeastern Arizona to estimate soil moisture changes due to rainfall variability. They found that the rainfall arrival rate was the most sensitive parameter, with decreasing soil moisture content and increasing rain intermittence, even without a decrease of the total volume of rainfall. Yet, this type of approach needs to be applied to other land regions and different sites in order to evaluate the possible spatial variability in addition to the temporal variability of rainfall. These bottom-up approaches are complementary to the modeling chains linking climate and land surface models and document the most relevant process leading to soil moisture changes that in turn can be used to improve the land surface schemes.
The objective of this study is to analyze the variability of soil moisture for a set of Mediterranean sites according to changes in precipitation and temperature. The method relies on the use of a stochastic precipitation generator coupled with the soil moisture model proposed by Brocca et al. (2008). The scientific questions addressed in the present work are: which precipitation characteristics (intermittency, intensity) influence soil moisture changes in conjunction with changes in temperature as a proxy for evapotranspiration changes, and how does the response of soil moisture to changes in climate drivers vary in space for a range of different locations with different topographical and soil properties?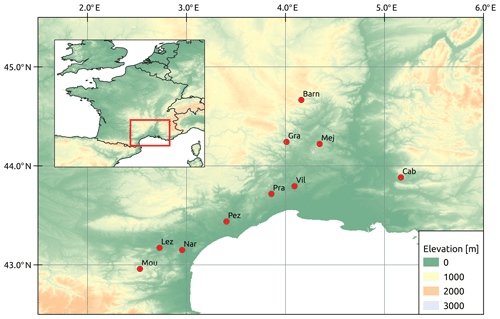 The paper is structured as follows: Sect. 2 describes the study area and collected datasets; Sect. 3 provides a description of the soil moisture and stochastic rainfall models (Sect. 3.1 to 3.3) and of the experimental design for the simulation of the soil moisture scenarios (Sect. 3.4); Sect. 4 presents the validation of stochastic rainfall model (Sect. 4.1) and soil moisture model (Sect. 4.2) after calibration and the sensitivity analysis of the median (Sect. 4.3) and extreme soil moisture (Sect. 4.4) to precipitation and temperature variations; and Sect. 5 discusses the results and summarizes the main conclusions of the paper.
This study uses soil moisture, precipitation, and temperature in situ data from 10 stations of the SMOSMANIA network (Calvet et al., 2007; Albergel et al., 2008) located in the French Mediterranean region (Fig. 1).
Stations all present a characteristic Mediterranean precipitation seasonal cycle with a hot and dry summer followed by heavy precipitation between September and November (Fig. 2). This precipitation cycle directly impacts soil moisture with lower soil moisture values during summer and higher values during winter. Although all stations are located in the French Mediterranean region, they differ in altitudes, ranging from 30 m a.s.l. (Pézenas) to 538 m a.s.l. (Mouthoumet), in mean annual precipitation, ranging from 500 mm (Lézignan Corbières, Pézenas) to 1734 mm (Barnas), and in soil characteristics (Table 1). The station altitude is correlated to mean annual precipitation (r=0.7), except for the station Mouthoumet with lower annual precipitation than stations with comparable altitude (if this station is removed, r=0.92 between altitude and mean annual precipitation).
In situ data are collected at hourly time steps and covers the period 1 July 2007 to 31 December 2016. Soil moisture data series used in this study are computed from measurements at four different depths (5, 10, 20, and 30 cm) as the weighted average as a function of soil layer depth. The integration of the measurements at various depths enables representation of the average soil moisture in the root zone layer.
One of the main limitations to this study lies in the constant soil moisture model parameters under different climate scenarios. The use of constant parameters implies that processes such as the adaptation of vegetation to soil water stress or the impact of rising CO2 on the vegetation physiology, which may have a sensitive impact on evapotranspiration and thus soil moisture (Berg and Sheffield, 2018) are not taken into account in this study. To avoid this issue, it would be required to consider land surface modeling schemes that are able to take into account the feedback effects between vegetation and land surface processes (Albergel et al., 2017). In addition, offline computation of potential evapotranspiration with standard formulas such as the Blaney and Criddle or Penman–Monteith equations can be problematic since it neglects several factors, in particular the surface conditions (Barella-Ortiz et al., 2013). The impact of different formulations of potential evapotranspiration on soil moisture changes needs also to be investigated, since simple temperature-based formulas may overestimate the temperature effects on evapotranspiration (Sheffield et al., 2012; Vicente-Serrano et al., 2020).
Another source of uncertainty is related to the selection of temperature and precipitation scenarios. Currently the majority of available climate simulations are at the daily time step. The projected changes on hourly climate characteristics remains largely unknown, and this is why we adopted a stochastic simulation approach to encompass the plausible range of future scenarios. However, convection-permitting regional climate models (CPRCMs) have been increasingly implemented over Europe in recent years to reproduce hourly changes in precipitation (Coppola et al., 2018) and these simulations should be considered in future experiments. Similarly, the approach considered in the present paper is based on distributional changes, while the impact of possible changes in the seasonal to interannual variability of precipitations on soil moisture cannot be taken into account. This issue could be also resolved by using CPRCM simulations instead of a stochastic rainfall generator to simulate the soil moisture response to various changes in precipitation including seasonal and interannual variability.
Finally, this study relies on a set of soil moisture observations from different sites located in southern France and, despite different annual precipitation and temperature patterns, the vegetation at the different locations belongs to the same biome. It would be interesting to perform this type of analysis on a larger set of sites located in various Mediterranean environments, including North Africa and the Middle East, with more arid climate conditions to investigate the possible relationships between soil moisture dynamics and soil types, vegetation cover, and climate characteristics for different degrees of aridity. Indeed, the Mediterranean region includes a great variety of types of vegetation, forming mosaic patterns created by variations in soil, topography, climate, fire history, and human activity (Geri et al., 2010). Therefore, it would be very useful to produce a typology of the sensitivity of soil moisture changes for a variety of Mediterranean landscapes.
Soil moisture is an important variable to consider in a climate change context since it strongly influences agricultural droughts and flood generation processes. Future climate scenarios for the Mediterranean indicate an increase in temperature associated with an increased frequency of dry days but also an intensification of extreme rainfall events. This study considered soil moisture monitored at 10 plots located in southern France in a modeling framework aimed at estimating its sensitivity to changes in precipitation and temperature. For that purpose, a range of precipitation and temperature variations coherent with current climate scenarios available for the Mediterranean region have been generated with a stochastic model to investigate the response of soil moisture to these climatic changes. The main result of this study shows that the sensitivity of soil moisture to changes in precipitation and temperature is similar at the different sites, with a higher sensitivity of soil moisture to intermittent precipitation and the number of dry days rather than rainfall intensity or the temperature increase. However, these changes are modulated by the climate characteristics of the different stations, with a higher sensitivity of soil moisture to precipitation intermittence in locations with dryer and warmer climate characteristics. Overall, it is observed that changes in precipitation and temperature have a greater impact on low soil moisture values than on conditions close to soil saturation. This implies that the current climate change scenarios may induce longer periods of depleted soil moisture content, corresponding to agricultural drought conditions. About the potential impacts of soil moisture changes on flood generation, more research is needed to better understand the joint influence of lower antecedent soil moisture conditions associated with higher rainfall intensity on flood magnitude and occurrence.
The computed indices are available upon request to the corresponding author.
LM and YT designed the experiments, performed the analyses, and wrote the paper. LB, CM, and SC contributed to the soil moisture modeling and climate scenarios. PFG contributed to the sensitivity analysis. All authors helped interpret the results and revised the paper.
The authors declare that they have no conflict of interest.
This article is part of the special issue "Hydrological cycle in the Mediterranean (ACP/AMT/GMD/HESS/NHESS/OS inter-journal SI)". It is not associated with a conference.
The authors would like to thank Météo-France for providing precipitation and temperature data; the soil moisture data from the SMOSMANIA network were downloaded from the International Soil Moisture Network (https://ismn.geo.tuwien.ac.at/en/, last access: 9 February 2021). This work was made possible through the support of the High Performance Computing Platform MESO@LR (https://meso-lr.umontpellier.fr/, last access: 9 February 2021), financed by the Occitanie/Pyrénées-Méditerranée Region, Montpellier Mediterranean Metropole, and the University of Montpellier. The authors wish to thank the three reviewers, Guillaume Evin, Ryan Teuling, and an anonymous reviewer.
This work is a contribution to the HYdrological cycle in The Mediterranean EXperiment (HyMeX) program, through INSU-MISTRALS support.
This paper was edited by Markus Hrachowitz and reviewed by Guillaume Evin, Ryan Teuling, and one anonymous referee.
Albergel, C., Rüdiger, C., Pellarin, T., Calvet, J.-C., Fritz, N., Froissard, F., Suquia, D., Petitpa, A., Piguet, B., and Martin, E.: From near-surface to root-zone soil moisture using an exponential filter: an assessment of the method based on in-situ observations and model simulations, Hydrol. Earth Syst. Sci., 12, 1323–1337, https://doi.org/10.5194/hess-12-1323-2008, 2008. a
Albergel, C., Munier, S., Leroux, D. J., Dewaele, H., Fairbairn, D., Barbu, A. L., Gelati, E., Dorigo, W., Faroux, S., Meurey, C., Le Moigne, P., Decharme, B., Mahfouf, J.-F., and Calvet, J.-C.: Sequential assimilation of satellite-derived vegetation and soil moisture products using SURFEX_v8.0: LDAS-Monde assessment over the Euro-Mediterranean area, Geosci. Model Dev., 10, 3889–3912, https://doi.org/10.5194/gmd-10-3889-2017, 2017. a
Angerer, J. P., Bizimana, J.-C. B., and Alemayehu, S.: Reducing Risk in Pastoral Regions: The Role of Early Warning and Livestock Information Systems, Revista Científica de Produção Animal, 15, 9–21, 2014. a
Barella-Ortiz, A., Polcher, J., Tuzet, A., and Laval, K.: Potential evaporation estimation through an unstressed surface-energy balance and its sensitivity to climate change, Hydrol. Earth Syst. Sci., 17, 4625–4639, https://doi.org/10.5194/hess-17-4625-2013, 2013. a
Bennett, B., Leonard, M., Deng, Y., and Westra, S.: An empirical investigation into the effect of antecedent precipitation on flood volume, J. Hydrol., 567, 435–445, 2018. a
Berg, A. and Sheffield, J.: Climate change and drought: the soil moisture perspective, Curr. Clim. Change Rep., 4, 180–191, 2018. a
Berg, A., Sheffield, J., and Milly, P. C.: Divergent surface and total soil moisture projections under global warming, Geophys. Res. Lett., 44, 236–244, 2017. a
Bordoy, R. and Burlando, P.: Stochastic downscaling of climate model precipitation outputs in orographically complex regions: 2. Downscaling methodology, Water Resour. Res., 50, 562–579, https://doi.org/10.1002/wrcr.20443, 2014. a
Brocca, L., Morbidelli, R., Melone, F., and Moramarco, T.: Soil moisture spatial variability in experimental areas of central Italy, J. Hydrol., 333, 356–373, 2007. a
Brocca, L., Melone, F., and Moramarco, T.: On the estimation of antecedent wetness conditions in rainfall–runoff modelling, Hydrol. Process., 22, 629–642, 2008. a, b, c, d
Brocca, L., Camici, S., Melone, F., Moramarco, T., Martínez-Fernández, J., Didon-Lescot, J.-F., and Morbidelli, R.: Improving the representation of soil moisture by using a semi-analytical infiltration model, Hydrol. Process., 28, 2103–2115, 2014. a, b
Brocca, L., Ciabatta, L., Massari, C., Camici, S., and Tarpanelli, A.: Soil moisture for hydrological applications: open questions and new opportunities, Water, 9, 140, https://doi.org/10.3390/w9020140, 2017. a
Calanca, P.: Interannual variability of summer mean soil moisture conditions in Switzerland during the 20th century: A look using a stochastic soil moisture model, Water Resour. Res., 40, W12502, https://doi.org/10.1029/2004WR003254, 2004. a
Calvet, J.-C., Fritz, N., Froissard, F., Suquia, D., Petitpa, A., and Piguet, B.: In situ soil moisture observations for the CAL/VAL of SMOS: The SMOSMANIA network, in: 2007 IEEE International Geoscience and Remote Sensing Symposium, IEEE, 23–27 July 2007, Barcelona, Spain, 1196–1199, 2007. a
Camici, S., Tarpanelli, A., Brocca, L., Melone, F., and Moramarco, T.: Design soil moisture estimation by comparing continuous and storm-based rainfall-runoff modeling, Water Resour. Res., 47, W05527, https://doi.org/10.1029/2010WR009298, 2011. a
Chan, S. C., Kendon, E. J., Berthou, S., Fosser, G., Lewis, E., and Fowler, H. J.: Europe-wide precipitation projections at convection permitting scale with the Unified Model, Clim. Dynam., 55, 409–428, https://doi.org/10.1007/s00382-020-05192-8, 2020. a
Coppola, E., Sobolowski, S., Pichelli, E., Raffaele, F., Ahrens, B., Anders, I., Ban, N., Bastin, S., Belda, M., Belusic, D., Caldas-Alvarez, A., Cardoso, R. M., Davolio, S., Dobler, A., Fernandez, J., Fita, L., Fumiere, Q., Giorgi, F., Goergen, K., Güttler, I., Halenka, T., Heinzeller, D., Hodnebrog, Ø., Jacob, D., Kartsios, S., Katragkou, E., Kendon, E., Khodayar, S., Kunstmann, H., Knist, S., Lavín-Gullón, A., Lind, P., Lorenz, T., Maraun, D., Marelle, L., van Meijgaard, E., Milovac, J., Myhre, G., Panitz, H.-J., Piazza, M., Raffa, M., Raub, T., Rockel, B., Schär, C., Sieck, K., Soares, P. M. M., Somot, S., Srnec, L., Stocchi, P., Tölle, M. H., Truhetz, H., Vautard, R., de Vries, H., and Warrach-Sagi, K.: A first-of-its-kind multi-model convection permitting ensemble for investigating convective phenomena over Europe and the Mediterranean, Clim. Dynam., 55, 3–34, https://doi.org/10.1007/s00382-018-4521-8, 2018. a
Cowpertwait, P., O'Connell, P., Metcalfe, A., and Mawdsley, J.: Stochastic point process modelling of rainfall. I. Single-site fitting and validation, J. Hydrol., 175, 17–46, 1996. a, b
Crow, W. T., Berg, A. A., Cosh, M. H., Loew, A., Mohanty, B. P., Panciera, R., de Rosnay, P., Ryu, D., and Walker, J. P.: Upscaling sparse ground-based soil moisture observations for the validation of coarse-resolution satellite soil moisture products, Rev. Geophys., 50, RG2002, https://doi.org/10.1029/2011RG000372, 2012. a
Geri, F., Amici, V., and Rocchini, D.: Human activity impact on the heterogeneity of a Mediterranean landscape, Appl. Geogr., 30, 370–379, https://doi.org/10.1016/j.apgeog.2009.10.006, 2010. a
Giannakopoulos, C., Le Sager, P., Bindi, M., Moriondo, M., Kostopoulou, E., and Goodess, C.: Climatic changes and associated impacts in the Mediterranean resulting from a 2 ∘C global warming, Global Planet. Change, 68, 209–224, 2009. a
Grillakis, M. G.: Increase in severe and extreme soil moisture droughts for Europe under climate change, Sci. Total Environ., 660, 1245–1255, 2019. a
Guo, D., Westra, S., and Maier, H. R.: Use of a scenario-neutral approach to identify the key hydro-meteorological attributes that impact runoff from a natural catchment, J. Hydrol., 554, 317–330, 2017. a
Guo, D., Westra, S., and Maier, H. R.: An inverse approach to perturb historical rainfall data for scenario-neutral climate impact studies, J. Hydrol., 556, 877–890, 2018. a
Hanel, M., Rakovec, O., Markonis, Y., Máca, P., Samaniego, L., Kyselỳ, J., and Kumar, R.: Revisiting the recent European droughts from a long-term perspective, Scient. Rep., 8, 9499, https://doi.org/10.1038/s41598-018-27464-4, 2018. a
Hertig, E. and Tramblay, Y.: Regional downscaling of Mediterranean droughts under past and future climatic conditions, Global Planet. Change, 151, 36–48, 2017. a
Hertig, E., Tramblay, Y., Romberg, K., Kaspar-Ott, I., and Merkenschlager, C.: The impact of soil moisture on precipitation downscaling in the Euro-Mediterranean area, Clim. Dynam., 52, 2869–2884, 2019. a, b
Hoerling, M., Eischeid, J., Perlwitz, J., Quan, X., Zhang, T., and Pegion, P.: On the increased frequency of Mediterranean drought, J. Climate, 25, 2146–2161, 2012. a
Holgate, C., De Jeu, R., van Dijk, A., Liu, Y., Renzullo, L., Vinodkumar, Dharssi, I., Parinussa, R., Van Der Schalie, R., Gevaert, A., Walker, J., McJannet, D., Cleverly, J., Haverd, V., Trudinger, C., and Briggs, P.: Comparison of remotely sensed and modelled soil moisture data sets across Australia, Remote Sens. Environ., 186, 479–500, https://doi.org/10.1016/j.rse.2016.09.015, 2016. a
Ivancic, T. J. and Shaw, S. B.: Examining why trends in very heavy precipitation should not be mistaken for trends in very high river discharge, Climatic Change, 133, 681–693, 2015. a
Keller, L., Rössler, O., Martius, O., and Weingartner, R.: Comparison of scenario-neutral approaches for estimation of climate change impacts on flood characteristics, Hydrol. Process., 33, 535–550, https://doi.org/10.1002/hyp.13341, 2019. a
Knist, S., Goergen, K., Buonomo, E., Christensen, O. B., Colette, A., Cardoso, R. M., Fealy, R., Fernández, J., García-Díez, M., Jacob, D., Kartsios, S., Katragkou, E., Keuler, K., Mayer, S., van Meijgaard, E., Nikulin, G., Soares, P. M. M., Sobolowski, S., Szepszo, G., Teichmann, C., Vautard, R., Warrach-Sagi, K., Wulfmeyer, V., and Simmer, C.: Land-atmosphere coupling in EURO-CORDEX evaluation experiments, J. Geophys. Res.-Atmos., 122, 79–103, 2017. a, b, c
Koster, R. D., Dirmeyer, P. A., Guo, Z., Bonan, G., Chan, E., Cox, P., Gordon, C., Kanae, S., Kowalczyk, E., Lawrence, D., Liu, P., Lu, C.-H., Malyshev, S., McAvaney, B., Mitchell, K., Mocko, D., Oki, T., Oleson, K., Pitman, A., Sud, Y. C., Taylor, C. M., Verseghy, D., Vasic, R., Xue, Y., and Yamada, T.: Regions of strong coupling between soil moisture and precipitation, Science, 305, 1138–1140, 2004. a
Koster, R. D., Guo, Z., Yang, R., Dirmeyer, P. A., Mitchell, K., and Puma, M. J.: On the nature of soil moisture in land surface models, J. Climate, 22, 4322–4335, 2009. a
Laio, F., Porporato, A., Ridolfi, L., and Rodriguez-Iturbe, I.: Plants in water-controlled ecosystems: active role in hydrologic processes and response to water stress: II. Probabilistic soil moisture dynamics, Adv. Water Resour., 24, 707–723, https://doi.org/10.1016/S0309-1708(01)00005-7, 2001. a
Lionello, P. and Scarascia, L.: The relation between climate change in the Mediterranean region and global warming, Reg. Environ. Change, 18, 1481–1493, https://doi.org/10.1007/s10113-018-1290-1, 2018. a
Milly, P. C. D.: A minimalist probabilistic description of root zone soil water, Water Resour. Res., 37, 457–463, https://doi.org/10.1029/2000WR900337, 2001. a
Nash, J. E. and Sutcliffe, J. V.: River flow forecasting through conceptual models part I – A discussion of principles, J. Hydrol., 10, 282–290, 1970. a
Paxian, A., Hertig, E., Seubert, S., Vogt, G., Jacobeit, J., and Paeth, H.: Present-day and future mediterranean precipitation extremes assessed by different statistical approaches, Clim. Dynam., 44, 845–860, 2015. a
Penna, D., Tromp-van Meerveld, H. J., Gobbi, A., Borga, M., and Dalla Fontana, G.: The influence of soil moisture on threshold runoff generation processes in an alpine headwater catchment, Hydrol. Earth Syst. Sci., 15, 689–702, https://doi.org/10.5194/hess-15-689-2011, 2011. a
Pianosi, F., Beven, K., Freer, J., Hall, J. W., Rougier, J., Stephenson, D. B., and Wagener, T.: Sensitivity analysis of environmental models: A systematic review with practical workflow, Environ. Model. Softw., 79, 214–232, https://doi.org/10.1016/j.envsoft.2016.02.008, 2016. a
Pichelli, E., Coppola, E., Sobolowski, S., Ban, N., Giorgi, F., Stocchi, P., Alias, A., Belusic, D., Berthou, S., Caillaud, C., Cardoso, R., Chan, S., Christensen, O., Dobler, A., de Vries, H., Goergen, K., Kendon, E., Keuler, K., Lenderink, G., Lorenz, T., Mishra, A., Panitz, H.-J., Schär, C., Soares, P., Truhetz, H., and Vergara-Temprado, J.: The first multi-model ensemble of regional climate simulations at kilometer-scale resolution part 2: historical and future simulations of precipitation, Clim. Dynam., https://doi.org/10.1007/s00382-021-05657-4, in press, 2021. a
Polade, S. D., Pierce, D. W., Cayan, D. R., Gershunov, A., and Dettinger, M. D.: The key role of dry days in changing regional climate and precipitation regimes, Scient. Rep., 4, 4364, https://doi.org/10.1038/srep04364, 2014. a, b
Polade, S. D., Gershunov, A., Cayan, D. R., Dettinger, M. D., and Pierce, D. W.: Precipitation in a warming world: Assessing projected hydro-climate changes in California and other Mediterranean climate regions, Scient. Rep., 7, 10783, https://doi.org/10.1038/s41598-017-11285-y, 2017. a, b, c, d, e
Prudhomme, C., Wilby, R. L., Crooks, S., Kay, A. L., and Reynard, N. S.: Scenario-neutral approach to climate change impact studies: application to flood risk, J. Hydrol., 390, 198–209, 2010. a
Quintana-Seguí, P., Barella-Ortiz, A., Regueiro-Sanfiz, S., and Miguez-Macho, G.: The Utility of Land-Surface Model Simulations to Provide Drought Information in a Water Management Context Using Global and Local Forcing Datasets, Water Resour. Manage., 34, 2135–2156, https://doi.org/10.1007/s11269-018-2160-9, 2020. a
Ratto, M., Pagano, A., and Young, P.: State Dependent Parameter metamodelling and sensitivity analysis, Comput. Phys. Commun., 177, 863–876, https://doi.org/10.1016/j.cpc.2007.07.011, 2007. a
Rodriguez-Iturbe, I., Porporato, A., Ridolfi, L., Isham, V., and Coxi, D. R.: Probabilistic modelling of water balance at a point: the role of climate, soil and vegetation, P. Roy. Soc.fLond. A:, 455, 3789–3805, https://doi.org/10.1098/rspa.1999.0477, 1999. a
Ruffault, J., Martin-StPaul, N. K., Rambal, S., and Mouillot, F.: Differential regional responses in drought length, intensity and timing to recent climate changes in a Mediterranean forested ecosystem, Climatic Change, 117, 103–117, 2013. a
Saltelli, A., Ratto, M., Andres, T., Campolongo, F., Cariboni, J., Gatelli, D., Saisana, M., and Tarantola, S.: Global Sensitivity Analysis: The Primer, John Wiley & Sons, Chichester, West Sussex, England, https://doi.org/10.1002/9780470725184, 2008. a
Saltelli, A., Annoni, P., Azzini, I., Campolongo, F., Ratto, M., and Tarantola, S.: Variance based sensitivity analysis of model output. Design and estimator for the total sensitivity index, Comput. Phys. Commun., 181, 259–270, https://doi.org/10.1016/j.cpc.2009.09.018, 2010. a
Samaniego, L., Thober, S., Kumar, R., Wanders, N., Rakovec, O., Pan, M., Zink, M., Sheffield, J., Wood, E. F., and Marx, A.: Anthropogenic warming exacerbates European soil moisture droughts, Nat. Clim. Change, 8, 421–426, https://doi.org/10.1038/s41558-018-0138-5, 2018. a
Seneviratne, S. I., Corti, T., Davin, E. L., Hirschi, M., Jaeger, E. B., Lehner, I., Orlowsky, B., and Teuling, A. J.: Investigating soil moisture–climate interactions in a changing climate: A review, Earth-Sci. Rev., 99, 125–161, 2010. a, b, c
Sheffield, J., Wood, E. F., and Roderick, M. L.: Little change in global drought over the past 60 years, Nature, 491, 435–438, https://doi.org/10.1038/nature11575, 2012. a
Sobol, I. M.: Sensitivity analysis for nonlinear mathematical models, Math. Model. Comput. Exp., 1, 407–414, 1993. a
Stephens, C., Johnson, F., and Marshall, L.: Implications of future climate change for event-based hydrologic models, Adv. Water Resour., 119, 95–110, https://doi.org/10.1016/j.advwatres.2018.07.004, 2018. a
Taylor, C. M.: Detecting soil moisture impacts on convective initiation in Europe, Geophys. Res. Lett., 42, 4631–4638, 2015. a
Teuling, A. J., Uijlenhoet, R., Hurkmans, R., Merlin, O., Panciera, R., Walker, J. P., and Troch, P. A.: Dry-end surface soil moisture variability during NAFE'06, Geophys. Res. Lett., 34, L17402, https://doi.org/10.1029/2007gl031001, 2007. a
Tramblay, Y. and Somot, S.: Future evolution of extreme precipitation in the Mediterranean, Climatic Change, 151, 289–302, https://doi.org/10.1007/s10584-018-2300-5, 2018. a
Tramblay, Y., Bouvier, C., Martin, C., Didon-Lescot, J.-F., Todorovik, D., and Domergue, J.-M.: Assessment of initial soil moisture conditions for event-based rainfall–runoff modelling, J. Hydrol., 387, 176–187, 2010. a
Tramblay, Y., Mimeau, L., Neppel, L., Vinet, F., and Sauquet, E.: Detection and attribution of flood trends in Mediterranean basins, Hydrol. Earth Syst. Sci., 23, 4419–4431, https://doi.org/10.5194/hess-23-4419-2019, 2019. a
Tramblay, Y., Koutroulis, A., Samaniego, L., Vicente-Serrano, S. M., Volaire, F., Boone, A., Page, M. L., Llasat, M. C., Albergel, C., Burak, S., Cailleret, M., Kalin, K. C., Davi, H., Dupuy, J.-L., Greve, P., Grillakis, M., Hanich, L., Jarlan, L., Martin-StPaul, N., Martínez-Vilalta, J., Mouillot, F., Pulido-Velazquez, D., Quintana-Seguí, P., Renard, D., Turco, M., Türkeş, M., Trigo, R., Vidal, J.-P., Vilagrosa, A., Zribi, M., and Polcher, J.: Challenges for drought assessment in the Mediterranean region under future climate scenarios, Earth-Sci. Rev., 210, 103348, https://doi.org/10.1016/j.earscirev.2020.103348, 2020. a
Uber, M., Vandervaere, J.-P., Zin, I., Braud, I., Heistermann, M., Legoût, C., Molinié, G., and Nord, G.: How does initial soil moisture influence the hydrological response? A case study from southern France, Hydrol. Earth Syst. Sci., 22, 6127–6146, https://doi.org/10.5194/hess-22-6127-2018, 2018. a
Vicente-Serrano, S. M., Lopez-Moreno, J.-I., Beguería, S., Lorenzo-Lacruz, J., Sanchez-Lorenzo, A., García-Ruiz, J. M., Azorin-Molina, C., Morán-Tejeda, E., Revuelto, J., Trigo, R., Coelho, F., and Espejo, F.: Evidence of increasing drought severity caused by temperature rise in southern Europe, Environ. Res. Lett., 9, 044001, https://doi.org/10.1088/1748-9326/9/4/044001, 2014. a
Vicente-Serrano, S. M., McVicar, T. R., Miralles, D. G., Yang, Y., and Tomas-Burguera, M.: Unraveling the influence of atmospheric evaporative demand on drought and its response to climate change, WIREs Clim. Change, 11, e632, https://doi.org/10.1002/wcc.632, 2020. a
Vidal, J.-P., Martin, E., Franchistéguy, L., Habets, F., Soubeyroux, J.-M., Blanchard, M., and Baillon, M.: Multilevel and multiscale drought reanalysis over France with the Safran-Isba-Modcou hydrometeorological suite, Hydrol. Earth Syst. Sci., 14, 459–478, https://doi.org/10.5194/hess-14-459-2010, 2010. a, b
Wasko, C. and Nathan, R.: Influence of changes in rainfall and soil moisture on trends in flooding, J. Hydrol., 575, 432–441, https://doi.org/10.1016/j.jhydrol.2019.05.054, 2019. a
Wasko, C., Pui, A., Sharma, A., Mehrotra, R., and Jeremiah, E.: Representing low-frequency variability in continuous rainfall simulations: A hierarchical random Bartlett Lewis continuous rainfall generation model, Water Resour. Res., 51, 9995–10007, https://doi.org/10.1002/2015wr017469, 2015.  a
Woldemeskel, F. and Sharma, A.: Should flood regimes change in a warming climate? The role of antecedent moisture conditions, Geophys. Res. Lett., 43, 7556–7563, 2016. a
Yoo, C., Kim, S.-J., and Valdes, J. B.: Sensitivity of soil moisture field evolution to rainfall forcing, Hydrol. Process., 19, 1855–1869, 2005. a
Yuan, S. and Quiring, S. M.: Evaluation of soil moisture in CMIP5 simulations over the contiguous United States using in situ and satellite observations, Hydrol. Earth Syst. Sci., 21, 2203–2218, https://doi.org/10.5194/hess-21-2203-2017, 2017. a
Zehe, E., Becker, R., Bárdossy, A., and Plate, E.: Uncertainty of simulated catchment runoff response in the presence of threshold processes: Role of initial soil moisture and precipitation, J. Hydrol., 315, 183–202, 2005. a
Zhu, B., Xie, X., Meng, S., Lu, C., and Yao, Y.: Sensitivity of soil moisture to precipitation and temperature over China: Present state and future projection, Sci. Total Environ., 705, 135774, https://doi.org/10.1016/j.scitotenv.2019.135774, 2020. a