Articles | Volume 25, issue 4
https://doi.org/10.5194/hess-25-1711-2021
© Author(s) 2021. This work is distributed under
the Creative Commons Attribution 4.0 License.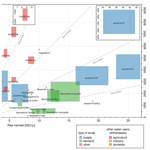 Global scenarios of irrigation water abstractions for bioenergy production: a systematic review
Many scenarios of future climate evolution and its anthropogenic drivers include considerable amounts of bioenergy as a fuel source, as a negative emission technology, and for providing electricity. The associated freshwater abstractions for irrigation of dedicated biomass plantations might be substantial and therefore potentially increase water limitation and stress in affected regions; however, assumptions and quantities of water use provided in the literature vary strongly. This paper reviews existing global assessments of freshwater abstractions for bioenergy production and puts these estimates into the context of scenarios of other water-use sectors. We scanned the available literature and (out of 430 initial hits) found 16 publications (some of which include several bioenergy-water-use scenarios) with reported values on global irrigation water abstractions for biomass plantations, suggesting water withdrawals in the range of 128.4 to 9000 km3 yr−1, which would come on top of (or compete with) agricultural, industrial, and domestic water withdrawals. To provide an understanding of the origins of this large range, we present the diverse underlying assumptions, discuss major study differences, and calculate an inverse water-use efficiency (iwue), which facilitates comparison of the required freshwater amounts per produced biomass harvest. We conclude that due to the potentially high water demands and the tradeoffs that might go along with them, bioenergy should be an integral part of global assessments of freshwater demand and use. For interpreting and comparing reported estimates of possible future bioenergy water abstractions, full disclosure of parameters and assumptions is crucial. A minimum set should include the complete water balances of bioenergy production systems (including partitioning of blue and green water), bioenergy crop species and associated water-use efficiencies, rainfed and irrigated bioenergy plantation locations (including total area and meteorological conditions), and total biomass harvest amounts. In the future, a model intercomparison project with standardized parameters and scenarios would be helpful.
Received: 02 Jul 2020 – Discussion started: 06 Jul 2020 – Revised: 18 Jan 2021 – Accepted: 31 Jan 2021 – Published: 06 Apr 2021
Previous assessments of global green and blue water requirements of a potential widespread bioenergy industry show a large variation in the estimates (withdrawals of 128.4–9000 km3 yr−1; De Fraiture et al., 2008; Hejazi et al., 2014), while there is still insufficient analysis of the underlying sources of variation and assumptions that need to be standardized.
Projections of future energy demand and its partitioning increasingly assume replacement of carbon-intense fossil energy carriers with biomass, which could provide carbon-neutral electricity or fuels (Nakićenović et al., 1998; Rose et al., 2014; Bauer et al., 2018). However, in order to limit mean global warming to 2 ∘C or even 1.5 ∘C (UNFCCC, 2015), technologies providing additional negative emissions (NEs) are potentially needed to compensate for residual and past emissions (Rockström et al., 2017; Minx et al., 2018; Rogelj et al., 2018). One such NE technology (NET) is bioenergy with carbon capture and storage (BECCS). Bioenergy utilizes plant photosynthetic capacity to make available energy from sunlight in biomass, whereby CO2 is extracted from the atmosphere but at the same time water is transferred from soil to the atmosphere in the process of evapotranspiration. Due to the large amount of potentially needed NEs in the second half of the century (e.g. 3.3 GtC yr−1 reported by Smith et al., 2016 and 2–5 GtC yr−1 reported by Rogelj et al., 2015), the feedstock is projected to be grown on large managed plantations and include substantial irrigation, demanding tradeoffs between negative emissions and area requirements as well as water consumption to be solved sustainably.
Suggested energy carriers for BECCS are either energy-rich plant organs (e.g. rapeseed, oil palms, sugarcane) to be directly converted to biofuels (first-generation bioenergy) or lignocellulosic biomass from fast-growing plants such as maize, Miscanthus, switchgrass, willows, or Eucalyptus (Yuan et al., 2008; Soccol et al., 2016), i.e. second-generation bioenergy. These diverse plants have different growth rates, preferred climatic zones, and – depending on the location where they are projected to be grown – different freshwater demands (King et al., 2013).
While burning of fossil energy carriers leads to (net positive) emissions of greenhouse gases, use of biomass is net neutral apart from land-use and process-chain emissions (Al-Ansari et al., 2017). Thus, use of bioenergy can offset other carbon-intensive means of energy generation, such as coal, gas, or oil (Gough et al., 2018; Fajardy and Mac Dowell, 2017). To provide respective NEs, bioenergy use needs to be complemented by means of carbon storage. Proposed methods include pyrogenic carbon capture and storage (PyCCS; Werner et al., 2018; Schmidt et al., 2019), BECCS (Azar et al., 2006; Lenton, 2010), or other long-term storage preventing a release of the captured carbon back to the atmosphere. For a comprehensive analysis of carbon capture technologies, see for example Markewitz et al. (2012).
Bioenergy plantations (BPs) can be either completely rainfed or partially irrigated. Plantations of the former type would completely depend on "green" precipitation water stored in soils, while the latter additionally include more or less pronounced use of "blue" water from lakes, rivers, reservoirs, and aquifers (Hoekstra et al., 2009; Fader et al., 2011; Wang et al., 2017).
The discussion for or against large-scale irrigation of BPs revolves around a set of economic and sustainability tradeoffs, requiring a more comprehensive quantification of water use of bioenergy systems. The required high biomass productivity for reaching ambitious climate targets might promote irrigation to reduce land requirement tradeoffs with, e.g. food production. This however would happen at the expense of freshwater ecosystems (Poff and Zimmerman, 2010) and human societies in terms of increased overall water stress (Schewe et al., 2014) or lead to unwanted modification of terrestrial water cycling (Vervoort et al., 2009). Additional investment in irrigation systems would be required (Hogan et al., 2007), which might, however, become economically feasible due to an increased value of biomass through carbon pricing (Bauer et al., 2018). Li et al. (2018) report at least 15 % (and potentially much more due to most studies not reporting this parameter) of field experiments with lignocellulosic bioenergy crops to be irrigated.
Additionally, the process chain from biomass to NEs requires water as well but has rarely been quantified (e.g. in Smith et al., 2016). This might be because large-scale CCS is not yet in place and the process of conversion to energy and subsequent long-term storage is usually not modelled in detail by the existing models. One exception is Fajardy et al. (2018), who also include polluted ("grey") water from the biomass processing chain.
Review studies on the potentials of BECCS and other NE technologies (e.g. Creutzig et al., 2015; Smith et al., 2016 and Fuss et al., 2018), have so far not provided a comprehensive overview of the associated freshwater abstractions (besides their precursory mentioning).
The suggested large quantities of blue water withdrawals and/or consumptions assumed for BP irrigation in the literature, which may occur in competition with other water uses and may increase water stress in relatively water-scarce regions where BPs are considered, motivate a comprehensive understanding and quantification of their intrinsic water requirements (Hejazi et al., 2015; Wada et al., 2014). Thus, the subject of the present paper is to fill this knowledge gap and systematically review the current literature on projected freshwater abstractions in global NE or energy scenarios relying on BECCS or bioenergy. Additionally, we illustrate how such global scale syntheses could be standardized in data requirements and formats, analytical frameworks, scopes of inference, supporting assumptions, and reconciliation across spatio-temporal scales.
The analysis is guided by the following questions:
The resulting literature corpus consists of 16 publications containing a total of 34 scenarios. In principle one could also include local or regional studies, but their numbers cannot be straightforwardly upscaled or compared with the global studies due to a lack of site-specific data for plantation locations in global studies. We separate quantities of blue water application on BPs into withdrawals (gross extraction from rivers, lakes, reservoirs) or consumption (eventual evapotranspiration, excluding return flows to the rivers and water bodies that may occur after withdrawal). Existing studies are then compared regarding (a) the total global water volume quantified as a component of the hydrologic cycle and (b) the global mean water-use efficiency per biomass produced (iwue (inverse water-use efficiency) – the water abstractions per biomass produced; see Eq. 1) inferred from the studies as a component of field-scale water management.
2.1

 Literature search query

We scanned the Web of Science and the SCOPUS database on 5 February 2020 with a query covering all global BECCS and bioenergy studies that mention use, consumption, withdrawal, or demand of water in their abstract, keywords, or title and excluded studies which focused on algae or electrofuels:
("BECCS" OR "bioenergy production" OR "bioenergy cultivation" OR "biomass production" OR "biomass plantation*") AND (( "water" AND ("use" OR "demand" OR "consumption" OR "withdrawal")) OR "irrigation") AND ("global") NOT ("algae" OR "algal" OR "electrofuels").

From the resulting 430 studies, we removed those that do not deal with BPs or BECCS at all, have only a regional scope, or only give qualitative estimates of the freshwater abstractions of large-scale BPs (going from title to abstract to full text). The global bioenergy studies with water consumption values by King et al. (2013); Smith et al. (2016); Smith and Torn (2013); Varis (2007); Séférian et al. (2018) were included as supplementary "green water studies" in our corpus because they did not consider irrigation, rather only rainfed biomass plantations (and CCS process water in the case of Séférian et al., 2018). We manually added the study by Hejazi et al. (2014), which did not show up in the systematic query described above. The resulting total of 16 "blue water" publications (+5 "green water") together with the main parameters are listed in Table 1. Noticeably, the majority of publications are very recent – only two of them were published before 2010.

Beringer et al. (2011)Bonsch et al. (2016)Boysen et al. (2017)Fajardy et al. (2018)De Fraiture et al. (2008)Gerbens-Leenes et al. (2012)Heck et al. (2016)Heck et al. (2018)Hejazi et al. (2014)Hu et al. (2020)Humpenöder et al. (2018)Jans et al. (2018)Mouratiadou et al. (2016)Stenzel et al. (2019)Yamagata et al. (2018)King et al. (2013)Séférian et al. (2018)Smith and Torn (2013)Smith et al. (2016)Varis (2007)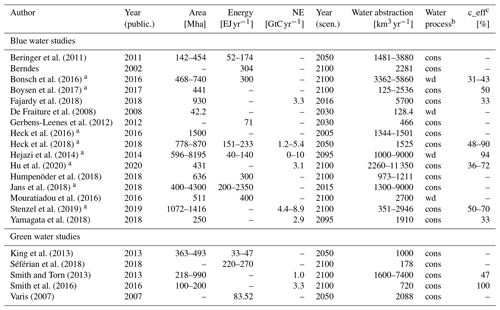 a Parameter ranges span several scenarios. b Consumption (cons), withdrawals (wd). c Carbon conversion efficiency.
2.2

 Calculating an inverse water-use efficiency (iwue)

Comparison of the literature values of water abstractions for BECCS is not straightforward because of the different assumptions studies made on important model parameters and setups, as described in Sect. 3.2. Nevertheless, besides presenting the absolute global estimates of freshwater withdrawal or consumption, we attempt to make the results of these studies directly comparable. The degree of assumed bioenergy deployment varies strongly among studies. We thus relate the given freshwater abstractions to the absolute amount of biomass assumed to be grown. With this we quantify the estimated water abstractions per harvested biomass. King et al. (2013) compute a similar "bioenergy water-use efficiency at the farm gate" for several lignocellulosic bioenergy species based on the yield of (bio)energy per hectare per water volume evapotranspired. We extend this concept of local level water-use efficiency to the larger spatio-temporal scale and apply it as an inverse (global) water-use efficiency (iwue):

For the analysis, we separate the scenarios into those that report water withdrawals or consumption per energy unit supplied from bioenergy ("energy studies") and those that report NEs along with estimates of related withdrawals or consumption ("NE studies"). From the energy studies, we backtrack the approximate dry biomass harvests by using the gross calorific value of 18.5 MJ kgDM−1 (Haberl et al., 2010; Brosse et al., 2012). This is equivalent to 37 MJ kgC−1 or 37 EJ GtC−1, with the average carbon content of dry biomass being 0.5 kgC kgDM−1 (Schlesinger and Bernhardt, 1991, p. 120) (Eq. 2).

With this we approximate the initial biomass harvest from the reported bioenergy supply, however, neglecting losses during processing if they were considered. Note that using one value for carbon content of biomass is an oversimplification; naturally, the value depends on the bioenergy crop type (Ma et al., 2018). Therefore, for ideal comparability not only the feedstock type but also the harvest shares would need to be reported. For NE studies that document an assumed carbon conversion efficiency (ceff; the fraction of carbon from biomass harvest that is eventually sequestered and removed from carbon cycling), we derive the dry biomass harvest by division of the NE amount by ceff (Eq. 3). Since transport and other losses are usually contained in ceff, the inferred initial biomass values for NE studies are probably more reliable than those for energy studies.

Some studies also consider the residues from agriculture and forestry (Beringer et al., 2011; Fajardy et al., 2018), timber harvest from land-use conversion (Heck et al., 2018; Stenzel et al., 2019), municipal solid waste, or animal manures (Beringer et al., 2011) as bioenergy feedstock. Respective amounts, however, are only reported in Beringer et al. (2011)). We may therefore overestimate the raw bioenergy harvests or conversely underestimate the water abstractions per unit of biomass from dedicated BPs.
We report a large range of parameters and scenario criteria (Table 1 and more details in the supplementary data) that are crucial for estimating the irrigation water abstractions for BPs. We are not able to quantify the contribution of each parameter; however, strong dependencies are expected for the targeted primary bioenergy or negative emissions amounts, the assumed carbon conversion efficiency, and the assumed plantation area.
A number of necessary parameters were, however, not documented in the publications needed for a full assessment of the hydrologic implications of widespread BP deployment. Thus we recommend that all scenario parameters be reported in future publications on water use (including irrigation) of BPs, enabling more straightforward interpretation and comparison of results. A minimum set of reported parameters, ideally spatially detailed, should in our view include the complete water balances of BPs (including partitioning of blue and green water), water-use efficiencies of the respective plant types, rainfed and irrigated BP locations (including total area and climatic conditions), and total biomass harvest amounts.
We find the global water withdrawals for irrigation of biomass plantations estimated from the available literature to be in the range of 128.4–9000 km3 yr−1 (consumption: 125–11 350 km3 yr−1), compared to about 1100–11 600 km3 yr−1 for the sum of other (agricultural, industrial, and domestic) water withdrawals and thus at similar magnitude. It needs to be noted that the water abstractions for bioenergy production would come on top of (or compete with) that for the other uses.
Surprisingly, there is no clear relationship (e.g. linear) between water abstractions and total bioenergy production. However, by comparing the freshwater abstractions per harvested biomass, we find that most of the scenarios fall between 100–1000 km3 GtC−1. The full range of 15–1250 km3 GtC−1 for biomass harvest implies that, given a carbon conversion efficiency of 50 %, we might need 99–8250 km3 to reach NEs of 3.3 GtC yr−1 as projected to be necessary by Smith et al. (2016).
The studies analysed in this paper span a publication time of almost 20 years. There might, therefore, be significant changes even among different versions of the same model (e.g. GCAM in Hejazi et al., 2014 vs. in Graham et al., 2018, as discussed in Calvin et al., 2019), suggesting the need for a concerted model intercomparison for projections of bioenergy water demands under controlled assumptions and with the latest model versions.
These additional water abstractions for bioenergy, which are at the same magnitude of water demand projections for conventional usage seem to paint a picture of a future where water scarcity can become a global and perpetual issue.
It would have been desirable to also include regional studies in our analysis, but this would have required more information than is usually provided to, for example, analyse local yield and/or water productivity and data on other water-use sectors.
Besides the freshwater abstractions, potential impacts of BPs mostly stem from the implied land-cover and land-use conversion. Replacing natural vegetation with bioenergy crops could affect biodiversity, while, if grown on cropland, they could affect food security. Overall, most of the analysed scenarios do not explicitly replace existing cropland by BPs. This in turn means that most studies (at least implicitly) assume investments in additional infrastructure for irrigation assuming it is economically justifiable. Some scenarios also explicitly protect vulnerable natural areas. These considerations promote the use of marginal or degraded lands for BPs.
This review provides a first comprehensive overview of the current literature on global projections of the freshwater abstractions for irrigated bioenergy plantations. Furthermore, it is the first study that highlights the potential dependence on irrigation for BECCS to deliver NEs for ambitious climate targets and calls for further investigation and reporting on the underlying (model) assumptions. Integrated assessments that consider all water-use sectors (including bioenergy, along with potential tradeoffs based on a detailed understanding of local limitations) are highly desirable and are crucial to get a better understanding of the limits and options of future water consumption.
Appendix B:
 List of abbreviations
| | |
| --- | --- |
| Description | |
| BECCS | bioenergy with carbon capture and storage |
| BP | bioenergy plantation |
| CCS | carbon capture and storage |
| ceff | carbon conversion efficiency |
| DGVM | dynamic global vegetation model |
| EFR | environmental flow requirement |
| ESM | Earth system model |
| IAM | integrated assessment model |
| iwue | inverse water-use efficiency |
| NE | negative emission |
| NET | negative emission technology |
| SSP | shared socioeconomic pathway |
FS designed the study and carried out the literature analysis of bioenergy–freshwater abstractions. DG contributed to the study design. NH carried out the literature analysis of the other water users. FS prepared the manuscript. DG and NH contributed to manuscript preparation.
The authors declare that they have no conflict of interest.
This study was funded by the CE-Land+ project of the German Research Foundation's Priority Programme DFG SPP 1689 on "Climate Engineering – Risks, Challenges and Opportunities?" Part of the research was developed during the Young Scientists Summer Program at the International Institute for Applied Systems Analysis, Laxenburg, Austria, with financial support from the German National Member Organization.
The publication of this article was funded by the Open Access Fund of the Leibniz Association.
This paper was edited by Nunzio Romano and reviewed by David Ellison, Mohamad Hejazi, and two anonymous referees.
Al-Ansari, T., Korre, A., Nie, Z., and Shah, N.: Integration of greenhouse gas control technologies within the energy, water and food nexus to enhance the environmental performance of food production systems, J. Clean. Prod., 162, 1592–1606, https://doi.org/10.1016/j.jclepro.2017.06.097, 2017. a
Alcamo, J., Döll, P., Henrichs, T., Kaspar, F., Lehner, B., Rösch, T., and Siebert, S.: Global estimates of water withdrawals and availability under current and future "business-as-usual" conditions, Hydrolog. Sci. J., 48, 339–348, https://doi.org/10.1623/hysj.48.3.339.45278, 2003. a
Alcamo, J., Flörke, M., and Märkner, M.: Future long-term changes in global water resources driven by socio-economic and climatic changes, Hydrolog. Sci. J., 52, 247–275, 2007. a, b, c
Azar, C., Lindgren, K., Larson, E., and Möllersten, K.: Carbon capture and storage from fossil fuels and biomass – Costs and potential role in stabilizing the atmosphere, Clim. Change, 74, 47–79, https://doi.org/10.1007/s10584-005-3484-7, 2006. a
Bauer, N., Rose, S. K., Fujimori, S., van Vuuren, D. P., Weyant, J., Wise, M., Cui, Y., Daioglou, V., Gidden, M. J., Kato, E., Kitous, A., Leblanc, F., Sands, R., Sano, F., Strefler, J., Tsutsui, J., Bibas, R., Fricko, O., Hasegawa, T., Klein, D., Kurosawa, A., Mima, S., and Muratori, M.: Global energy sector emission reductions and bioenergy use: overview of the bioenergy demand phase of the EMF-33 model comparison, Climatic Change, 163, 1553–1568, https://doi.org/10.1007/s10584-018-2226-y, 2018. a, b
Beringer, T., Lucht, W., and Schaphoff, S.: Bioenergy production potential of global biomass plantations under environmental and agricultural constraints, GCB Bioenergy, 3, 299–312, https://doi.org/10.1111/j.1757-1707.2010.01088.x, 2011. a, b, c, d, e, f, g, h, i, j, k, l
Berndes, G.: Bioenergy and water – the implications of large-scale bioenergy production for water use and supply, Global Environ. Chang., 12, 253–271, https://doi.org/10.1016/S0959-3780(02)00040-7, 2002. a, b, c, d
Berndes, G. and Borjesson, P.: Implications of irrigation and water management for the net energy performance of bioenergy systems, Department of Physical Resource Theory, Chalmers University of Technology and Goteborg University, Goteborg, Sweden, 2001. a
Bonsch, M., Humpenöder, F., Popp, A., Bodirsky, B., Dietrich, J. P., Rolinski, S., Biewald, A., Lotze-Campen, H., Weindl, I., Gerten, D., and Stevanovic, M.: Trade-offs between land and water requirements for large-scale bioenergy production, GCB Bioenergy, 8, 11–24, https://doi.org/10.1111/gcbb.12226, 2016. a, b, c, d, e, f, g, h, i
Boysen, L. R., Lucht, W., Gerten, D., Heck, V., Lenton, T. M., and Schellnhuber, H. J.: The limits to global-warming mitigation by terrestrial carbon removal, Earths Future, 5, 463–474, https://doi.org/10.1002/2016EF000469, 2017. a, b, c, d, e, f, g, h, i
Brosse, N., Dufour, A., Meng, X., Sun, Q., and Ragauskas, A.: Miscanthus: a fast-growing crop for biofuels and chemicals production, Biofuel. Bioprod. Bior., 6, 580–598, https://doi.org/10.1002/bbb.1353, 2012. a
Calvin, K., Patel, P., Clarke, L., Asrar, G., Bond-Lamberty, B., Cui, R. Y., Di Vittorio, A., Dorheim, K., Edmonds, J., Hartin, C., Hejazi, M., Horowitz, R., Iyer, G., Kyle, P., Kim, S., Link, R., McJeon, H., Smith, S. J., Snyder, A., Waldhoff, S., and Wise, M.: GCAM v5.1: representing the linkages between energy, water, land, climate, and economic systems, Geosci. Model Dev., 12, 677–698, https://doi.org/10.5194/gmd-12-677-2019, 2019. a
Campbell, J. E., Lobell, D. B., Genova, R. C., and Field, C. B.: The Global Potential of Bioenergy on Abandoned Agriculture Lands, Environ. Sci. Technol., 42, 5791–5794, https://doi.org/10.1021/es800052w, 2008. a
Creutzig, F., Ravindranath, N. H., Berndes, G., Bolwig, S., Bright, R., Cherubini, F., Chum, H., Corbera, E., Delucchi, M., Faaij, A., Fargione, J., Haberl, H., Heath, G., Lucon, O., Plevin, R., Popp, A., Robledo-Abad, C., Rose, S., Smith, P., Stromman, A., Suh, S., and Masera, O.: Bioenergy and climate change mitigation: an assessment, GCB Bioenergy, 7, 916–944, https://doi.org/10.1111/gcbb.12205, 2015. a
DeAngelis, A., Dominguez, F., Fan, Y., Robock, A., Kustu, M. D., and Robinson, D.: Evidence of enhanced precipitation due to irrigation over the Great Plains of the United States, J. Geophys. Res.-Atmos., 115, D15115, https://doi.org/10.1029/2010JD013892, 2010. a
De Fraiture, C. and Perry, C.: Why is irrigation water demand inelastic at low price ranges, in: Conference on Irrigation Water Policies: Micro and Macro Considerations, 15–17 June 2002, Agadir, Morocco, 15–17, 2002. a
De Fraiture, C., Giordano, M., and Liao, Y.: Biofuels and implications for agricultural water use: blue impacts of green energy, Water Policy, 10, 67–81, https://doi.org/10.2166/wp.2008.054, 2008. a, b, c, d, e, f, g
Dinar, A. and Mody, J.: Irrigation water management policies: Allocation and pricing principles and implementation experience, Nat. Resour. Forum, 28, 112–122, https://doi.org/10.1111/j.1477-8947.2004.00078.x, 2004. a
Ellison, D., Wang-Erlandsson, L., Van Der Ent, R., and Van Noordwijk, M.: Upwind forests: managing moisture recycling for nature-based resilience, in: Vol. 70 2019/1, edited by: Sarre, A., FAO, ISBN 978-92-5-131910-9, ISSN 0041-6436, 2019. a
Fader, M., Gerten, D., Thammer, M., Heinke, J., Lotze-Campen, H., Lucht, W., and Cramer, W.: Internal and external green-blue agricultural water footprints of nations, and related water and land savings through trade, Hydrol. Earth Syst. Sci., 15, 1641–1660, https://doi.org/10.5194/hess-15-1641-2011, 2011. a
Fajardy, M. and Mac Dowell, N.: Can BECCS deliver sustainable and resource efficient negative emissions?, Energ. Environ. Sci., 10, 1389–1426, https://doi.org/10.1039/C7EE00465F, 2017. a
Fajardy, M., Chiquier, S., and Mac Dowell, N.: Investigating the BECCS resource nexus: delivering sustainable negative emissions, Energ. Environmen. Sci., 11, 3408–3430, https://doi.org/10.1039/C8EE01676C, 2018. a, b, c, d, e, f, g, h
Fike, J., Parrish, D., Alwang, J., and Cundiff, J.: Challenges for deploying dedicated, large-scale, bioenergy systems in the USA, CAB Reviews: Perspectives in Agriculture, Veterinary Science, Nutrition and Natural Resources, 2, 064, https://doi.org/10.1079/PAVSNNR20072064, 2007. a
Fuss, S., Lamb, W. F., Callaghan, M. W., Hilaire, J., Creutzig, F., Amann, T., Beringer, T., Garcia, W. D. O., Hartmann, J., Khanna, T., Luderer, G., Nemet, G. F., Rogelj, J., Smith, P., Vicente, J. L. V., Wilcox, J., Dominguez, M. D. M. Z., and Minx, J. C.: Negative emissions – Part 2: Costs, potentials and side effects, Environ. Res. Lett., 13, 063002, https://doi.org/10.1088/1748-9326/aabf9f, 2018. a
Gerbens-Leenes, P. W., van Lienden, A. R., Hoekstra, A. Y., and van der Meer, T. H.: Biofuel scenarios in a water perspective: The global blue and green water footprint of road transport in 2030, Global Environ. Change, 22, 764–775, https://doi.org/10.1016/j.gloenvcha.2012.04.001, 2012. a, b, c, d
Gerten, D., Hoff, H., Rockström, J., Jägermeyr, J., Kummu, M., and Pastor, A. V.: Towards a revised planetary boundary for consumptive freshwater use: role of environmental flow requirements, Curr. Opin. Environ. Sust., 5, 551–558, https://doi.org/10.1016/j.cosust.2013.11.001, 2013. a
Gough, C. and Vaughan, N.: Synthesising existing knowledge on the feasibility of BECCS, AVOID2 Report WPD1a, available at: https://avoid-net-uk.cc.ic.ac.uk/wp-content/uploads/delightful-downloads/2015/09/Synthesising-existing-knowledge-on-feasibility-of-BECCS (last access: 31 March 2021), 2015. a
Gough, C., Garcia-Freites, S., Jones, C., Mander, S., Moore, B., Pereira, C., Röder, M., Vaughan, N., and Welfle, A.: Challenges to the use of BECCS as a keystone technology in pursuit of 1.5 ∘C, Global Sustainability, 1, e5, https://doi.org/10.1017/sus.2018.3, 2018. a
Graham, N. T., Davies, E. G. R., Hejazi, M. I., Calvin, K., Kim, S. H., Helinski, L., Miralles-Wilhelm, F. R., Clarke, L., Kyle, P., Patel, P., Wise, M. A., and Vernon, C. R.: Water Sector Assumptions for the Shared Socioeconomic Pathways in an Integrated Modeling Framework, Water Resour. Res., 54, 6423–6440, https://doi.org/10.1029/2018WR023452, 2018. a, b
Haberl, H., Beringer, T., Bhattacharya, S. C., Erb, K.-H., and Hoogwijk, M.: The global technical potential of bio-energy in 2050 considering sustainability constraints, Curr. Opin. Env. Sust., 2, 394–403, https://doi.org/10.1016/j.cosust.2010.10.007, 2010. a, b
Hanasaki, N., Fujimori, S., Yamamoto, T., Yoshikawa, S., Masaki, Y., Hijioka, Y., Kainuma, M., Kanamori, Y., Masui, T., Takahashi, K., and Kanae, S.: A global water scarcity assessment under Shared Socio-economic Pathways – Part 1: Water use, Hydrol. Earth Syst. Sci., 17, 2375–2391, https://doi.org/10.5194/hess-17-2375-2013, 2013a. a, b, c, d, e
Hanasaki, N., Fujimori, S., Yamamoto, T., Yoshikawa, S., Masaki, Y., Hijioka, Y., Kainuma, M., Kanamori, Y., Masui, T., Takahashi, K., and Kanae, S.: A global water scarcity assessment under Shared Socio-economic Pathways – Part 1: Water use, Hydrol. Earth Syst. Sci., 17, 2375–2391, https://doi.org/10.5194/hess-17-2375-2013, 2013b. a
Heck, V., Gerten, D., Lucht, W., and Boysen, L. R.: Is extensive terrestrial carbon dioxide removal a "green" form of geoengineering? A global modelling study, Global Planet. Change, 137, 123–130, https://doi.org/10.1016/j.gloplacha.2015.12.008, 2016. a, b, c, d, e, f
Heck, V., Gerten, D., Lucht, W., and Popp, A.: Biomass-based negative emissions difficult to reconcile with planetary boundaries, Nat. Clim. Change, 8, 151–155, https://doi.org/10.1038/s41558-017-0064-y, 2018. a, b, c, d, e, f, g, h
Hejazi, M. I., Edmonds, J., Clarke, L., Kyle, P., Davies, E., Chaturvedi, V., Wise, M., Patel, P., Eom, J., and Calvin, K.: Integrated assessment of global water scarcity over the 21st century under multiple climate change mitigation policies, Hydrol. Earth Syst. Sci., 18, 2859–2883, https://doi.org/10.5194/hess-18-2859-2014, 2014. a, b, c, d, e, f, g, h, i, j, k, l
Hejazi, M. I., Voisin, N., Liu, L., Bramer, L. M., Fortin, D. C., Hathaway, J. E., Huang, M., Kyle, P., Leung, L. R., Li, H.-Y., Liu, Y., Patel, P. L., Pulsipher, T. C., Rice, J. S., Tesfa, T. K., Vernon, C. R., and Zhou, Y.: 21st century United States emissions mitigation could increase water stress more than the climate change it is mitigating, P. Natl. Acad. Sci. USA, 112, 10635–10640, https://doi.org/10.1073/pnas.1421675112, 2015. a
Hoekstra, A., Chapagain, A., Martinez-Aldaya, M., and Mekonnen, M.: Water footprint manual: state of the art 2009, Water Footprint Network, available at: https://waterfootprint.org/media/downloads/TheWaterFootprintAssessmentManual_2.pdf (last access: 31 March 2021), 2009. a
Hoff, H., Falkenmark, M., Gerten, D., Gordon, L., Karlberg, L., and Rockström, J.: Greening the global water system, J. Hydrol., 384, 177–186, https://doi.org/10.1016/j.jhydrol.2009.06.026, 2010. a
Hogan, R., Stiles, S., Tacker, P., Vories, E., and Bryant, K.: Estimating irrigation costs, Little Rock, AR: Arkansas Cooperative Extension Service. FSA28-PD-6-07RV, available at: https://www.ars.usda.gov/research/publications/publication/?seqNo115=210763 (last access: 31 March 2021), 2007. a
Hogeboom, R., de Bruin, D., Schyns, J. F., Krol, M., and Hoekstra, A. Y.: Capping Human Water Footprints in the World's River Basins, Earths Future, 8, e2019EF001363, https://doi.org/10.1029/2019EF001363, 2020. a
Hu, B., Zhang, Y., Li, Y., Teng, Y., and Yue, W.: Can bioenergy carbon capture and storage aggravate global water crisis?, Sci. Total Environ., 714, 136856, https://doi.org/10.1016/j.scitotenv.2020.136856, 2020. a, b, c, d, e
Humpenöder, F., Popp, A., Bodirsky, B. L., Weindl, I., Biewald, A., Lotze-Campen, H., Dietrich, J. P., Klein, D., Kreidenweis, U., Müller, C., Rolinski, S., and Stevanovic, M.: Large-scale bioenergy production: how to resolve sustainability trade-offs?, Environ. Res. Lett., 13, 024011, https://doi.org/10.1088/1748-9326/aa9e3b, 2018. a, b, c, d, e, f, g, h, i
IEA: Bioenergy – a sustainable and reliable energy source, International Energy Agency Bioenergy, Paris, France, 2009. a
Jägermeyr, J., Gerten, D., Heinke, J., Schaphoff, S., Kummu, M., and Lucht, W.: Water savings potentials of irrigation systems: global simulation of processes and linkages, Hydrol. Earth Syst. Sci., 19, 3073–3091, https://doi.org/10.5194/hess-19-3073-2015, 2015. a, b
Jans, Y., Berndes, G., Heinke, J., Lucht, W., and Gerten, D.: Biomass production in plantations: Land constraints increase dependency on irrigation water, GCB Bioenergy, 10, 628–644, https://doi.org/10.1111/gcbb.12530, 2018. a, b, c, d, e, f
Keeney, D. and Muller, M.: Water use by ethanol plants: Potential challenges, Institute for Agriculture and Trade Policy, Minneapolis, USA, available at: https://www.iatp.org/sites/default/files/258_2_89449.pdf (last access: 31 March 2021), 2006. a
King, J. S., Ceulemans, R., Albaugh, J. M., Dillen, S. Y., Domec, J.-C., Fichot, R., Fischer, M., Leggett, Z., Sucre, E., Trnka, M., and Zenone, T.: The Challenge of Lignocellulosic Bioenergy in a Water-Limited World, BioScience, 63, 102–117, https://doi.org/10.1525/bio.2013.63.2.6, 2013. a, b, c, d, e, f
Klein, D., Luderer, G., Kriegler, E., Strefler, J., Bauer, N., Leimbach, M., Popp, A., Dietrich, J. P., Humpenöder, F., Lotze-Campen, H., and Edenhofer, O.: The value of bioenergy in low stabilization scenarios: an assessment using REMIND-MAgPIE, Clim. Change, 123, 705–718, 2014. a
Klein Goldewijk, K., Beusen, A., Doelman, J., and Stehfest, E.: Anthropogenic land use estimates for the Holocene – HYDE 3.2, Earth Syst. Sci. Data, 9, 927–953, https://doi.org/10.5194/essd-9-927-2017, 2017. a
Krausmann, F., Erb, K.-H., Gingrich, S., Haberl, H., Bondeau, A., Gaube, V., Lauk, C., Plutzar, C., and Searchinger, T. D.: Global human appropriation of net primary production doubled in the 20th century, P. Natl. Acad. Sci. USA, 110, 10324–10329, https://doi.org/10.1073/pnas.1211349110, 2013. a
Layton, K. and Ellison, D.: Induced precipitation recycling (IPR): A proposed concept for increasing precipitation through natural vegetation feedback mechanisms, Ecol. Eng., 91, 553–565, https://doi.org/10.1016/j.ecoleng.2016.02.031, 2016. a
Lenton, T. M.: The potential for land-based biological CO2 removal to lower future atmospheric CO2 concentration, Carbon Manag., 1, 145–160, https://doi.org/10.4155/cmt.10.12, 2010. a
Li, W., Ciais, P., Makowski, D., and Peng, S.: A global yield dataset for major lignocellulosic bioenergy crops based on field measurements, Sci. Data, 5, 180169, https://doi.org/10.1038/sdata.2018.169, 2018. a
Ma, S., He, F., Tian, D., Zou, D., Yan, Z., Yang, Y., Zhou, T., Huang, K., Shen, H., and Fang, J.: Variations and determinants of carbon content in plants: a global synthesis, Biogeosciences, 15, 693–702, https://doi.org/10.5194/bg-15-693-2018, 2018. a
Markewitz, P., Kuckshinrichs, W., Leitner, W., Linssen, J., Zapp, P., Bongartz, R., Schreiber, A., and Müller, T. E.: Worldwide innovations in the development of carbon capture technologies and the utilization of CO2, Energy Environ. Sci., 5, 7281–7305, https://doi.org/10.1039/C2EE03403D, 2012. a
Minx, J. C., Lamb, W. F., Callaghan, M. W., Fuss, S., Hilaire, J., Creutzig, F., Amann, T., Beringer, T., de Oliveira Garcia, W., Hartmann, J., Khanna, T., Lenzi, D., Luderer, G., Nemet, G. F., Rogelj, J., Smith, P., Vicente, J. L. V., Wilcox, J., and del Mar Zamora Dominguez, M.: Negative emissions – Part 1: Research landscape and synthesis, Environ. Res. Lett., 13, 063001, https://doi.org/10.1088/1748-9326/aabf9b, 2018. a
Moore, N. and Rojstaczer, S.: Irrigation's influence on precipitation: Texas High Plains, U.S.A., Geophys. Res. Lett., 29, 1755, https://doi.org/10.1029/2002GL014940, 2002. a
Mouratiadou, I., Biewald, A., Pehl, M., Bonsch, M., Baumstark, L., Klein, D., Popp, A., Luderer, G., and Kriegler, E.: The impact of climate change mitigation on water demand for energy and food: An integrated analysis based on the Shared Socioeconomic Pathways, Environ. Sci. Policy, 64, 48–58, https://doi.org/10.1016/j.envsci.2016.06.007, 2016. a, b, c, d
Nakićenović, N., Grubler, A., Grübler, A., and McDonald, A.: Global energy perspectives, Cambridge University Press, Cambridge, UK, 1998. a, b
Poff, N. L. and Zimmerman, J. K.: Ecological responses to altered flow regimes: a literature review to inform the science and management of environmental flows, Freshwater Biol., 55, 194–205, https://doi.org/10.1111/j.1365-2427.2009.02272.x, 2010. a
Pokhrel, Y. N., Felfelani, F., Shin, S., Yamada, T. J., and Satoh, Y.: Modeling large-scale human alteration of land surface hydrology and climate, Geosci. Lett., 4, 1–13, https://doi.org/10.1186/s40562-017-0076-5, 2017. a
Postel, S. L., Daily, G. C., and Ehrlich, P. R.: Human Appropriation of Renewable Fresh Water, Science, 271, 785–788, https://doi.org/10.1126/science.271.5250.785, 1996. a
Rockström, J., Steffen, W., Noone, K., Persson, Å., Chapin, F. S., Lambin, E. F., Lenton, T. M., Scheffer, M., Folke, C., Schellnhuber, H. J., Nykvist, B., de Wit, C. A., Hughes, T., van der Leeuw, S., Rodhe, H., Sörlin, S., Snyder, P. K., Costanza, R., Svedin, U., Falkenmark, M., Karlberg, L., Corell, R. W., Fabry, V. J., Hansen, J., Walker, B., Liverman, D., Richardson, K., Crutzen, P., and Foley, J. A.: A safe operating space for humanity, Nature, 461, 472–475, https://doi.org/10.1038/461472a, 2009. a
Rockström, J., Gaffney, O., Rogelj, J., Meinshausen, M., Nakicenovic, N., and Schellnhuber, H. J.: A roadmap for rapid decarbonization, Science, 355, 1269–1271, https://doi.org/10.1126/science.aah3443, 2017. a
Rogelj, J., Luderer, G., Pietzcker, R. C., Kriegler, E., Schaeffer, M., Krey, V., and Riahi, K.: Energy system transformations for limiting end-of-century warming to below 1.5 ∘C, Nat. Clim. Change, 5, 519–527, https://doi.org/10.1038/nclimate2572, 2015. a
Rogelj, J., Popp, A., Calvin, K. V., Luderer, G., Emmerling, J., Gernaat, D., Fujimori, S., Strefler, J., Hasegawa, T., and Marangoni, G.: Scenarios towards limiting global mean temperature increase below 1.5 ∘C, Nat. Clim. Change, 8, 325, https://doi.org/10.1038/s41558-018-0091-3, 2018. a
Rosa, L., Rulli, M. C., Davis, K. F., Chiarelli, D. D., Passera, C., and D'Odorico, P.: Closing the yield gap while ensuring water sustainability, Environ. Res. Lett., 13, 104002, https://doi.org/10.1088/1748-9326/aadeef, 2018. a
Rose, S. K., Kriegler, E., Bibas, R., Calvin, K., Popp, A., van Vuuren, D. P., and Weyant, J.: Bioenergy in energy transformation and climate management, Clim. Change, 123, 477–493, https://doi.org/10.1007/s10584-013-0965-3, 2014. a
Schewe, J., Heinke, J., Gerten, D., Haddeland, I., Arnell, N. W., Clark, D. B., Dankers, R., Eisner, S., Fekete, B. M., Colón-González, F. J., Gosling, S. N., Kim, H., Liu, X., Masaki, Y., Portmann, F. T., Satoh, Y., Stacke, T., Tang, Q., Wada, Y., Wisser, D., Albrecht, T., Frieler, K., Piontek, F., Warszawski, L., and Kabat, P.: Multimodel assessment of water scarcity under climate change, P. Natl. Acad. Sci. USA, 111, 3245–3250, https://doi.org/10.1073/pnas.1222460110, 2014. a
Schlesinger, W. H. and Bernhardt, E. S.: Biogeochemistry: an analysis of global change, Academic press, available at: https://www.elsevier.com/books/biogeochemistry/schlesinger/978-0-12-385874-0 (last access: 31 March 2021), 1991. a
Schmidt, H.-P., Anca-Couce, A., Hagemann, N., Werner, C., Gerten, D., Lucht, W., and Kammann, C.: Pyrogenic carbon capture and storage, GCB Bioenergy, 11, 573–591, https://doi.org/10.1111/gcbb.12553, 2019. a
Séférian, R., Rocher, M., Guivarch, C., and Colin, J.: Constraints on biomass energy deployment in mitigation pathways: the case of water scarcity, Environ. Res. Lett., 13, 054011, https://doi.org/10.1088/1748-9326/aabcd7, 2018. a, b, c, d
Shen, Y., Oki, T., Utsumi, N., Kanae, S., and Hanasaki, N.: Projection of future world water resources under SRES scenarios: water withdrawal/Projection des ressources en eau mondiales futures selon les scénarios du RSSE: prélèvement d'eau, Hydrolog. Sci. J., 53, 11–33, https://doi.org/10.1623/hysj.53.1.11, 2008. a, b
Siebert, S., Kummu, M., Porkka, M., Döll, P., Ramankutty, N., and Scanlon, B. R.: A global data set of the extent of irrigated land from 1900 to 2005, Hydrol. Earth Syst. Sci., 19, 1521–1545, https://doi.org/10.5194/hess-19-1521-2015, 2015. a
Smith, L. J. and Torn, M. S.: Ecological limits to terrestrial biological carbon dioxide removal, Clim. Change, 118, 89–103, https://doi.org/10.1007/s10584-012-0682-3, 2013. a, b, c, d
Smith, P., Davis, S. J., Creutzig, F., Fuss, S., Minx, J., Gabrielle, B., Kato, E., Jackson, R. B., Cowie, A., and Kriegler, E.: Biophysical and economic limits to negative CO2 emissions, Nat. Clim. Change, 6, 42, https://doi.org/10.1038/nclimate2870, 2016. a, b, c, d, e, f, g, h
Soccol, C. R., Brar, S. K., Faulds, C., and Ramos, L. P.: Green fuels technology: Biofuels, Springer, Switzerland, https://doi.org/10.1007/978-3-319-30205-8, 2016. a
Sperna Weiland, F. C., van Beek, L. P. H., Kwadijk, J. C. J., and Bierkens, M. F. P.: The ability of a GCM-forced hydrological model to reproduce global discharge variability, Hydrol. Earth Syst. Sci., 14, 1595–1621, https://doi.org/10.5194/hess-14-1595-2010, 2010. a
Steffen, W., Richardson, K., Rockström, J., Cornell, S. E., Fetzer, I., Bennett, E. M., Biggs, R., Carpenter, S. R., Vries, W. D., Wit, C. A. D., Folke, C., Gerten, D., Heinke, J., Mace, G. M., Persson, L. M., Ramanathan, V., Reyers, B., and Sörlin, S.: Planetary boundaries: Guiding human development on a changing planet, Science, 347, 1259855, https://doi.org/10.1126/science.1259855, 2015. a
Stenzel, F., Gerten, D., Werner, C., and Jägermeyr, J.: Freshwater requirements of large-scale bioenergy plantations for limiting global warming to 1.5 ∘C, Environ. Res. Lett., 14, 084001, https://doi.org/10.1088/1748-9326/ab2b4b, 2019. a, b, c, d, e, f, g, h, i, j, k, l
Stenzel, F., Hanasaki, N., and Gerten, D.: Water demand of bioenergy, GFZ Data Services, https://doi.org/10.5880/PIK.2020.007, 2021. a, b, c, d, e, f
Tuinenburg, O. A. and Staal, A.: Tracking the global flows of atmospheric moisture and associated uncertainties, Hydrol. Earth Syst. Sci., 24, 2419–2435, https://doi.org/10.5194/hess-24-2419-2020, 2020. a
UNFCCC, C.: Paris agreement, FCCCC/CP/2015/L. 9/Rev. 1, available at: https://unfccc.int/sites/default/files/english_paris_agreement.pdf (last access: 30 March 2021), 2015. a
Van Noordwijk, M. and Ellison, D.: Rainfall recycling needs to be considered in defining limits to the world's green water resources, P. Natl. Acad. Sci. USA, 116, 8102–8103, https://doi.org/10.1073/pnas.1903554116, 2019. a
Varis, O.: Water Demands for Bioenergy Production, Int. J. Water Resour. Dev., 23, 519–535, https://doi.org/10.1080/07900620701486004, 2007. a, b, c
Vervoort, R. W., Torfs, P. J. J. F., and van Ogtrop, F. F.: Irrigation increases moisture recycling and climate feedback, Australas, J. Water Resour., 13, 121–134, https://doi.org/10.1080/13241583.2009.11465367, 2009. a
Vuuren, D. P. V., Edmonds, J., Kainuma, M., Riahi, K., Thomson, A., Hibbard, K., Hurtt, G. C., Kram, T., Krey, V., Lamarque, J.-F., Masui, T., Meinshausen, M., Nakicenovic, N., Smith, S. J., and Rose, S. K.: The representative concentration pathways: an overview, Climatic Change, 109, 5–31, https://doi.org/10.1007/s10584-011-0148-z, 2011. a
Wada, Y. and Bierkens, M. F. P.: Sustainability of global water use: past reconstruction and future projections, Environ. Res. Lett., 9, 104003, https://doi.org/10.1088/1748-9326/9/10/104003, 2014. a
Wada, Y., Gleeson, T., and Esnault, L.: Wedge approach to water stress, Nat. Geosci., 7, 615–617, https://doi.org/10.1038/ngeo2241, 2014. a
Wada, Y., Flörke, M., Hanasaki, N., Eisner, S., Fischer, G., Tramberend, S., Satoh, Y., van Vliet, M. T. H., Yillia, P., Ringler, C., Burek, P., and Wiberg, D.: Modeling global water use for the 21st century: the Water Futures and Solutions (WFaS) initiative and its approaches, Geosci. Model Dev., 9, 175–222, https://doi.org/10.5194/gmd-9-175-2016, 2016. a
Wang, M., Wagner, M., Miguez-Macho, G., Kamarianakis, Y., Mahalov, A., Moustaoui, M., Miller, J., VanLoocke, A., Bagley, J. E., Bernacchi, C. J., and Georgescu, M.: On the Long-Term Hydroclimatic Sustainability of Perennial Bioenergy Crop Expansion over the United States, J. Climate, 30, 2535–2557, https://doi.org/10.1175/JCLI-D-16-0610.1, 2017. a
Werner, C., Schmidt, H.-P., Gerten, D., Lucht, W., and Kammann, C.: Biogeochemical potential of biomass pyrolysis systems for limiting global warming to 1.5 ∘C, Environ. Res. Lett., 13, 044036, https://doi.org/10.1088/1748-9326/aabb0e, 2018. a
Yamagata, Y., Hanasaki, N., Ito, A., Kinoshita, T., Murakami, D., and Zhou, Q.: Estimating water-food-ecosystem trade-offs for the global negative emission scenario (IPCC-RCP2.6), Sustain. Sci., 13, 301–313, https://doi.org/10.1007/s11625-017-0522-5, 2018. a, b, c, d, e
Yuan, J. S., Tiller, K. H., Al-Ahmad, H., Stewart, N. R., and Stewart, C. N.: Plants to power: bioenergy to fuel the future, Trends Plant Sci., 13, 421–429, https://doi.org/10.1016/j.tplants.2008.06.001, 2008. a