Articles | Volume 27, issue 16
https://doi.org/10.5194/hess-27-3115-2023
© Author(s) 2023. This work is distributed under
the Creative Commons Attribution 4.0 License.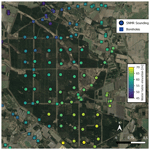 Technical note: High-density mapping of regional groundwater tables with steady-state surface nuclear magnetic resonance – three Danish case studies
Groundwater is an essential part of the water supply worldwide, and the demands on this water source can be expected to increase in the future. To satisfy the need for resources and to ensure sustainable use of resources, increasingly detailed knowledge of groundwater systems is necessary. However, it is difficult to directly map groundwater with well-established geophysical methods as these are sensitive to both lithology and pore fluid. Surface nuclear magnetic resonance (SNMR) is the only method with a direct sensitivity to water, and it is capable of non-invasively quantifying water content and porosity in the subsurface. Despite these attractive features, SNMR has not been widely adopted in hydrological research, the main reason being an often-poor signal-to-noise ratio, which leads to long acquisition times and high uncertainty in terms of results. Recent advances in SNMR acquisition protocols based on a novel steady-state approach have demonstrated the capability of acquiring high-quality data much faster than previously possible. In turn, this has enabled high-density groundwater mapping with SNMR. We demonstrate the applicability of the new steady-state scheme in three field campaigns in Denmark, where more than 100 SNMR soundings were conducted with a depth of investigation of approximately 30 m. We show how the SNMR soundings enable us to track water level variations at the regional scale, and we demonstrate a high correlation between water levels obtained from SNMR data and water levels measured in boreholes. We also interpret the SNMR results jointly with independent transient electromagnetic (TEM) data, which allows us to identify regions with water bound in small pores. Field practice and SNMR acquisition protocols were optimized during the campaigns, and we now routinely measure high-quality data at 8 to 10 sites per day with a two-person field crew. Together, the results from the three surveys demonstrate that, with steady-state SNMR, it is now possible to map regional variations in water levels with high-quality data and short acquisition times.
Received: 12 Oct 2022 – Discussion started: 10 Nov 2022 – Revised: 26 Jul 2023 – Accepted: 28 Jul 2023 – Published: 28 Aug 2023
As water scarcity increases, a further understanding of subsurface hydrology is crucial (Postel, 2000; Döll et al., 2009; Liu et al., 2017). Quantifying subsurface structures has historically been done through borehole drilling, yet the cost of drilling is high and only gives point information. To further characterize aquifer structure, geophysical methods are used which can measure parameters of subsurface structures on a scale not feasible with boreholes (Oldenburg and Li, 2005). Additionally, geophysical methods are non-invasive.
Currently, electromagnetic (Danielsen et al., 2003; Siemon et al., 2009) and galvanic methods (Goldman and Neubauer, 1994; Mastrocicco et al., 2010) are widely in use for groundwater exploration due to their ability to densely map the subsurface. Data from these methods are linked to both pore fluid and matrix properties of the subsurface (Robinson et al., 2008). However, this dual sensitivity makes it difficult to directly quantify water in pores (Behroozmand et al., 2012).
Alternatively, surface nuclear magnetic resonance (SNMR) can directly measure the water content in the subsurface (Yaramanci, 2000). SNMR acquisitions are also sensitive to pore sizes, which affects the relaxation time of the NMR signal (Yaramanci et al., 1999; Legchenko et al., 2002). Direct knowledge of pore parameters is crucial to expand hydrological insights. The SNMR method has been used to characterize aquifers in many different environments (Yaramanci et al., 2002; Behroozmand et al., 2017). SNMR, however, suffers from low-amplitude signals which are often overwhelmed by electromagnetic noise. To overcome this, multiple measurements are typically stacked, leading to long acquisition times. Advances in noise mitigation, such as remote-reference noise cancellation and model-based subtraction, has enabled the handling of data from noisier environments (Walsh, 2008; Larsen and Behroozmand, 2016), but noise still remains an issue at many sites. Recently, rapid acquisition of high-quality data using steady-state methods was demonstrated by Grombacher et al. (2021). Steady-state SNMR can sample the subsurface much faster than standard SNMR measurements, which enables mapping of larger areas and sites where noise has previously been prohibitive.
The aim of this paper is to demonstrate high-density mapping of groundwater systems using steady-state SNMR. We do this using data from three Danish field campaigns conducted in glacial landscapes. In the three campaigns, we collected 29, 38, and 50 SNMR soundings. We extract estimates of water levels and water contents from the NMR data and compare the results against transient electromagnetic (TEM) measurements and borehole data. In all three cases, we observe good agreement between the NMR-derived results and the independent measurements. The high data density allows us to track water level changes at larger spatial scales.
The paper is structured as follows. A brief theory section introduces the methods followed by data collection and the inversion of the data. Further, a results and interpretation section is presented for the three field campaigns. A general discussion summarizes the key takeaways from this study.
A total of 106 soundings, acquired with the novel steady-state approach, are used in water table estimates in this survey, yielding high-density maps of the water table. The correlation with independent data, such as from boreholes, highlights the ability to track water table surfaces in 3D over large areas. Furthermore, comparison with the high spatial coverage of tTEM showed good agreement in terms of finding conductive units as low free water units for the SNMR. The SNMR soundings have been inverted as stand-alone models and are not constrained laterally. However, with the data density in this paper, a laterally or spatially constrained inversion could be implemented, as seen in previous studies (Behroozmand et al., 2012). This would lead to further data-driven consistency between the inversions and will be investigated further in future research.
The SNMR results match well with TEM results at several locations. In some places, the SNMR identifies low water contents in regions where there is limited to no change in resistivities. Since the measurements are completely independent and their sensitivities are distinct, the methods will resolve different subsurface parameters in some cases. In particular, subtle changes in water content will be hard to resolve in the resistivity profiles, as seen in parts of the Kompedal campaign. This highlights the usefulness of a combined approach since SNMR can resolve parameters not easily found by the TEM (Behroozmand et al., 2012; Irons et al., 2014).
Since the primary results of the study are regional water table mapping, our smooth inversion scheme is not optimal. A layered inversion is currently not implemented with the steady-state modeling methodology since layer boundaries are fixed using the fast-mapping approach (Griffiths et al., 2022). However, the water level estimation by the largest gradient in the water content profile has been consistent with a majority of borehole measurements. Additionally, the analysis with different stabilizer functions gave consistent water table estimates.
Through the case studies, pulse sequences have been optimized by heuristically inspecting the data and sensitivity functions. This has led to a decrease in the number of pulse moments per site from 64 in Aars to 25 in Kompedal, increasing the number of feasible soundings per day from about 2 to about 10 for a two-person crew, enabled by the rapid acquisition of steady-state data. Further optimization of the field protocols is likely possible and will be considered in future research. By measuring for only 30 min per site, the temporal variation of the Larmor frequency is limited during the measurements, whereas slower approaches are more susceptible to Larmor frequency drift (Legchenko et al., 2016).
The analysis of this study emphasized the water content rather than and T2 due to the focus on investigating water table variations. Additional information regarding pore size may be extracted by links to T2, and future research will demonstrate these links with correlations to borehole NMR. The link to hydraulic permeability has been studied and improved in unconsolidated material (Dlugosch et al., 2013) and may also be extracted for applications in hydrological modeling. Further research into pulse sequences can lead to more accurate determination and validation of T2.
The aquifers investigated in the study are generally unconfined, where the heads measured in wells are equal to where the water resides based on the SNMR measurement. However, this is not the case if an aquifer is confined since the pressure head might exceed the aquitard–aquifer level. Therefore, a comparison between water table estimations of SNMR and borehole measurements is only valid if boreholes are screened in the unconfined aquifers. Another aspect is that the water table estimate from the SNMR includes the capillary fringe. However, the difference would be limited in this study as all aquifers are sand aquifers and would have a small capillary fringe (Bevan et al., 2005) compared to the discretization of the model. Information regarding the aquifer–aquitard boundary in confined aquifers can still be extracted.
The results from this research show the capability of large-scale water table mapping with SNMR using the novel steady-state acquisition. The large-scale mapping enables other applications in hydrological research. The SNMR measurements can be applied to perched aquifers to identify local water tables in these local hydrological systems. Additionally, SNMR data may be implemented in hydrological models to constrain structural settings and to inform the model of water-bearing units.
We have used steady-state SNMR to map water table variations over three Danish surveys with over 100 soundings. The fast acquisition of high-quality data enables mapping of large areas with steady-state SNMR. Through borehole comparisons, SNMR estimates of regional water table variations are shown to be robust. Furthermore, comparison of SNMR with tTEM data showed consistent structures where conductive clay layers are seen as low mobile-water layers in the SNMR results. However, in other places, there is not a direct correlation due to the different sensitivities of the two methods. This highlights the usefulness of combining SNMR and TEM for parameter estimation of the subsurface. These techniques can be applied in various hydrological environments and can provide information regarding the critical parameters for enhanced groundwater knowledge. The iterative improvement of data protocols of the steady-state acquisitions made 10 sites per day a possibility, thereby enabling large-scale surveys of SNMR. The opportunity to give quantitative estimates of the water level at a regional scale, without well drilling, as inputs to groundwater models could resolve features previously invisible from borehole data.
MV acquired, processed, and inverted the data and wrote the article. DG developed the steady-state methodology and helped in the interpretations and acquisitions of data. MPG developed the modeling framework and helped in the data acquisitions. LL developed the SNMR instrument used in this paper. JJL contributed to the writing of the article and provided feedback.
The contact author has declared that none of the authors has any competing interests.
Publisher's note: Copernicus Publications remains neutral with regard to jurisdictional claims in published maps and institutional affiliations.
This research has been supported by the Independent Research Fund Denmark (grant no. 9041-00260B).
This paper was edited by Mauro Giudici and reviewed by two anonymous referees.
Auken, E., Christiansen, A. V., Kirkegaard, C., Fiandaca, G., Schamper, C., Behroozmand, A. A., Binley, A., Nielsen, E., Effersø, F., Christensen, N. B., Sørensen, K., Foged, N., and Vignoli, G.: An overview of a highly versatile forward and stable inverse algorithm for airborne, ground-based and borehole electromagnetic and electric data, Explor. Geophys., 46, 223–235, https://doi.org/10.1071/EG13097, 2015. a
Auken, E., Foged, N., Larsen, J. J., Lassen, K. V. T., Maurya, P. K., Dath, S. M., and Eiskjær, T. T.: tTEM – A towed transient electromagnetic system for detailed 3D imaging of the top 70 m of the subsurface, Geophysics, 84, E13–E22, https://doi.org/10.1190/geo2018-0355.1, 2019. a
Behroozmand, A. A., Auken, E., Fiandaca, G., and Christiansen, A. V.: Improvement in MRS parameter estimation by joint and laterally constrained inversion of MRS and TEM data, Geophysics, 77, WB191–WB200, https://doi.org/10.1190/geo2011-0404.1, 2012. a, b, c
Behroozmand, A. A., Teatini, P., Pedersen, J. B., Auken, E., Tosatto, O., and Christiansen, A. V.: Anthropogenic wetlands due to over-irrigation of desert areas: a challenging hydrogeological investigation with extensive geophysical input from TEM and MRS measurements, Hydrol. Earth Syst. Sci., 21, 1527–1545, https://doi.org/10.5194/hess-21-1527-2017, 2017. a
Bevan, M. J., Endres, A. L., Rudolph, D. L., and Parkin, G.: A field scale study of pumping-induced drainage and recovery in an unconfined aquifer, J. Hydrol., 315, 52–70, 2005. a
Danielsen, J. E., Auken, E., Jørgensen, F., Søndergaard, V., and Sørensen, K. I.: The application of the transient electromagnetic method in hydrogeophysical surveys, J. Appl. Geophys., 53, 181–198, 2003. a
Dlugosch, R., Günther, T., Müller-Petke, M., and Yaramanci, U.: Improved prediction of hydraulic conductivity for coarse-grained, unconsolidated material from nuclear magnetic resonance, Geophysics, 78, EN55–EN64, https://doi.org/10.1190/geo2012-0187.1, 2013. a
Döll, P., Fiedler, K., and Zhang, J.: Global-scale analysis of river flow alterations due to water withdrawals and reservoirs, Hydrol. Earth Syst. Sci., 13, 2413–2432, https://doi.org/10.5194/hess-13-2413-2009, 2009. a
GEUS: Jupiter database, https://www.geus.dk/produkter-ydelser-og-faciliteter/data-og-kort/national-boringsdatabase-jupiter/ (last access: 25-January-2023), 2023. a, b, c, d, e, f, g
Goldman, M. and Neubauer, F.: Groundwater exploration using integrated geophysical techniques, Surv. Geophys., 15, 331–361, 1994. a
Griffiths, M. P., Grombacher, D., Liu, L., Vang, M. Ø., and Larsen, J. J.: Forward Modeling Steady-State Free Precession in Surface NMR, IEEE T. Geosci. Remote, 60, 1–10, 2022. a, b, c, d, e
Grombacher, D., Fiandaca, G., Behroozmand, A. A., and Auken, E.: Comparison of stabiliser functions for surface NMR inversions, Near Surf. Geophys., 15, 533–544, https://doi.org/10.3997/1873-0604.2017027, 2017. a, b
Grombacher, D., Liu, L., Griffiths, M., Vang, M., and Larsen, J.: Steady-State Surface NMR for Mapping of Groundwater, Geophys. Res. Lett., 48, e2021GL095381, https://doi.org/10.1029/2021GL095381, 2021. a, b
Grombacher, D., Griffiths, M., Liu, L., Vang, M., and Larsen, J.: Frequency Shifting Steady-State Surface NMR Signals to Avoid Problematic Narrowband-Noise Sources, Geophys. Res. Lett., 49, e2021GL097402, https://doi.org/10.1029/2021GL097402, 2022. a, b, c, d
Hansen, M. and Pjetursson, B.: Free, online Danish shallow geological data, Geus Bull., 23, 53–56, https://doi.org/10.34194/geusb.v23.4842, 2011. a
Hertrich, M.: Imaging of groundwater with nuclear magnetic resonance, Prog. Nucl. Magnet. Reson. Spectrosc., 53, 227-248, https://doi.org/10.1016/j.pnmrs.2008.01.002, 2008. a
Irons, T. P., Martin, K. E., Finn, C. A., Bloss, B. R., and Horton, R. J.: Using nuclear magnetic resonance and transient electromagnetics to characterise water distribution beneath an ice covered volcanic crater: The case of Sherman Crater Mt. Baker, Washington, Near Surf. Geophys., 12, 285–296, 2014. a
Knight, R., Grunewald, E., Irons, T., Dlubac, K., Song, Y., Bachman, H. N., Grau, B., Walsh, D., Abraham, J. D., and Cannia, J.: Field experiment provides ground truth for surface nuclear magnetic resonance measurement, Geophys. Res. Lett., 39, L03304, https://doi.org/10.1029/2011GL050167, 2012. a
Kremer, T., Irons, T., Müller-Petke, M., and Juul Larsen, J.: Review of Acquisition and Signal Processing Methods for Electromagnetic Noise Reduction and Retrieval of Surface Nuclear Magnetic Resonance Parameters, Surv. Geophys., 4, 999–1053, 2022. a
Larsen, J. J. and Behroozmand, A. A.: Processing of surface-nuclear magnetic resonance data from sites with high noise levels, Geophysics, 81, WB75–WB83, https://doi.org/10.1190/geo2015-0441.1, 2016. a
Larsen, J. J., Liu, L., Grombacher, D., Osterman, G., and Auken, E.: Apsu – A new compact surface nuclear magnetic resonance system for groundwater investigation, Geophysics, 85, JM1–JM11, https://doi.org/10.1190/geo2018-0779.1, 2020. a
Legchenko, A., Baltassat, J.-M., Beauce, A., and Bernard, J.: Nuclear magnetic resonance as a geophysical tool for hydrogeologists, J. Appl. Geophys., 50, 21–46, https://doi.org/10.1016/S0926-9851(02)00128-3, 2002. a
Legchenko, A., Vouillamoz, J.-M., Lawson, F. M. A., Alle, C., Descloitres, M., and Boucher, M.: Interpretation of magnetic resonance measurements in the varying Earth's magnetic field, Geophysics, 81, WB23–WB31, https://doi.org/10.1190/geo2015-0474.1, 2016. a
Liu, J., Yang, H., Gosling, S. N., Kummu, M., Flörke, M., Pfister, S., Hanasaki, N., Wada, Y., Zhang, X., Zheng, C., Alcamo J., and Oki, T.: Water scarcity assessments in the past, present, and future, Earth's future, 5, 545–559, https://doi.org/10.1002/2016EF000518, 2017. a
Liu, L., Grombacher, D., Auken, E., and Larsen, J. J.: Complex envelope retrieval for surface nuclear magnetic resonance data using spectral analysis, Geophys. J. Int., 217, 894–905, 2019. a
Mastrocicco, M., Vignoli, G., Colombani, N., and Zeid, N. A.: Surface electrical resistivity tomography and hydrogeological characterization to constrain groundwater flow modeling in an agricultural field site near Ferrara (Italy), Environ. Earth Sci., 61, 311–322, https://doi.org/10.1007/s12665-009-0344-6, 2010. a
Maurya, P. K., Christensen, F. E., Kass, M. A., Pedersen, J. B., Frederiksen, R. R., Foged, N., Christiansen, A. V., and Auken, E.: Efficient imaging of hydrological units below lakes and fjords with a floating, transient electromagnetic (FloaTEM) system, Hydrol. Earth Syst. Sci., 26, 2813–2827, https://doi.org/10.5194/hess-26-2813-2022, 2022. a
Oldenburg, D. W. and Li, Y.: Inversion for applied geophysics: A tutorial, Near Surf. Geophys., 13, 89–150, https://doi.org/10.1190/1.9781560801719.ch5, 2005. a
Postel, S. L.: Entering an era of water scarcity: the challenges ahead, Ecol. Appl., 10, 941–948, https://doi.org/10.1890/1051-0761(2000)010[0941:EAEOWS]2.0.CO;2, 2000. a
Robinson, D., Binley, A., Crook, N., Day-Lewis, F., Ferré, T., Grauch, V., Knight, R., Knoll, M., Lakshmi, V., Miller, R., et al.: Advancing process-based watershed hydrological research using near-surface geophysics: A vision for, and review of, electrical and magnetic geophysical methods, Hydrol. Process., 22, 3604–3635, 2008. a
Siemon, B., Christiansen, A. V., and Auken, E.: A review of helicopter-borne electromagnetic methods for groundwater exploration, Near Surf. Geophys., 7, 629–646, https://doi.org/10.3997/1873-0604.2009043, 2009. a
Vang, M. O.: Vang et al. Surface NMR and tTEM data HESS manuscript, Zenodo [data set], https://doi.org/10.5281/zenodo.8186351, 2023. a
Walsh, D. O.: Multi-channel surface NMR instrumentation and software for 1D/2D groundwater investigations, J. Appl. Geophys., 66, 140–150, https://doi.org/10.1016/j.jappgeo.2008.03.006, 2008. a
Yaramanci, U., Lange, G., and Knödel, K.: Surface NMR within a geophysical study of an aquifer at Haldensleben (Germany), Geophys. Prospect., 47, 923–943, https://doi.org/10.1046/j.1365-2478.1999.00161.x, 1999. a
Yaramanci, U.: Surface Nuclear Magnetic Resonance (SNMR) – A new method for exploration of ground water and aquifer properties, Annali di Geofisica, 43, 1159–1175, 2000. a, b
Yaramanci, U., Lange, G., and Hertrich, M.: Aquifer characterisation using Surface NMR jointly with other geophysical techniques at the Nauen/Berlin test site, J. Appl. Geophys., 50, 47–65, https://doi.org/10.1016/S0926-9851(02)00129-5, 2002. a