Articles | Volume 24, issue 2
https://doi.org/10.5194/hess-24-919-2020
© Author(s) 2020. This work is distributed under
the Creative Commons Attribution 4.0 License.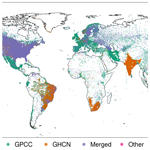 Rainfall Estimates on a Gridded Network (REGEN) – a global land-based gridded dataset of daily precipitation from 1950 to 2016
We present a new global land-based daily precipitation dataset from 1950 using an interpolated network of in situ data called Rainfall Estimates on a Gridded Network – REGEN. We merged multiple archives of in situ data including two of the largest archives, the Global Historical Climatology Network – Daily (GHCN-Daily) hosted by National Centres of Environmental Information (NCEI), USA, and one hosted by the Global Precipitation Climatology Centre (GPCC) operated by Deutscher Wetterdienst (DWD). This resulted in an unprecedented station density compared to existing datasets. The station time series were quality-controlled using strict criteria and flagged values were removed. Remaining values were interpolated to create area-average estimates of daily precipitation for global land areas on a 1∘ × 1∘ latitude–longitude resolution. Besides the daily precipitation amounts, fields of standard deviation, kriging error and number of stations are also provided. We also provide a quality mask based on these uncertainty measures. For those interested in a dataset with lower station network variability we also provide a related dataset based on a network of long-term stations which interpolates stations with a record length of at least 40 years. The REGEN datasets are expected to contribute to the advancement of hydrological science and practice by facilitating studies aiming to understand changes and variability in several aspects of daily precipitation distributions, extremes and measures of hydrological intensity. Here we document the development of the dataset and guidelines for best practices for users with regards to the two datasets.
Received: 28 Nov 2018 – Discussion started: 30 Jan 2019 – Revised: 19 Aug 2019 – Accepted: 03 Dec 2019 – Published: 27 Feb 2020
Earth's climate is changing, leading to spatial and temporal variations in precipitation. These changes in precipitation are strongly linked to social, economic and environmental prosperity due to the role precipitation plays in global food production and maintaining biodiversity. Theoretical expectations are that the global hydrological cycle would intensify in a warmer climate, associated with increases in mean and extreme precipitation (whereby mean and total precipitation would increase at lower rate than extreme precipitation due to energetic constraints; Allen and Ingram, 2002). In addition to changes in precipitation due to climate change, precipitation is also characterised by strong variability in many regions. Reliable observations are necessary to understand these short- and long-term changes and to evaluate climate models which help understand the processes driving these changes. Hence in some ways gridded observations of the past also help us to better plan for and adapt to these changes in the future.
All observations have errors – for example, gauge-based precipitation measurements are subject to undercatch, wind related errors, evaporation loss, wetting loss, splash in/out errors and tipping errors (see McMillan et al., 2012 for details). However, alternatives to gauge-based measurements such as satellite observations, model reanalysis products and radar-based observations have additional limitations. Reanalysis products assimilate observations and models to create a synthesised estimate of the state of the earth system. They are often misused as observations but in fact inherit issues from the incomplete observations and imperfect models and are based on complex assimilation techniques. Furthermore, none of the reanalysis products assimilate surface precipitation observations (MERRA2 however incorporates satellite infrared and microwave measurements) and as such are not representative of reality. This is evidenced by the classification of precipitation as the least reliable class by Kalnay et al. (1996). Reanalyses also contain temporal inhomogeneities due to the changing amount of assimilated observations over time (Compo et al., 2006). According to Lorenz and Kunstmann (2012) even the state-of-the-art reanalyses are unsuitable for climate trend and long-term water budget analysis. Radar estimates provide high spatial and temporal resolution estimates of rainfall over local regions; however, these estimates can be inaccurate compared to rain gauges (Krajewski et al., 2010; Villarini and Krajewski, 2010; McKee and Binns, 2016), and very few national networks of radar observations exist.
Satellite products have become available in recent years. These datasets are gridded and boast a global or quasi-global coverage. The Tropical Rainfall Measuring Mission (TRMM) 3B42 (Huffman et al., 2007), Global Precipitation Climatology Projects 1 Degree Daily (GPCP-1DD) (Huffman et al., 2001), Climate Hazards Group InfraRed Precipitation with Stations (CHIRPS) (Funk et al., 2015) and the Precipitation Estimates from Remotely Sensed Information using Artificial Neural Networks – Climate Data Record (PERSIANN-CDR) (Ashouri et al., 2014) are some examples of popular satellite-based precipitation products. These satellite-based datasets, however, use complex algorithms to derive precipitation estimates from indirect radiation measurements, resulting in large uncertainties in precipitation estimates. For example GPCP-1DD measures infrared reflectivity of clouds to infer the cloud thickness and then estimates precipitation rates based on the poor relationship between clouds and rainfall (Kidd and Levizzani, 2011). This estimate is also adjusted based on monthly gauge observations; however, the uncertainties remain high. In general satellite products perform well in the tropics where the rain rates are higher but struggle with snow and ice and on complex terrain (Bytheway and Kummerow, 2013; Tian and Peters-Lidard, 2010; Contractor et al., 2015). New satellite missions and technology will be able to overcome these shortcomings over time. For example, the recently launched Global Precipitation Measurement (GPM) mission is an international satellite mission that aims to improve the detection of light rain and snowfall as well as provide quantitative estimates of precipitation particle size distribution (Hou et al., 2014). The biggest limitation of satellite products, however, is also their brevity. It was only after the Tropical Rainfall Measurement Mission (TRMM) in 1997 that we entered an era of multi-sensor measurements across multiple satellites to produce a globally consistent and complete map of precipitation (Tian and Peters-Lidard, 2010). Thus the satellite products do not allow for an analysis of global rainfall changes that effectively separates the natural variability from anthropogenic climate change. Very recently, datasets that blend together precipitation estimates from multiple sources such as gauge observations, satellite observations and even reanalyses have become available. Examples include MSWEP V2 (Beck et al., 2019), CHIRPS (Funk et al., 2015) and Shen et al. (2014). These datasets offer very high spatial and temporal resolution data with a reasonably long temporal record. However, these datasets may exhibit increased temporal variability due to the incorporation of various observational sources over time and do not include as many in situ station observations as the gauge-only datasets.
Observations have shown spatially varying changes in mean precipitation across the globe (Trenberth, 2011; Hartmann et al., 2013) and robust increases in extreme precipitation across various regions and in the global average (Groisman et al., 2005; Westra et al., 2013; Donat et al., 2016). These global analyses of observed precipitation changes were based on datasets of monthly precipitation accumulations (such as Climatic Research Unit's CRU TS; Harris et al., 2014; Mitchell and Jones, 2005, Global Precipitation Climatology Centre's GPCC Full Data Monthly; Becker et al., 2013; Schneider et al., 2015, Global Historical Climatology Network's GHCN-Monthly; Peterson and Vose, 1997, Global Precipitation Climatology Project GPCP-Monthly; Adler et al., 2003; Huffman et al., 1997; and the Smith et al., 2012 dataset), or datasets providing indices representing specific aspects of extreme precipitation (such as GHCNDEX; Donat et al., 2013a, HadEX; Alexander et al., 2006 and HadEX2, Donat et al., 2013b). Availability of daily precipitation data, however, would allow analysis of precipitation at different parts of the distribution, and for a wider range of temporal aggregations. A daily resolution dataset would also enable a more robust estimate of the extremes since monthly datasets average out the extremes and dampen the variability in daily observations. Existing gauge-based quasi-global gridded datasets of daily precipitation are short (such as CPC Global Precipitation dating back to 1979 (Chen and Xie, 2008; Xie et al., 2007; Chen et al., 2008) and GPCC Full Data Daily V1 which dates back to 1988 (Schamm et al., 2015). An updated version, GPCC Full Data Daily V2018, was released in June 2018, covering from 1982 to 2016) and therefore do not allow for robust analysis of long-term variability or trends. The main reason for this is the lack of data sharing between countries, which results in poor spatial coverage earlier in time. Even in cases where meteorological organisations have agreements in place with countries to obtain gauge data (such as GPCC on behalf of Deutscher Wetterdienst – DWD), the length of their analysis is limited due to the lack of high-quality data extending back in time. To reach a high level of quality, the GPCC applies a quality control procedure with manual inspection of questionable values, which is very time consuming but preserves the real extremes in the data. Many regional- or continental-scale products are also available which are produced by local meteorological organisations or researchers who have a more complete set of daily gauge data available to them and thus have longer temporal records. Examples of such datasets include E-OBS for Europe (Haylock et al., 2008), CPC for the United States (Chen and Xie, 2008; Chen et al., 2008; Xie et al., 2007), AWAP for Australia (Jones et al., 2009), APHRODITE for Asia (Yatagai et al., 2012), CLARIS for South America (Menendez et al., 2010), and national and regional products for UK (Perry and Hollis, 2005), Spain (Herrera et al., 2012), Germany (Rauthe et al., 2013), Switzerland (Frei and Schär, 1998; Isotta et al., 2013), Norway (Lussana et al., 2018), India (Rajeevan et al., 2006) and the Middle East (Yatagai et al., 2008).
Spatially regular gridded data, rather than irregular station data, facilitate many studies (such as climate variability studies investigating connections between regional or global precipitation phenomena and large-scale changes) that are not spatially biased. Furthermore, climate models also rely on gridded data. Gridded datasets are needed for initialising, forcing and validating global and regional climate models. Since the models also produce outputs representative of area averages (Osborn and Hulme, 1998) as opposed to point-based processes, gridded datasets are also necessary to evaluate them. Finally, gridded observations can provide reasonable estimates in regions where local station data are unavailable but stations within the typical length scales of precipitation systems in that region may be present.
Given all the limitations of existing datasets noted above, our aim here was to create a new long-term global land-based dataset with increased raw station density back to the mid-twentieth century. In this study we present the data and methods used to create such a dataset, called Rainfall Estimates on a Gridded Network (REGEN), and evaluate it against existing daily and monthly, global and regional products. We also describe how uncertainty estimates are calculated and finally provide guidelines for how to best use (and not use) the dataset.
REGEN was created by acquiring daily station precipitation data from various sources, quality controlling them using an automated algorithm and merging them into a single archive, which was then interpolated with ordinary block kriging. We created two related datasets: the first dataset (REGEN AllStns V1-2019) interpolated the entire station network referred to henceforth as REGEN and the second dataset (REGEN LongTermStns V1-2019) interpolated only the long-term stations referred to henceforth as REGEN40YR. Stations considered long-term here are those with at least 40 complete years of data, described in more detail in Sect. 2.4. Both datasets cover the period 1950–2016. In this section the various raw data sources, automated quality control, automated station matching algorithm and the interpolation method are described.
In this section we evaluate REGEN and REGEN40YR with existing monthly and daily precipitation datasets by showing comparisons of maps and time series.
4
 Summary, limitations and best practice recommendations for users
We present a new gauge-based dataset of gridded daily precipitation with a grid resolution of 1∘ × 1∘, global land coverage and temporal coverage from 1950 to 2013 called REGEN. REGEN was produced by interpolating quality-controlled in situ daily rainfall time series data using ordinary block kriging. The interpolation method for REGEN is identical to GPCC-FDD1 (another gridded dataset of daily precipitation from 1988–2016). REGEN also uses all the in situ daily data used by GPCC-FDD1 but expands on this raw data by combining it with GHCN-Daily and raw data from other sources. This resulted in an extended in situ daily precipitation network with coverage back to 1950. The raw data were subjected to comprehensive automated control procedures identical to the one used by the GHCN-Daily dataset and all suspicious data were removed, interpolating only the high-quality data. We used climatologically aided interpolation (CAI) which involved interpolating ratios of daily totals and monthly totals and retrieving absolute values by superimposing gridded monthly precipitation fields on the interpolated anomalies. This approach results in more reliable estimates in regions with sparse daily in situ data network and a comparatively denser monthly in situ data network. CAI also reduces the influence of variables such as elevation, distance to the coast etc., which allows us to interpolate using only the latitude and longitude as input variables. The gridded monthly fields used to retrieve the absolute daily precipitation rates came from GPCC Full Data Monthly V7 dataset.
REGEN is currently the longest dataset of daily precipitation based on gauge-only records with global land coverage, making it ideal for any global analysis at climatological scales. We therefore hope it will contribute to the advancement of hydrological science and practice by enabling a number of studies aiming to understand changes and variability in several aspects of daily precipitation distributions, including precipitation extremes, and measures of hydrological intensity. So far the only datasets that allowed global climatological-scale analyses of precipitation were monthly datasets or gridded ETCCDI indices; however, the monthly datasets tend to average out the extremes, in turn losing their usefulness when it comes to high-impact phenomena related to intense rainfall at shorter timescales. REGEN due to its daily temporal resolution fills this data gap. REGEN, like GPCC-FDD1, also provides various uncertainties related to the daily gridded fields. These include the Yamamoto standard deviation, which is indicative of the proximity of the estimated fields to the raw station values, the kriging error which is indicative of the density of stations inside the grid cell and finally also the exact number of stations inside each grid cell. Based on these measures a quality mask for REGEN that combines all three pieces of uncertainty information indicating the high-quality grid cells (with low uncertainties) is also presented. Users of REGEN should use the quality mask in all cases except when spatial completeness is of utmost importance. Alongside REGEN (which interpolates all station data) another related dataset that minimises artefacts due to station network variability by interpolating only the long-term stations (i.e. stations with at least 40 years of complete data) is also produced. Both datasets include bespoke data quality masks. As a result, although the station density is lower in the long-term version, users can use its quality mask to restrict their analysis to higher-quality areas. For analyses sensitive to the station network variability the long-term station version with the high-quality mask would be the most suitable. Note, however, due to the lower station density, the long-term station version may be less suitable for investigating individual events or short time series. The All station version on the other hand would be more suitable for analysis where a complete global coverage is important but temporal homogeneity is of lower priority. In any analysis it is recommended to use the data quality mask; however, in regions where no other daily datasets are available (such as parts of Africa), REGEN may provide a suitable rough estimate of precipitation even in lower-quality grids.
REGEN has been compared with global monthly and daily as well as regional daily gridded datasets of precipitation. The annual precipitation anomalies have been shown to resemble those from the other monthly datasets, and the spatial fields of annual totals and maxima as well as their trends more closely resemble GPCC-FDD1 than CPC. Even the daily time series of individual events of significant precipitation resemble the respective regional datasets closely in Europe, Australia and the USA. The larger inconsistencies between the long-term REGEN data and APHRODITE in Asia are indicative of the lower station densities in REGEN in this region. Also note that there is almost no raw in situ daily data in mainland China in 1950. As such any analysis focusing on China using this dataset should not go further back than 1951. Finally, note that despite our best efforts to homogenise station data before interpolating, because the raw data are sourced ultimately from various countries with different measurement practices (such as time of measurement, use of units, quality control and homogenisation steps etc.), inhomogeneities across political borders are possible (Trewin, 2010).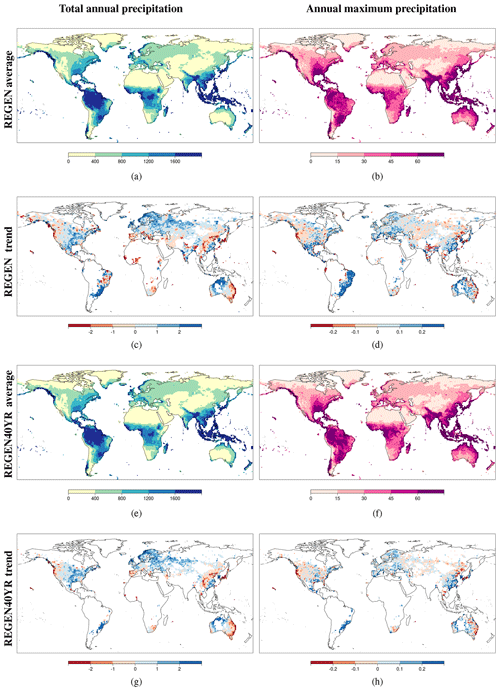 Rainfall is highly variable and a 1∘ spatial resolution (roughly 10 000 km2) dataset such as REGEN is unlikely to contain the information necessary for many typical local-to-regional rainfall applications. However, we note the actual rainfall amounts in gridded datasets are subject to large uncertainties anyway (Herold et al., 2016), whereas estimates of variability are more robust. We therefore believe REGEN will prove itself valuable for climatological applications including studies of climate variability and long-term changes in daily precipitation intensity and extremes, as it provides long temporal coverage of quasi-global daily precipitation observations. The biggest strength of REGEN is the long temporal coverage of quasi-global daily precipitation observations. Regional datasets are often developed by national meteorological organisations and often have access to significantly more data than shared with Global archives such as GHCN-Daily and GPCC. For example the Spanish Meteorological Agency (AEMET) itself manages roughly over 9000 stations (Herrera et al., 2012), which is almost the same number of stations as those used by E-Obs for the entirety of Europe (around 12 000 gauges at its maximum). Furthermore, Herrera et al. (2012) only used the high-quality stations, which accounted for roughly 30 % of total stations available from AEMET. Often the respective meteorological organisation also have the resources to more thoroughly and in some cases even manually quality control the raw data. As a result, regional datasets (where available) may provide more accurate precipitation estimates than REGEN.
At the moment REGEN is not an operational product, meaning the analysis for REGEN was done as a single instance and there are currently no plans to update it regularly, such as on an annual or biennial basis.
Figure 13 reflects REGEN's strengths by showing annual totals and maxima and trends over the high-quality regions over the entire 67-year record of REGEN. Both the total annual precipitation and annual maxima based on REGEN are reasonable, with higher totals and maxima in the known wet regions such as the tropics and lower totals and maxima in the known dry regions such as Saharan Africa (Fig. 13a and b). Trends in total precipitation based on REGEN (Fig. 13c) are also comparable to the trends in total precipitation shown in the IPCC's 5th Assessment report (Fig. 2.29, Hartmann et al., 2013). The total annual precipitation, annual maxima and respective trends in the two indices based on the long-term REGEN data (REGEN40YR) (Fig. 13e–h) are also very similar to REGEN, which suggests that the effects of station variations appear negligible at this scale (for trends and averages over 1950–2013) for the high-quality grids. The trend maps shown in Fig. 13 have been masked based on the quality masks as shown in Fig. 5e and f.
REGEN provides precipitation estimates comparable to those from the currently most reliable datasets such as GPCC-FDD1. With a temporal coverage 152 % longer than that of GPCC-FDD1's and a similar global land coverage, REGEN is highly suitable for analysing climate change. We recognise that observations are not the "truth" but rather just our best estimates of it. REGEN and its variant REGEN40YR (which minimises station network variability) are therefore accompanied by various uncertainty estimates as well as a quality mask, allowing users a firm handle of the observational uncertainties in their analysis.
Appendix A:
 List of countries for which the timestamps have been shifted a day back
The countries for which the data are shifted a day back (e.g. data from 2 January are saved as 1 January) are Angola, Antarctica, Argentina, Australia, Azerbaijan, Bahamas, Bangladesh, Barbados, Benin, Bolivia, Botswana, Brazil, Bulgaria, Burkina Faso, Cameroon, Chad, Chile, Costa Rica, Croatia, Denmark/Greenland, Ethiopia, French Polynesia, Gabon, Georgia, Indonesia, islands in the Indian Ocean (IOT), Ivory Coast, Japan, Kenya, Libya, Madagascar, Malawi, Mali, Marshall Islands, Mauritania, Mozambique, the Netherlands, Niger, Norway, Peru, Senegal, Slovenia, Solomon Islands, Sudan, Suriname, Tanzania, Tunisia, Turkey, Ukraine, Uruguay, Vanuatu, Vietnam, Zambia and Zimbabwe.
REGEN AllStns V1-2019 (REGEN) and REGEN LongTermStns V1-2019 (REGEN40YR) data have now been published with unique Digital Object Identifiers (DOIs) https://doi.org/10.25914/5ca4c380b0d44 (Contractor et al., 2019a) and https://doi.org/10.25914/5ca4c2c6527d2 (Contractor et al., 2019b) respectively. Older versions of both datasets, REGEN AllStns V1.0 and REGEN LongTermStns V1.0, are also available (https://doi.org/10.25914/5b9fa55a8298c, Contractor et al., 2019c and https://doi.org/10.25914/5b9fa67fce5d6, Contractor et al., 2019d respectively), however, we recommend users use the newer versions. Both datasets can be acquired in netcdf format along with netcdfs of the quality masks via the Research Data Australia (RDA) web pages https://researchdata.ands.org.au/rainfall-estimates-gridded-v1-2019/1408744 (last access: 15 January 2020) and https://researchdata.ands.org.au/rainfall-estimates-gridded-v1-2019/1408742 (last access: 15 January 2020) respectively. The RDA records contain further information about the datasets such as the dataset abstract, citation information, related organisations, grants, researchers and dataset managers (SC).
Dataset License and Rights. Non-Commercial License: CC-BY-NC-SA
Creative Commons – Attribution – Non Commercial – No Derivatives 4.0 International
http://creativecommons.org/licenses/by-nc-sa/4.0/legalcode
Access to this dataset is free, the users are free to download this dataset and share it with others and adapt it as long as they credit the dataset owners, provide a link to the license, and if changes were made, indicate it clearly and distribute their contributions under the same license as the original, commercial use is not permitted.
LVA, MD, SC and AB conceptualised the study. ID and RSV provided support during the quality control stage of the project by providing QC scripts, expertise and by hosting SC for two weeks at NCEI headquarters in Asheville, NC, USA. The GPCC team (ER, AM-C, US and MZ) provided support during the merger and interpolation stage of the project by providing data, computational resources, interpolation scripts, guidance and expertise, and by hosting SC for a month at DWD. SC wrote the manuscript with close input from LVA and MGD, and all authors commented on and improved the text.
The authors declare that they have no conflict of interest.
We are grateful to the National Centers for Environmental Information (NCEI) for providing QC scripts, raw GHCN-Daily data and hosting SC on a research visit, and we are grateful to the Global Precipitation Climatology Centre (GPCC) for providing interpolation scripts, computational resources and for hosting SC on a research visit to allow for on-site access to its data archive.
This research has been supported by the Australian Research Council (grant nos. DP160103439, CE110001028 and DE150100456) and the Spanish Ministry for Science and Innovation (grant no. RYC-2017-22964).
This paper was edited by Dimitri Solomatine and reviewed by two anonymous referees.
Adler, R. F., Huffman, G. J., Chang, A., Ferraro, R., Xie, P.-P., Janowiak, J., Rudolf, B., Schneider, U., Curtis, S., Bolvin, D., Gruber, A., Susskind, J., Arkin, P., and Nelkin, E.: The Version-2 Global Precipitation Climatology Project (GPCP) Monthly Precipitation Analysis (1979–Present), J. Hydrometeorol., 4, 1147–1167, https://doi.org/10.1175/1525-7541(2003)004<1147:TVGPCP>2.0.CO;2, 2003. a
Alexander, L. V., Zhang, X., Peterson, T. C., Caesar, J., Gleason, B., Klein Tank, A. M. G., Haylock, M., Collins, D., Trewin, B., Rahimzadeh, F., Tagipour, A., Rupa Kumar, K., Revadekar, J., Griffiths, G., Vincent, L., Stephenson, D. B., Burn, J., Aguilar, E., Brunet, M., Taylor, M., New, M., Zhai, P., Rusticucci, M., and Vazquez-Aguirre, J. L.: Global observed changes in daily climate extremes of temperature and precipitation, J. Geophys. Rese.-Atmos., 111, D05109, https://doi.org/10.1029/2005JD006290, 2006. a
Allen, M. R. and Ingram, W. J.: Constraints on future changes in climate and the hydrologic cycle, Nature, 419, 228–232, https://doi.org/10.1038/nature01092, 2002. a
Ashouri, H., Hsu, K.-L. L., Sorooshian, S., Braithwaite, D. K., Knapp, K. R., Cecil, L. D., Nelson, B. R., and Prat, O. P.: PERSIANN-CDR: Daily Precipitation Climate Data Record from Multisatellite Observations for Hydrological and Climate Studies, B. Am. Meteorol. Soc., 96, 69–83, https://doi.org/10.1175/BAMS-D-13-00068.1, 2014. a
Beck, H. E., Wood, E. F., Pan, M., Fisher, C. K., Miralles, D. G., van Dijk, A. I. J. M., McVicar, T. R., and Adler, R. F.: MSWEP V2 Global 3-Hourly 0.1∘ Precipitation: Methodology and Quantitative Assessment, B. Am. Meteorol. Soc., 100, 473–500, https://doi.org/10.1175/BAMS-D-17-0138.1, 2019. a
Becker, A., Finger, P., Meyer-Christoffer, A., Rudolf, B., Schamm, K., Schneider, U., and Ziese, M.: A description of the global land-surface precipitation data products of the Global Precipitation Climatology Centre with sample applications including centennial (trend) analysis from 1901–present, Earth Syst. Sci. Data, 5, 71–99, https://doi.org/10.5194/essd-5-71-2013, 2013. a, b
Bytheway, J. L. and Kummerow, C. D.: Inferring the uncertainty of satellite precipitation estimates in data-sparse regions over land, J. Geophys. Res.-Atmos., 118, 9524–9533, https://doi.org/10.1002/jgrd.50607, 2013. a
Chen, M. and Xie, P.: CPC Unified Gauge-based Analysis of Global Daily Precipiation, in: Western Pacific Geophysics Meeting, 29 July–1 August 2008, Cairns, Australia, 2008. a, b, c, d
Chen, M., Shi, W., Xie, P., Silva, V. B. S., Kousky, V. E., Wayne Higgins, R., and Janowiak, J. E.: Assessing objective techniques for gauge-based analyses of global daily precipitation, J. Geophys. Res.-Atmos., 113, D04110, https://doi.org/10.1029/2007JD009132, 2008. a, b, c, d
Compo, G. P., Whitaker, J. S., and Sardeshmukh, P. D.: Feasibility of a 100-year reanalysis using only surface pressure data, B. Am. Meteorol. Soc., 87, 175–190, https://doi.org/10.1175/BAMS-87-2-175, 2006. a
Contractor, S., Alexander, L. V., Donat, M. G., and Herold, N.: How Well Do Gridded Datasets of Observed Daily Precipitation Compare over Australia?, Adv. Meteorol., 2015, 1–15, https://doi.org/10.1155/2015/325718, 2015. a
Contractor, S., Donat, M. G., Alexander, L. V., Ziese, M., Meyer-Christoffer, A., Schneider, U., Rustemeier, E., Becker, A., Durre, I., and Vose, R. S.: Rainfall Estimates on a Gridded Network based on all station data v1-2019, NCI National Research Data Collection, https://doi.org/10.25914/5ca4c380b0d44, 2019a. a
Contractor, S., Donat, M. G., Alexander, L. V., Ziese, M., Meyer-Christoffer, A., Schneider, U., Rustemeier, E., Becker, A., Durre, I., and Vose, R. S.: Rainfall Estimates on a Gridded Network based on long-term station data v1-2019, NCI National Research Data Collection, https://doi.org/10.25914/5ca4c2c6527d2, 2019b. a
Contractor, S., Donat, M. G., Alexander, L. V., Ziese, M., Meyer-Christoffer, A., Schneider, U., Rustemeier, E., Becker, A., Durre, I., and Vose, R. S.: Rainfall Estimates on a Gridded Network based on all station data v1.0, NCI National Research Data Collection, https://doi.org/10.25914/5b9fa55a8298c, 2019c. a
Contractor, S., Donat, M. G., Alexander, L. V., Ziese, M., Meyer-Christoffer, A., Schneider, U., Rustemeier, E., Becker, A., Durre, I., and Vose, R. S.: Rainfall Estimates on a Gridded Network based on long-term station data v1.0, NCI National Research Data Collection, https://doi.org/10.25914/5b9fa67fce5d6, 2019d. a
Donat, M. G., Alexander, L. V., Yang, H., Durre, I., Vose, R., and Caesar, J.: Global land-based datasets for monitoring climatic extremes, B. Am. Meteorol. Soc., 94, 997–1006, https://doi.org/10.1175/BAMS-D-12-00109.1, 2013a. a
Donat, M. G., Alexander, L. V., Yang, H., Durre, I., Vose, R., Dunn, R. J. H., Willett, K. M., Aguilar, E., Brunet, M., Caesar, J., Hewitson, B., Jack, C., Klein Tank, A. M. G., Kruger, A. C., Marengo, J., Peterson, T. C., Renom, M., Oria Rojas, C., Rusticucci, M., Salinger, J., Elrayah, A. S., Sekele, S. S., Srivastava, A. K., Trewin, B., Villarroel, C., Vincent, L. A., Zhai, P., Zhang, X., and Kitching, S.: Updated analyses of temperature and precipitation extreme indices since the beginning of the twentieth century: The HadEX2 dataset, J. Geophys. Res.-Atmos., 118, 2098–2118, https://doi.org/10.1002/jgrd.50150, 2013b. a
Donat, M. G., Lowry, A. L., Alexander, L. V., O'Gorman, P. A., and Maher, N.: More extreme precipitation in the world's dry and wet regions, Nat. Clim. Change, 6, 508–513, https://doi.org/10.1038/nclimate2941, 2016. a
Durre, I., Menne, M. J., Gleason, B. E., Houston, T. G., and Vose, R. S.: Comprehensive automated quality assurance of daily surface observations, J. Appl. Meteorol. Clim., 49, 1615–1633, https://doi.org/10.1175/2010JAMC2375.1, 2010. a, b, c, d, e, f
Frei, C. and Schär, C.: A precipitation climatology of the Alps from high-resolution rain-gauge observations, Int. J. Climatol., 18, 873–900, https://doi.org/10.1002/(SICI)1097-0088(19980630)18:8<873::AID-JOC255>3.0.CO;2-9, 1998. a
Funk, C., Peterson, P., Landsfeld, M., Pedreros, D., Verdin, J., Shukla, S., Husak, G., Rowland, J., Harrison, L., Hoell, A., and Michaelsen, J.: The climate hazards infrared precipitation with stations – a new environmental record for monitoring extremes, Scient. Data, 2, 150066, https://doi.org/10.1038/sdata.2015.66, 2015. a, b
Groisman, P. Y., Knight, R. W., Easterling, D. R., Karl, T. R., Hegerl, G. C., and Razuvaev, V. N.: Trends in Intense Precipitation in the Climate Record, J. Climate, 18, 1326–1350, https://doi.org/10.1175/JCLI3339.1, 2005. a
Harris, I., Jones, P. D., Osborn, T. J., and Lister, D. H.: Updated high-resolution grids of monthly climatic observations – the CRU TS3.10 Dataset, Int. J. Climatol., 34, 623–642, https://doi.org/10.1002/joc.3711, 2014. a
Hartmann, D. L., Klein Tank, A. M., Rusticucci, M., Alexander, L. V., Brönnimann, S., Charabi, Y. A. R., Dentener, F. J., Dlugokencky, E. J., Easterling, D. R., Kaplan, A., Soden, B. J., Thorne, P. W., Wild, M., and Zhai, P.: Observations: Atmosphere and surface, in: Climate Change 2013 the Physical Science Basis: Working Group I Contribution to the Fifth Assessment Report of the Intergovernmental Panel on Climate Change, vol. 9781107057, edited by: Stocker, T. F., Qin, D., Plattner, G.-K., Tignor, M., Allen, S. K., Boschung, J., Nauels, A., Xia, Y., Bex, V., and Midgley, P. M., Cambridge University Press, Cambridge, UK and New York, NY, USA, 159–254, https://doi.org/10.1017/CBO9781107415324.008, 2013. a, b, c, d
Haylock, M. R., Hofstra, N., Klein Tank, A. M. G., Klok, E. J., Jones, P. D., and New, M.: A European daily high-resolution gridded data set of surface temperature and precipitation for 1950–2006, J. Geophys. Res., 113, D20119, https://doi.org/10.1029/2008JD010201, 2008. a, b, c, d
Herold, N., Alexander, L. V., Donat, M. G., Contractor, S., and Becker, A.: How much does it rain over land?, Geophys. Res. Lett., 43, 341–348, https://doi.org/10.1002/2015GL066615, 2016. a, b
Herrera, S., Gutiérrez, J. M., Ancell, R., Pons, M. R., Frías, M. D., and Fernández, J.: Development and analysis of a 50-year high-resolution daily gridded precipitation dataset over Spain (Spain02), Int. J. Climatol., 32, 74–85, https://doi.org/10.1002/joc.2256, 2012. a, b, c, d
Hofstra, N., Haylock, M., New, M., Jones, P., and Frei, C.: Comparison of six methods for the interpolation of daily, European climate data, J. Geophys. Res.-Atmos., 113, D21110, https://doi.org/10.1029/2008JD010100, 2008. a
Hou, A. Y., Kakar, R. K., Neeck, S., Azarbarzin, A. A., Kummerow, C. D., Kojima, M., Oki, R., Nakamura, K., and Iguchi, T.: The global precipitation measurement mission, B. Am. Meteorol. Soc., 95, 701–722, https://doi.org/10.1175/BAMS-D-13-00164.1, 2014. a
Huffman, G. J., Adler, R. F., Arkin, P., Chang, A., Ferraro, R., Gruber, A., Janowiak, J., McNab, A., Rudolf, B., and Schneider, U.: The Global Precipitation Climatology Project (GPCP) Combined Precipitation Dataset, B. Am. Meteorol. Soc., 78, 5–20, https://doi.org/10.1175/1520-0477(1997)078<0005:TGPCPG>2.0.CO;2, 1997. a
Huffman, G. J., Adler, R. F., Morrissey, M. M., Bolvin, D. T., Curtis, S., Joyce, R., McGavock, B., and Susskind, J.: Global Precipitation at One-Degree Daily Resolution from Multisatellite Observations, J. Hydrometeorol., 2, 36–50, https://doi.org/10.1175/1525-7541(2001)002<0036:GPAODD>2.0.CO;2, 2001. a
Huffman, G. J., Bolvin, D. T., Nelkin, E. J., Wolff, D. B., Adler, R. F., Gu, G., Hong, Y., Bowman, K. P., and Stocker, E. F.: The TRMM Multisatellite Precipitation Analysis (TMPA): Quasi-Global, Multiyear, Combined-Sensor Precipitation Estimates at Fine Scales, J. Hydrometeorol., 8, 38–55, https://doi.org/10.1175/JHM560.1, 2007. a
IRIN: Half million potential flood victims: WHO, available at: http://www.irinnews.org/news/2008/09/03 (last access: 29 January 2020), 2008. a
Isotta, F. A., Frei, C., Weilguni, V., Perčec Tadić, M., Lassègues, P., Rudolf, B., Pavan, V., Cacciamani, C., Antolini, G., Ratto, S. M., Munari, M., Micheletti, S., Bonati, V., Lussana, C., Ronchi, C., Panettieri, E., Marigo, G., Vertačnik, G. A. I. F., Christoph, F., Viktor, W., Melita, P. T., Pierre, L., Bruno, R., Valentina, P., Carlo, C., Gabriele, A. M. R. S., Michela, M., Stefano, M., Veronica, B., Cristian, L., Christian, R., Elvio, P., Gianni, M., and Gregor, V.: The climate of daily precipitation in the Alps: development and analysis of a high-resolution grid dataset from pan-Alpine rain-gauge data, Int. J. Climatol., 34, 1657–1675, https://doi.org/10.1002/joc.3794, 2013. a
Jackson, M. C.: Mesoscale and Small-Scale Motions As Revealed By Hourly Rainfall Maps of an Outstanding Rainfall Event: 14–16 September 1968, Weather, 32, 2–17, https://doi.org/10.1002/j.1477-8696.1977.tb04471.x, 1977. a
Jones, D. A., Wang, W., and Fawcett, R.: High-quality spatial climate data-sets for Australia, Aust. Meteorol. Oceanogr. J., 58, 233–248, 2009. a, b, c
Kalnay, E., Kanamitsu, M., Kistler, R., Collins, W., Deaven, D., Gandin, L., Iredell, M., Saha, S., White, G., Woollen, J., Zhu, Y., Chelliah, M., Ebisuzaki, W., Higgins, W., Janowiak, J., Mo, K. C., Ropelewski, C., Wang, J., Leetmaa, A., Reynolds, R., Jenne, R., and Joseph, D.: The NCEP/NCAR 40-year reanalysis project, B. Am. Meteorol. Soc., 77, 437–471, https://doi.org/10.1175/1520-0477(1996)077<0437:TNYRP>2.0.CO;2, 1996. a
Kidd, C. and Levizzani, V.: Status of satellite precipitation retrievals, Hydrol. Earth Syst. Sci., 15, 1109–1116, https://doi.org/10.5194/hess-15-1109-2011, 2011. a
Krajewski, W. F., Villarini, G., and Smith, J. A.: RADAR-Rainfall Uncertainties, B. Am. Meteorol. Soc., 91, 87–94, https://doi.org/10.1175/2009BAMS2747.1, 2010. a
Lorenz, C. and Kunstmann, H.: The Hydrological Cycle in Three State-of-the-Art Reanalyses: Intercomparison and Performance Analysis, J. Hydrometeorol., 13, 1397–1420, https://doi.org/10.1175/JHM-D-11-088.1, 2012. a
Lussana, C., Saloranta, T., Skaugen, T., Magnusson, J., Einar Tveito, O., and Andersen, J.: SeNorge2 daily precipitation, an observational gridded dataset over Norway from 1957 to the present day, Earth Syst. Sci. Data, 10, 235–249, https://doi.org/10.5194/essd-10-235-2018, 2018. a
McKee, J. L. and Binns, A. D.: A review of gauge–radar merging methods for quantitative precipitation estimation in hydrology, Can. Water Resour. J./Revue canadienne des ressources hydriques, 41, 186–203, https://doi.org/10.1080/07011784.2015.1064786, 2016. a
McMillan, H., Krueger, T., and Freer, J.: Benchmarking observational uncertainties for hydrology: rainfall, river discharge and water quality, Hydrol. Process., 26, 4078–4111, https://doi.org/10.1002/hyp.9384, 2012. a
Menendez, C. G., De Castro, M., Sorensson, A., and Boulanger, J. P.: CLARIS project: Towards climate downscaling in South America, Meteorol. Z., 19, 357–362, https://doi.org/10.1127/0941-2948/2010/0459, 2010. a
Menne, M. J., Durre, I., Vose, R. S., Gleason, B. E., and Houston, T. G.: An Overview of the Global Historical Climatology Network-Daily Database, J. Atmos. Ocean. Tech., 29, 897–910, https://doi.org/10.1175/JTECH-D-11-00103.1, 2012. a
Mitchell, T. D. and Jones, P. D.: An improved method of constructing a database of monthly climate observations and associated high-resolution grids, Int. J. Climatol., 25, 693–712, https://doi.org/10.1002/joc.1181, 2005. a, b
Osborn, T. J. and Hulme, M.: Evaluation of the European daily precipitation characteristics from the atmospheric model intercomparison project, Int. J. Climatol., 18, 505–522, https://doi.org/10.1002/(SICI)1097-0088(199804)18:5<505::AID-JOC263>3.0.CO;2-7, 1998. a
Perry, M. and Hollis, D.: The generation of monthly gridded datasets for a range of climatic variables over the UK, Int. J. Climatol., 25, 1041–1054, https://doi.org/10.1002/joc.1161, 2005. a
Peterson, T. C. and Vose, R. S.: An Overview of the Global Historical Climatology Network Temperature Database, B. Am. Meteorol. Soc., 78, 2837–2850, https://doi.org/10.1175/1520-0477(1997)078<2837:AOOTGH>2.0.CO;2, 1997. a, b
Rajeevan, M., Bhate, J., Kale, J. D., and Lal, B.: High resolution daily gridded rainfall data for the Indian region: Analysis of break and active monsoon spells, Current Science, 91, 296–306, 2006. a
Rauthe, M., Steiner, H., Riediger, U., Mazurkiewicz, A., and Gratzki, A.: A Central European precipitation climatology Part I: Generation and validation of a high-resolution gridded daily data set (HYRAS), Meteorol. Z., 22, 235–256, https://doi.org/10.1127/0941-2948/2013/0436, 2013. a
Rubel, F.: PIDCAP Quick Look Precipitation Atlas, Österr. Beitr. Meteorol. Geophys., 15, 1–95, 1996. a, b
Schamm, K., Ziese, M., Becker, A., Finger, P., Meyer-Christoffer, A., Schneider, U., Schröder, M., and Stender, P.: Global gridded precipitation over land: a description of the new GPCC First Guess Daily product, Earth Syst. Sci. Data, 6, 49–60, https://doi.org/10.5194/essd-6-49-2014, 2014. a, b, c, d, e
Schamm, K., Ziese, M., Raykova, K., Becker, A., Finger, P., Meyer-Christoffer, A., and Schneider, U.: GPCC Full Data Daily Version 1.0 at 1.0∘: Daily Land-Surface Precipitation from Rain-Gauges built on GTS-based and Historic Data, Global Precipitation Climatology Centre (GPCC, Deutscher Wetterdienst, https://doi.org/10.5676/DWD_GPCC/FD_D_V1_100, 2015. a, b, c
Schneider, U., Becker, A., Finger, P., Meyer-Christoffer, A., Ziese, M., and Rudolf, B.: GPCC's new land surface precipitation climatology based on quality-controlled in situ data and its role in quantifying the global water cycle, Theore. Appl. Climatol., 115, 15–40, https://doi.org/10.1007/s00704-013-0860-x, 2014. a
Schneider, U., Becker, A., Finger, P., Meyer-Christoffer, A., Rudolf, B., and Ziese, M.: GPCC Full Data Reanalysis Version 7.0 at 1.0∘: Monthly Land-Surface Precipitation from Rain-Gauges built on GTS-based and Historic Data, Global Precipitation Climatology Centre, Deutscher Wetterdienst, https://doi.org/10.5676/DWD_GPCC/FD_M_V7_100, 2015. a, b, c
Schneider, U., Finger, P., Meyer-Christoffer, A., Rustemeier, E., Ziese, M., and Becker, A.: Evaluating the hydrological cycle over land using the newly-corrected precipitation climatology from the Global Precipitation Climatology Centre (GPCC), Atmosphere, 8, 52, https://doi.org/10.3390/atmos8030052, 2017. a
Shen, Y., Zhao, P., Pan, Y., and Yu, J.: A high spatiotemporal gauge-satellite merged precipitation analysis over China, J. Geophys. Res.-Atmos., 119, 3063–3075, https://doi.org/10.1002/2013JD020686, 2014. a
Smith, T. M., Arkin, P. A., Ren, L., and Shen, S. S. P.: Improved Reconstruction of Global Precipitation since 1900, J. Atmos. Ocean. Tech., 29, 1505–1517, https://doi.org/10.1175/JTECH-D-12-00001.1, 2012. a
Tian, Y. and Peters-Lidard, C. D.: A global map of uncertainties in satellite-based precipitation measurements, Geophys. Res. Lett., 37, 1–6, https://doi.org/10.1029/2010GL046008, 2010. a, b
Trenberth, K. E.: Changes in precipitation with climate change, Clim. Res., 47, 123–138, https://doi.org/10.3354/cr00953, 2011. a
Trewin, B.: Exposure, instrumentation, and observing practice effects on land temperature measurements, Wiley Interdisciplin. Rev.: Clim. Change, 1, 490–506, https://doi.org/10.1002/wcc.46, 2010. a
van den Besselaar, E. J. M., van der Schrier, G., Cornes, R. C., Iqbal, A. S., and Klein Tank, A. M. G.: SA-OBS: A Daily Gridded Surface Temperature and Precipitation Dataset for Southeast Asia, J. Climate, 30, 5151–5165, https://doi.org/10.1175/JCLI-D-16-0575.1, 2017. a
Villarini, G. and Krajewski, W. F.: Sensitivity Studies of the Models of Radar-Rainfall Uncertainties, J. Appl. Meteorol. Clim., 49, 288–309, https://doi.org/10.1175/2009JAMC2188.1, 2010.  a
Westra, S., Alexander, L. V., and Zwiers, F. W.: Global Increasing Trends in Annual Maximum Daily Precipitation, J. Climate, 26, 3904–3918, https://doi.org/10.1175/JCLI-D-12-00502.1, 2013. a
WHO: WHO|Floods in West Africa raise major health risks, available at: http://www.who.int/mediacentre/news/releases/2008/pr28/en/#.WweHryUc8nM.mendeley (last access: 29 January 2020), 2010. a
Xie, P., Chen, M., Yang, S., Yatagai, A., Hayasaka, T., Fukushima, Y., and Liu, C.: A Gauge-Based Analysis of Daily Precipitation over East Asia, J. Hydrometeorol., 8, 607–626, https://doi.org/10.1175/JHM583.1, 2007. a, b, c, d
Yamamoto, J. K.: An Alternative Measure of the Reliability of Ordinary Kriging Estimates, Math. Geol., 32, 489–509, https://doi.org/10.1023/A:1007577916868, 2000. a, b
Yatagai, A., Xie, P., and Alpert, P.: Development of a daily gridded precipitation data set for the Middle East, Adv. Geosci., 12, 165–170, https://doi.org/10.5194/adgeo-12-165-2008, 2008. a
Yatagai, A., Kamiguchi, K., Arakawa, O., Hamada, A., Yasutomi, N., and Kitoh, A.: APHRODITE: Constructing a Long-Term Daily Gridded Precipitation Dataset for Asia Based on a Dense Network of Rain Gauges, B. Am. Meteorol. Soc., 93, 1401–1415, https://doi.org/10.1175/BAMS-D-11-00122.1, 2012. a, b
Ziese, M., Rauthe-Schöch, A., Becker, A., Finger, P., Meyer-Christoffer, A., and Schneider, U.: GPCC Full Data Daily Version.2018 at 1.0∘: Daily Land-Surface Precipitation from Rain-Gauges built on GTS-based and Historic Data, Global Precipitation Climatology Centre, Deutscher Wetterdienst, https://doi.org/10.5676/DWD_GPCC/FD_D_V2018_100, 2018. a