Articles | Volume 26, issue 9
https://doi.org/10.5194/hess-26-2405-2022
© Author(s) 2022. This work is distributed under
the Creative Commons Attribution 4.0 License.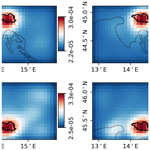 Karst spring discharge modeling based on deep learning using spatially distributed input data
Despite many existing approaches, modeling karst water resources remains challenging as conventional approaches usually heavily rely on distinct system knowledge. Artificial neural networks (ANNs), however, require only little prior knowledge to automatically establish an input–output relationship. For ANN modeling in karst, the temporal and spatial data availability is often an important constraint, as usually no or few climate stations are located within or near karst spring catchments. Hence, spatial coverage is often not satisfactory and can result in substantial uncertainties about the true conditions in the catchment, leading to lower model performance. To overcome these problems, we apply convolutional neural networks (CNNs) to simulate karst spring discharge and to directly learn from spatially distributed climate input data (combined 2D–1D CNNs). We investigate three karst spring catchments in the Alpine and Mediterranean region with different meteorological–hydrological characteristics and hydrodynamic system properties. We compare the proposed approach both to existing modeling studies in these regions and to our own 1D CNN models that are conventionally trained with climate station input data. Our results show that all the models are excellently suited to modeling karst spring discharge (NSE: 0.73–0.87, KGE: 0.63–0.86) and can compete with the simulation results of existing approaches in the respective areas. The 2D models show a better fit than the 1D models in two of three cases and automatically learn to focus on the relevant areas of the input domain. By performing a spatial input sensitivity analysis, we can further show their usefulness in localizing the position of karst catchments.
Received: 28 Jul 2021 – Discussion started: 11 Aug 2021 – Revised: 07 Feb 2022 – Accepted: 17 Apr 2022 – Published: 09 May 2022
Karst aquifers and karst springs are crucial for freshwater supply in many regions, and 9 % of the global population partly or fully relies on karst water resources (Stevanović, 2019). Karst systems in general are characterized by high structural heterogeneity due to the at least in large parts unknown conduit network, which controls the highly variable groundwater flow. These factors make modeling difficult; nevertheless, different approaches exist, which Jeannin et al. (2021) classify as hydrological models (fully distributed models), pipe flow models (semi-distributed models), and data-driven models (including reservoir models). Artificial neural networks (ANNs) or their subgroup of deep learning (DL) models are part of the last group. In contrast to the other two categories, which usually require detailed system knowledge in order to achieve high-quality results, DL approaches offer an alternative possibility of modeling by being able to establish an input–output relationship automatically, without detailed system knowledge necessary. Even though ANNs are not a standard method in karst modeling yet, different types of ANNs have been applied in modeling karst water resources for quite a long time. As one of the first applications (Johannet et al., 1994) showed, karst spring discharge modeling is possible with ANNs. Since then, application of ANNs in hydrology in general has received ever-growing research attention (e.g., Maier and Dandy, 2000; Maier et al., 2010). This has amplified even more in the last years, mainly because of the recent success of DL models (e.g., Kratzert et al., 2018). Rajaee et al. (2019) more recently reviewed applications of ANNs to groundwater; Sit et al. (2020) summarize applications to hydrology and water resources in general. Recurrent neural networks (RNNs), such as long short-term memory (LSTM) (Hochreiter and Schmidhuber, 1997), are standard models for time series modeling, because they possess explicit or implicit memory to remember past time steps, which helps to infer the future. A consequence is that they are trained sequentially, which can make them computationally expensive. Convolutional neural networks (CNNs) (LeCun et al., 2015) on the other hand use convolutions along the time axis (1D CNNs) to learn temporal features and can be trained batch-wise, which therefore usually makes them computationally favorable over RNNs. One example of this fact exists in the related domain of groundwater-level forecasting, where Wunsch et al. (2021) showed that 1D CNNs are considerably faster than RNNs in the case of single-site model application. CNNs at the same time exhibited more stable results through less dependency on the random network initialization and achieved some of the highest performances in this specific study (better than LSTM). Other authors similarly applied CNNs successfully for either groundwater-level forecasting (Afzaal et al., 2020; Lähivaara et al., 2019; Müller et al., 2020) or rainfall–runoff modeling (Van et al., 2020; Hussain et al., 2020). Müller et al. (2020) find in contrast to Wunsch et al. (2021) that CNNs take a considerably longer time to optimize than LSTMs, yet both studies agree that they outperform LSTMs in terms of accuracy. Given these favorable properties of CNNs, we choose 1D CNNs for karst spring discharge modeling for our study. To our best knowledge, Jeannin et al. (2021) is the only study applying CNNs for karst spring discharge modeling in some first experiments, and they also find CNNs to be superior over LSTMs in terms of testing performance.
Data-driven approaches in general are considered to be black boxes. A way to still build confidence in a model's decisions is to understand what the model is doing (ideally, even why) by using explainable artificial intelligence (XAI). There are different approaches, which are potentially suited for this purpose, depending on the specific goal. Such approaches not only are useful for gaining trust, but also help during model building to debug the model and to check which aspects it is focusing on (McGovern et al., 2019). The class of wrapper methods (Kohavi and John, 1997) incorporates both the data and the trained model to interpret what a model has learned. Methods from this class are, for example, impurity importance for determining feature importance in random forest (RF) models (Louppe et al., 2013), permutation importance (Breiman, 2001) both for RF and DL models, and partial dependence plots (Friedman, 2001) that also reveal why a predictor is important. See McGovern et al. (2019) for an overview of these and several other model interpretation and visualization methods. Especially for image-alike data, input sensitivity approaches seem suitable, as focus regions of the model on the image can be visualized. Two well-known approaches are occlusion sensitivity (Zeiler and Fergus, 2014) and RISE (Randomized Input Sampling for Explanation) (Petsiuk et al., 2018). Both methods show how relevant each pixel or area is to the decision of the model (image classification) and can generate an importance heat map (saliency map) for visualization. The idea behind both algorithms is to use masked versions of an input image and, by obtaining the respective model output, to learn the focus regions. A very closely related approach to generate a saliency map was recently proposed by Anderson and Radić (2022), which in contrast to RISE and occlusion takes the physical meaning of the absolute value of each variable at each pixel into account during the perturbation of the input data.
One drawback of the 1D CNN approach, as well as most other data-driven approaches, is the dependency on high data availability and quality. However, climate stations are often not available within the catchment itself, do not match the data availability of the discharge time series (period or temporal resolution), or are more distant and thus do not truly represent the climatic conditions within the catchment. Gridded climate data can provide a solution to such data availability problems. Several openly available products exist (e.g., ERA5-Land, Muñoz Sabater, 2019; E-OBS, Cornes et al., 2018), which provide climate data for several decades and with, in terms of karst spring modeling, appropriate temporal (hourly or daily) and spatial () resolution. However, especially for karst springs, it is not straightforward to extract relevant time series from the gridded data, because the spatial extent of the grid cell containing the location of the spring usually does not coincide well with the associated spring catchment position. Moreover, especially for karst springs, the catchment is often not well known, and, for larger springs, can stretch over several grid cells. If the exact position of the catchment is unknown, using gridded data has the advantage that a broader region can be taken into account as input to let the model learn the relevant grid cells automatically.
Besides such modeling aspects, the delineation of karst catchments is generally important for sustainably exploiting but also protecting karst water resources by establishing protection zones accordingly. Malard et al. (2015) explain that only a few generalizable methods based on models in general for karst spring catchment delineation have been proposed. Instead, delineations usually rely on classical hydrogeological methods such as assessing geology, topography, hydrology, water balance, elaborate tracer tests and geophysical investigations. These methods usually are complex and costly, and thus for many karst springs, exact catchment delineations are not available at all or at least contain some uncertainties. Where no information about the catchment is available at all, an approximate localization is advantageous as a first step towards an exact delineation, since it facilitates the application of more elaborate methods like tracer tests. There has already been an attempt by Longenecker et al. (2017) to semi-automatically derive approximate catchment boundaries by correlating karst spring discharge events with global precipitation measurement (GPM) gridded data (NASA, 2016). The authors were able to achieve reasonable results with their method but also noticed that they could not replace conventional methods.
Anderson and Radić (2022) already applied gridded meteorological data to streamflow modeling in western Canada and used a coupled 2D CNN–LSTM model to directly process spatially distributed input data. They showed that such models learn the relevant parts of the large-scale gridded input data for each local or regional streamflow automatically. We adapt and extend this approach to karst spring discharge modeling, however, purely based on CNNs by replacing the LSTM part with a 1D CNN. Similar to the approach of Anderson and Radić (2022), in our proposed methodology the 2D CNN part learns the spatial features of the input data, while the 1D CNN part extracts the temporal features, both necessary for simulating the spring discharge time series. With this combined 2D–1D approach (for the sake of simplicity in the following 2D-only approach), we can now directly use gridded meteorological data to potentially overcome the common data availability problems when using climate station data for modeling. This approach further no longer depends on a prior description of the catchment area, other than a very rough estimation of its approximate size to make the gridded data section large enough. Moreover, we investigate the potential of this approach to identifying the approximate catchment location based on a modified spatial input sensitivity analysis from Anderson and Radić (2022). Deriving recharge areas based on rainfall–discharge event correlation, as previously done by Longenecker et al. (2017), requires (i) heterogeneous rainfall at catchment scale, (ii) precipitation data with sufficient spatial resolution that capture this heterogeneity and (iii) a karst system without too much dampening of the precipitation signals. These requirements hold for our proposed methodology as well, but a potential advantage of ANNs is their nonlinearity, which may better capture the nonlinear relationships between rainfall and discharge.
We explore the applicability of our proposed deep learning approaches with spatially distributed input data in modeling karst spring discharge in three different study areas in Austria (Aubach spring), France (Lez spring) and Slovenia (Unica springs). All three associated karst areas are well studied and, for Austria and France, several modeling publications are available as benchmarks. Discharge of Lez spring in France was extensively studied in the past, including several ANN studies. Please refer to Kong A Siou et al. (2011) for an overview of older modeling studies at Lez spring with approaches other than ANNs. We omit three newer ANN studies because they either do not focus on modeling discharge (Kong-A-Siou et al., 2015) or train models not on the complete annual cycle (September–August in this region) but on flash-flood events (Darras et al., 2015, 2017). The other ANN studies all use classical multilayer perceptrons (MLPs) or recurrent MLPs for discharge modeling, and we introduce them shortly in the following. Kong A Siou et al. (2011, 2012) and Kong-A-Siou et al. (2013) use precipitation from three or six gauges, respectively, and all use a similar but slightly varying data basis of 12 to 13 full annual cycles between 1988 and 2006. The testing period is either the single cycle 2002/03 (Kong A Siou et al., 2012; Kong-A-Siou et al., 2013) or two cycles roughly in the same period (2002–2004) (Kong A Siou et al., 2011). Kong-A-Siou et al. (2014) use data from 1987 to 2007, however, this time additionally including evapotranspiration and pumping from the Lez aquifer. For Aubach spring in Austria no ANN studies exist; however, other modeling studies are available. Three studies (Chen and Goldscheider, 2014; Chen et al., 2017b, 2018) based on three successive and improved versions of a combined lumped parameter (SWMM) and distributed model investigate and simulate three springs of this karst system simultaneously. They all achieve high performance in terms of NSE (>0.8), but none of them covered a complete annual cycle as a contiguous test period. Additionally, they differ considerably in terms of their individual data basis for modeling (number and position of climate stations used as input data) as well as their testing periods. The shortest test set only had 40 d (in fall), and the longest (Chen et al., 2017b) used 1 year of data for model calibration and performed a split-sample test on the same dataset. This makes a comparison of modeling results among these studies difficult. For the third spring (Slovenia), several earlier modeling studies are available (e.g., Kaufmann et al., 2016; Mayaud et al., 2019; Kaufmann et al., 2020; Kovačič et al., 2020), even including ANNs (Sezen et al., 2019), but none of these directly modeled Unica springs discharge but rather focused on other aspects like cave hydraulics or polje modeling. Besides existing studies, we compare the results of the 2D model with our own 1D CNN models using climate station input data to assess the usefulness and possible advantages of the direct use of spatially distributed input data. As spatially distributed inputs, we use either hourly ERA5-Land reanalysis data (Muñoz Sabater, 2019), hourly RADOLAN precipitation data (DWD Climate Data Center, 2020), or daily E-OBS data (Cornes et al., 2018), depending on the temporal resolution of spring discharge data. We selected these datasets among all openly accessible datasets (e.g., via the Copernicus Climate Data Store) because of their available variable set and their spatial and temporal resolution. We introduce them in more detail in the following data section. Finally, we explore the potential of the 2D approach for karst spring catchment localization by investigating the spatial input sensitivity of the trained CNN models.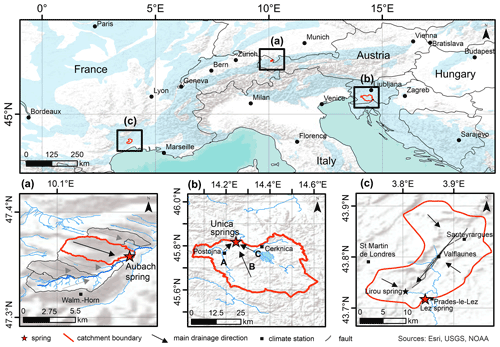 From the obtained insights we can conclude that karst spring discharge can be predicted accurately with the presented 1D and 2D approaches. Their performance competes with that of existing models in the three study areas. One main advantage compared with conventional modeling approaches in karst is that, in order to obtain precise discharge simulations, far less prior knowledge of the system under consideration is required. Thus, using ANNs can generally reduce the amount of preliminary work that would be required to gain such sufficient system knowledge. We can further show that gridded climate data can provide an excellent substitute for non-existent or patchy climate station data. This does not require knowledge of the exact catchment area, which is a critical component, especially for karst springs. Rather, coupled 2D–1D CNNs can be used to generate a first approximation of the catchment location. However, as was shown, this approach still needs further development to more accurately localize the catchment, for example by modifying the input sensitivity approach and by defining a routine to infer the catchment location from the sensitivity data other than visual inspection. An important factor in achieving more accurate catchment localization is 2D meteorological input data with a finer spatial resolution in relation to the catchment size, because we found the approach to work best for the largest catchment. Additionally, a sufficient heterogeneity of precipitation in comparison with the catchment size is necessary, which, however, cannot be controlled but possibly limits the application in some karst areas. Given these developments and conditions, the approach's capabilities to delineate karst catchments should be further investigated, ideally including an evaluation against tracer tests and hydrogeological studies. In terms of accuracy, we do not find that one of the tested model setups (1D and 2D) is fundamentally superior. A key benefit of the 2D approach, which uses spatially discretized input data, is the spatially and temporally complete nature of the data and the number of variables available for study. Furthermore, for many areas the openly available 2D climate data are more easily accessible than climate station data, which still have to be collected from various different authorities if accessible or existent at all. A weak spot of the 2D approach is a substantially higher computational effort due to the large number of model parameters and the larger amount of data that has to be processed during training and optimization. In summary, gridded meteorological data are useful for overcoming missing climate station data and getting quite a good idea of the spatial extent of larger catchments, given sufficiently small grid cell sizes.
Appendix A:
 Study area comparison table
Appendix B:
 Lez catchment precipitation interpolation
The Thiessen polygon interpolation method consists of calculating a weighted average of the precipitation data by allocating a contribution percentage to each meteorological station, based on its influence area in the catchment. These influence areas are calculated through geometric operations. First, we draw straight-line segments between each adjacent station, and then we add the perpendicular bisectors of each segment, which will define the edges of the polygons. Each meteorological station thus corresponds to a particular polygon, for which the precipitation over the surface is assumed to be the same as the measured precipitation at the station.
The weighted average of the precipitation Pwa at each time step is calculated as follows:
with n the number of meteorological stations, Ai the area (over the catchment) of the polygon corresponding to the ith station, Pi the precipitation measured at the ith station and A the area of the catchment.
Appendix D:
 Model overview
Code and data availability
We provide complete model codes on Github (https://doi.org/10.5281/zenodo.5184692) (Wunsch, 2021). Due to redistribution restrictions from several parties, we cannot provide a dataset. Nevertheless, the data are available from the respective local authorities listed in the main text and in the following: 2D datasets are fully accessible online: E-OBS (https://doi.org/10.24381/CDS.151D3EC6; Copernicus Climate Change Service, 2020), ERA5-Land (https://doi.org/10.24381/CDS.E2161BAC; Muñoz Sabater, 2019). Aubach spring discharge and climate data from surrounding climate stations in Austria are available on request from the office of the federal state of Vorarlberg, division of water management, and Oberstdorf station data (German Meteorological Service) are available via the DWD Open Data Server (https://opendata.dwd.de/; DWD, 2022). Data from Slovenia can be retrieved from ARSO (Slovenian Environment Agency) (http://vode.arso.gov.si/hidarhiv/, ARSO, 2020a and http://www.meteo.si, ARSO, 2020b). Lez spring discharge was provided by SNO KARST (2021) (https://doi.org/10.15148/CFD01A5B-B7FD-41AA-8884-84DBDDAC767E), and climate data are available on request from MeteoFrance.
AW, TL and NG conceptualized the study. AW and TL developed the methodology and software code and validated the results. AW performed the experiments and investigated and visualized the results. GC and ZC performed formal analysis. NR and GC contributed to data curation activities. AW wrote the original paper draft with contributions from GC and NR. All the authors contributed to interpretation of the results and review and editing of the paper draft. TL and NG supervised the work.
The contact author has declared that neither they nor their co-authors have any competing interests.
Publisher's note: Copernicus Publications remains neutral with regard to jurisdictional claims in published maps and institutional affiliations.
The financial support of KIT through the German Federal Ministry of Education and Research (BMBF) and the European Commission through the Partnership for Research and Innovation in the Mediterranean Area (PRIMA) program under Horizon 2020 (KARMA project, grant agreement no. 01DH19022A) is greatly appreciated. We thank the French Ministry of Higher Education and Research for the thesis scholarship of Guillaume Cinkus as well as the European Commission and the Agence Nationale de la Recherche (ANR) for its support of HSM and UMR through the Partnership for Research and Innovation in the Mediterranean Area (PRIMA) program under Horizon 2020 (KARMA project, ANR-18-PRIM-0005). We were further financially supported by the Slovenian Research Agency within the project Infiltration processes in forested karst aquifers under changing environment (no. J2-1743). The authors were supported by the state of Baden-Württemberg through bwHPC. Muñoz Sabater (2019) was downloaded from the Copernicus Climate Change Service (C3S) Climate Data Store. The results contain modified Copernicus Climate Change Service information 2020. Neither the European Commission nor ECMWF is responsible for any use that may be made of the Copernicus information or data it contains. We acknowledge the E-OBS dataset (v23.1) from the EU-FP6 project UERRA and the Copernicus Climate Change Service, and the data providers in the ECA&D project. Lez spring discharge data were provided by the KARST observatory network (SNO KARST) initiative from the INSU/CNRS (FRANCE), which aims to strengthen knowledge sharing and to promote cross-disciplinary research on karst systems. The authors were also supported by the KIT Publication Fund of the Karlsruhe Institute of Technology.
This research has been supported by the European Commission, Horizon 2020 Framework Programme (4PRIMA – grant no. 724060).

The article processing charges for this open-access publication were covered by the Karlsruhe Institute of Technology (KIT).
This paper was edited by Yue-Ping Xu and reviewed by two anonymous referees.
Abadi, M., Agarwal, A., Barham, P., Brevdo, E., Chen, Z., Citro, C., Corrado, G. S., Davis, A., Dean, J., Devin, M., Ghemawat, S., Goodfellow, I., Harp, A., Irving, G., Isard, M., Jia, Y., Jozefowicz, R., Kaiser, L., Kudlur, M., Levenberg, J., Mane, D., Monga, R., Moore, S., Murray, D., Olah, C., Schuster, M., Shlens, J., Steiner, B., Sutskever, I., Talwar, K., Tucker, P., Vanhoucke, V., Vasudevan, V., Viegas, F., Vinyals, O., Warden, P., Wattenberg, M., Wicke, M., Yu, Y., and Zheng, X.: TensorFlow: Large-Scale Machine Learning on Heterogeneous Distributed Systems, p. 19, https://www.tensorflow.org/ (last access: 6 May 2022), 2015. a
Afzaal, H., Farooque, A. A., Abbas, F., Acharya, B., and Esau, T.: Groundwater Estimation from Major Physical Hydrology Components Using Artificial Neural Networks and Deep Learning, Water, 12, 5, https://doi.org/10.3390/w12010005, 2020. a
Anderson, S. and Radić, V.: Evaluation and interpretation of convolutional long short-term memory networks for regional hydrological modelling, Hydrol. Earth Syst. Sci., 26, 795–825, https://doi.org/10.5194/hess-26-795-2022, 2022. a, b, c, d, e, f, g, h, i, j
ARSO – Slovenian Environment Agency: Archive of Hydrological Data, ARSO [data set], http://vode.arso.gov.si/hidarhiv/ (last access: 5 December 2020), 2020a. a, b, c
ARSO – Slovenian Environment Agency: Archive of Meteorological Data, ARSO [data set], http://www.meteo.si (last access: 5 December 2020), 2020b. a, b
Bandhauer, M., Isotta, F., Lakatos, M., Lussana, C., Båserud, L., Izsák, B., Szentes, O., Tveito, O. E., and Frei, C.: Evaluation of Daily Precipitation Analyses in E-OBS (V19.0e) and ERA5 by Comparison to Regional High-Resolution Datasets in European Regions, Int. J. Climatol., 42, 727–747, https://doi.org/10.1002/joc.7269, 2021. a
Bergström, S.: The Development of a Snow Routine for the HBV-2 Model, Hydrol. Res., 6, 73–92, https://doi.org/10.2166/nh.1975.0006, 1975. a
Bergström, S.: The HBV Model, in: Computer Models of Watershed Hydrology, edited by: Singh, V. P., Water Resources Publications, Colorado, USA, 443–476, ISBN 0-918334-91-8, 1995. a
Bicalho, C. C., Batiot-Guilhe, C., Seidel, J. L., Van Exter, S., and Jourde, H.: Hydrodynamical Changes and Their Consequences on Groundwater Hydrochemistry Induced by Three Decades of Intense Exploitation in a Mediterranean Karst System, Environ. Earth Sci., 65, 2311–2319, https://doi.org/10.1007/s12665-011-1384-2, 2012. a
Breiman, L.: Random Forests, Mach. Learn., 45, 5–32, https://doi.org/10.1023/A:1010933404324, 2001. a
Cai, Z., Fan, Q., Feris, R. S., and Vasconcelos, N.: A Unified Multi-Scale Deep Convolutional Neural Network for Fast Object Detection, in: Computer Vision – ECCV 2016, edited by: Leibe, B., Matas, J., Sebe, N., and Welling, M., Springer International Publishing, Cham, 354–370, ISBN 978-3-319-46493-0, 2016. a
Chen, Z. and Goldscheider, N.: Modeling Spatially and Temporally Varied Hydraulic Behavior of a Folded Karst System with Dominant Conduit Drainage at Catchment Scale, Hochifen–Gottesacker, Alps, J. Hydrol., 514, 41–52, https://doi.org/10.1016/j.jhydrol.2014.04.005, 2014. a, b, c, d
Chen, Z., Auler, A. S., Bakalowicz, M., Drew, D., Griger, F., Hartmann, J., Jiang, G., Moosdorf, N., Richts, A., Stevanovic, Z., Veni, G., and Goldscheider, N.: The World Karst Aquifer Mapping Project: Concept, Mapping Procedure and Map of Europe, Hydrogeol. J., 25, 771–785, https://doi.org/10.1007/s10040-016-1519-3, 2017a. a
Chen, Z., Hartmann, A., and Goldscheider, N.: A New Approach to Evaluate Spatiotemporal Dynamics of Controlling Parameters in Distributed Environmental Models, Environ. Model. Softwa., 87, 1–16, https://doi.org/10.1016/j.envsoft.2016.10.005, 2017b. a, b, c, d
Chen, Z., Hartmann, A., Wagener, T., and Goldscheider, N.: Dynamics of water fluxes and storages in an Alpine karst catchment under current and potential future climate conditions, Hydrol. Earth Syst. Sci., 22, 3807–3823, https://doi.org/10.5194/hess-22-3807-2018, 2018. a, b, c
Chollet, F.: Keras, https://github.com/keras-team/keras (last access: 22 May 2020), 2015. a
Copernicus Climate Change Service: E-OBS daily gridded meteorological data for Europe from 1950 to present derived from in-situ observations, Copernicus Climate Change Service [data set], https://doi.org/10.24381/CDS.151D3EC6, 2020. a
Cornes, R. C., van der Schrier, G., van den Besselaar, E. J. M., and Jones, P. D.: An Ensemble Version of the E-OBS Temperature and Precipitation Data Sets, J. Geophys. Res.-Atmos., 123, 9391–9409, https://doi.org/10.1029/2017jd028200, 2018. a, b, c
Darras, T., Borrell Estupina, V., Kong-A-Siou, L., Vayssade, B., Johannet, A., and Pistre, S.: Identification of spatial and temporal contributions of rainfalls to flash floods using neural network modelling: case study on the Lez basin (southern France), Hydrol. Earth Syst. Sci., 19, 4397–4410, https://doi.org/10.5194/hess-19-4397-2015, 2015. a
Darras, T., Kong-A-Siou, L., Vayssade, B., Johannet, A., and Pistre, S.: Karst Flash Flood Forecasting Using Recurrent and Nonrecurrent Artificial Neural Network Models: The Case of the Lez Basin (Southern France), in: EuroKarst 2016, Neuchâtel, Advances in Karst Science, Springer International Publishing, Cham, https://doi.org/10.1007/978-3-319-45465-8, 2017. a
DWD: DWD Opendata, https://opendata.dwd.de/, last access: 6 May 2022. a
DWD Climate Data Center: Historical and Current Hourly RADOLAN Grids of Precipitation Depth (Binary), Version V001, https://opendata.dwd.de/climate_environment/CDC/grids_germany/hourly/radolan/, last access: 11 December 2020. a, b, c
Fleury, P., Ladouche, B., Conroux, Y., Jourde, H., and Dörfliger, N.: Modelling the Hydrologic Functions of a Karst Aquifer under Active Water Management – The Lez Spring, J. Hydrol., 365, 235–243, https://doi.org/10.1016/j.jhydrol.2008.11.037, 2009. a, b
Fresnay, S., Hally, A., Garnaud, C., Richard, E., and Lambert, D.: Heavy Precipitation Events in the Mediterranean: Sensitivity to Cloud Physics Parameterisation Uncertainties, Nat. Hazards Earth Syst. Sci., 12, 2671–2688, https://doi.org/10.5194/nhess-12-2671-2012, 2012. a
Friedman, J. H.: Greedy Function Approximation: A Gradient Boosting Machine, Ann. Stat., 29, 1189–1232, https://doi.org/10.1214/aos/1013203451, 2001. a
Goldscheider, N.: Fold Structure and Underground Drainage Pattern in the Alpine Karst System Hochifen-Gottesacker, Eclogae Geol. Helv., 98, 1–17, https://doi.org/10.1007/s00015-005-1143-z, 2005. a, b, c
Goodfellow, I., Bengio, Y., and Courville, A.: Deep Learning, Adaptive Computation and Machine Learning, The MIT Press, Cambridge, Massachusetts, ISBN 978-0-262-03561-3, 2016. a
Gupta, H. V., Kling, H., Yilmaz, K. K., and Martinez, G. F.: Decomposition of the Mean Squared Error and NSE Performance Criteria: Implications for Improving Hydrological Modelling, J. Hydrol., 377, 80–91, https://doi.org/10.1016/j.jhydrol.2009.08.003, 2009. a
Hochreiter, S. and Schmidhuber, J.: Long Short-Term Memory, Neural Comput., 9, 1735–1780, https://doi.org/10.1162/neco.1997.9.8.1735, 1997. a
Hock, R.: A Distributed Temperature-Index Ice- and Snowmelt Model Including Potential Direct Solar Radiation, J. Glaciol., 45, 101–111, https://doi.org/10.3189/s0022143000003087, 1999. a
Hunter, J. D.: Matplotlib: A 2D Graphics Environment, Comput. Sci. Eng., 9, 90–95, https://doi.org/10.1109/mcse.2007.55, 2007. a
Hussain, D., Hussain, T., Khan, A. A., Naqvi, S. A. A., and Jamil, A.: A Deep Learning Approach for Hydrological Time-Series Prediction: A Case Study of Gilgit River Basin, Earth Sci. Inform., 13, 915–927, https://doi.org/10.1007/s12145-020-00477-2, 2020. a
Innamorati, C., Ritschel, T., Weyrich, T., and Mitra, N. J.: Learning on the Edge: Investigating Boundary Filters in CNNs, Int. J. Comput. Vis., 128, 773–782, https://doi.org/10.1007/s11263-019-01223-y, 2020. a
Ioffe, S. and Szegedy, C.: Batch Normalization: Accelerating Deep Network Training by Reducing Internal Covariate Shift, arXiv preprint: 1502.03167 [cs], http://arxiv.org/abs/1502.03167 (last access: 14 November 2021), 2015. a
Jeannin, P.-Y., Artigue, G., Butscher, C., Chang, Y., Charlier, J.-B., Duran, L., Gill, L., Hartmann, A., Johannet, A., Jourde, H., Kavousi, A., Liesch, T., Liu, Y., Lüthi, M., Malard, A., Mazzilli, N., Pardo-Igúzquiza, E., Thiéry, D., Reimann, T., Schuler, P., Wöhling, T., and Wunsch, A.: Karst Modelling Challenge 1: Results of Hydrological Modelling, J. Hydrol., 600, 126508, https://doi.org/10.1016/j.jhydrol.2021.126508, 2021. a, b, c
Johannet, A., Mangin, A., and D'Hulst, D.: Subterranean Water Infiltration Modelling by Neural Networks: Use of Water Source Flow, in: Volume 1, Parts 1 and 2, ICANN '94: Proceedings of the International Conference on Artificial Neural Networks, 26–29 May 1994, Sorrento, Italy, Springe, Berlin, Heidelberg, Sorrento, Italy, 1033–1036, ISBN 978-3-540-19887-1, 1994. a
Jourde, H., Lafare, A., Mazzilli, N., Belaud, G., Neppel, L., Dörfliger, N., and Cernesson, F.: Flash Flood Mitigation as a Positive Consequence of Anthropogenic Forcing on the Groundwater Resource in a Karst Catchment, Environ. Earth Sci., 71, 573–583, https://doi.org/10.1007/s12665-013-2678-3, 2014. a, b
Jourde, H., Massei, N., Mazzilli, N., Binet, S., Batiot-Guilhe, C., Labat, D., Steinmann, M., Bailly-Comte, V., Seidel, J. L., Arfib, B., Charlier, J. B., Guinot, V., Jardani, A., Fournier, M., Aliouache, M., Babic, M., Bertrand, C., Brunet, P., Boyer, J. F., Bricquet, J. P., Camboulive, T., Carrière, S. D., Celle-Jeanton, H., Chalikakis, K., Chen, N., Cholet, C., Clauzon, V., Soglio, L. D., Danquigny, C., Défargue, C., Denimal, S., Emblanch, C., Hernandez, F., Gillon, M., Gutierrez, A., Sanchez, L. H., Hery, M., Houillon, N., Johannet, A., Jouves, J., Jozja, N., Ladouche, B., Leonardi, V., Lorette, G., Loup, C., Marchand, P., de Montety, V., Muller, R., Ollivier, C., Sivelle, V., Lastennet, R., Lecoq, N., Maréchal, J. C., Perotin, L., Perrin, J., Petre, M. A., Peyraube, N., Pistre, S., Plagnes, V., Probst, A., Probst, J. L., Simler, R., Stefani, V., Valdes-Lao, D., Viseur, S., and Wang, X.: SNO KARST: A French Network of Observatories for the Multidisciplinary Study of Critical Zone Processes in Karst Watersheds and Aquifers, Vadose Zone J., 17, 180094, https://doi.org/10.2136/vzj2018.04.0094, 2018. a
Kaufmann, G., Mayaud, C., Kogovšek, B., and Gabrovšek, F.: Understanding the Temporal Variation of Flow Direction in a Complex Karst System (Planinska Jama, Slovenia), Acta Carsolog., 49, 213–228, https://doi.org/10.3986/ac.v49i2-3.7373, 2020. a
Kaufmann, G., Gabrovšek, F., and Turk, J.: Modelling Flow of Subterranean Pivka River in Postojnska Jama, Slovenia, Acta Carsolog., 45, 57–70, https://doi.org/10.3986/ac.v45i1.3059, 2016. a
King, D. A., Bachelet, D. M., Symstad, A. J., Ferschweiler, K., and Hobbins, M.: Estimation of Potential Evapotranspiration from Extraterrestrial Radiation, Air Temperature and Humidity to Assess Future Climate Change Effects on the Vegetation of the Northern Great Plains, USA, Ecol. Model., 297, 86–97, https://doi.org/10.1016/j.ecolmodel.2014.10.037, 2015. a
Kiranyaz, S., Ince, T., Abdeljaber, O., Avci, O., and Gabbouj, M.: 1-D Convolutional Neural Networks for Signal Processing Applications, in: ICASSP 2019–2019 IEEE International Conference on Acoustics, Speech and Signal Processing (ICASSP), 12–17 May 2019, Brighton, UK, 8360–8364, https://doi.org/10.1109/ICASSP.2019.8682194, 2019. a
Kohavi, R. and John, G. H.: Wrappers for Feature Subset Selection, Artific. Intel., 97, 273–324, https://doi.org/10.1016/S0004-3702(97)00043-X, 1997. a
Kollat, J. B., Reed, P. M., and Wagener, T.: When Are Multiobjective Calibration Trade-Offs in Hydrologic Models Meaningful?, Water Resour. Res., 48, W03520, https://doi.org/10.1029/2011wr011534, 2012. a
Kong A Siou, L., Johannet, A., Borrell, V., and Pistre, S.: Complexity Selection of a Neural Network Model for Karst Flood Forecasting: The Case of the Lez Basin (Southern France), J. Hydrol., 403, 367–380, https://doi.org/10.1016/j.jhydrol.2011.04.015, 2011. a, b, c, d, e
Kong A Siou, L., Johannet, A., Valérie, B. E., and Pistre, S.: Optimization of the Generalization Capability for Rainfall–Runoff Modeling by Neural Networks: The Case of the Lez Aquifer (Southern France), Environ. Earth Sci., 65, 2365–2375, https://doi.org/10.1007/s12665-011-1450-9, 2012. a, b, c
Kong-A-Siou, L., Cros, K., Johannet, A., Borrell-Estupina, V., and Pistre, S.: KnoX Method, or Knowledge eXtraction from Neural Network Model. Case Study on the Lez Karst Aquifer (Southern France), J. Hydrol., 507, 19–32, https://doi.org/10.1016/j.jhydrol.2013.10.011, 2013. a, b, c
Kong-A-Siou, L., Fleury, P., Johannet, A., Borrell Estupina, V., Pistre, S., and Dörfliger, N.: Performance and Complementarity of Two Systemic Models (Reservoir and Neural Networks) Used to Simulate Spring Discharge and Piezometry for a Karst Aquifer, J. Hydrol., 519, 3178–3192, https://doi.org/10.1016/j.jhydrol.2014.10.041, 2014. a, b, c, d
Kong-A-Siou, L., Johannet, A., Borrell Estupina, V., and Pistre, S.: Neural Networks for Karst Groundwater Management: Case of the Lez Spring (Southern France), Environ. Earth Sci., 74, 7617–7632, https://doi.org/10.1007/s12665-015-4708-9, 2015. a
Kovačič, G., Petrič, M., and Ravbar, N.: Evaluation and Quantification of the Effects of Climate and Vegetation Cover Change on Karst Water Sources: Case Studies of Two Springs in South-Western Slovenia, Water, 12, 3087, https://doi.org/10.3390/w12113087, 2020. a, b
Kratzert, F., Klotz, D., Brenner, C., Schulz, K., and Herrnegger, M.: Rainfall–Runoff Modelling Using Long Short-Term Memory (LSTM) Networks, Hydrol. Earth Syst. Sci., 22, 6005–6022, https://doi.org/10.5194/hess-22-6005-2018, 2018. a
Lähivaara, T., Malehmir, A., Pasanen, A., Kärkkäinen, L., Huttunen, J. M. J., and Hesthaven, J. S.: Estimation of Groundwater Storage from Seismic Data Using Deep Learning, Geophys. Prospect., 67, 2115–2126, https://doi.org/10.1111/1365-2478.12831, 2019. a
Lebigot, E. O.: Uncertainties: A Python Package for Calculations with Uncertainties, https://pythonhosted.org/uncertainties/numpy_guide.html (last access: 18 February 2021), 2010. a
LeCun, Y., Bengio, Y., and Hinton, G.: Deep Learning, Nature, 521, 436–444, https://doi.org/10.1038/nature14539, 2015. a, b
Li, Q., Cai, W., Wang, X., Zhou, Y., Feng, D. D., and Chen, M.: Medical Image Classification with Convolutional Neural Network, in: 2014 13th International Conference on Control Automation Robotics Vision (ICARCV), 10–12 December 2014, Singapore, 844–848, https://doi.org/10.1109/ICARCV.2014.7064414, 2014. a
Longenecker, J., Bechtel, T., Chen, Z., Goldscheider, N., Liesch, T., and Walter, R.: Correlating Global Precipitation Measurement Satellite Data with Karst Spring Hydrographs for Rapid Catchment Delineation, Geophys. Res. Lett., 44, 4926–4932, https://doi.org/10.1002/2017GL073790, 2017. a, b
Louppe, G., Wehenkel, L., Sutera, A., and Geurts, P.: Understanding Variable Importances in Forests of Randomized Trees, in: Advances in Neural Information Processing Systems, vol. 26, Curran Associates, Inc., https://papers.nips.cc/paper/2013/hash/e3796ae838835da0b6f6ea37bcf8bcb7-Abstract.html (last access: 30 January 2022), 2013. a
Maier, H. R. and Dandy, G. C.: Neural Networks for the Prediction and Forecasting of Water Resources Variables: A Review of Modelling Issues and Applications, Environ. Model. Softw., 15, 101–124, https://doi.org/10.1016/s1364-8152(99)00007-9, 2000. a
Maier, H. R., Jain, A., Dandy, G. C., and Sudheer, K.: Methods Used for the Development of Neural Networks for the Prediction of Water Resource Variables in River Systems: Current Status and Future Directions, Environ. Model. Softw., 25, 891–909, https://doi.org/10.1016/j.envsoft.2010.02.003, 2010. a
Malard, A., Jeannin, P.-Y., Vouillamoz, J., and Weber, E.: An Integrated Approach for Catchment Delineation and Conduit-Network Modeling in Karst Aquifers: Application to a Site in the Swiss Tabular Jura, Hydrogeol. J., 23, 1341–1357, https://doi.org/10.1007/s10040-015-1287-5, 2015. a
Mayaud, C., Gabrovšek, F., Blatnik, M., Kogovšek, B., Petrič, M., and Ravbar, N.: Understanding Flooding in Poljes: A Modelling Perspective, J. Hydrol., 575, 874–889, https://doi.org/10.1016/j.jhydrol.2019.04.092, 2019. a, b
Mazzilli, N., Jourde, H., Guinot, V., Bailly-Comte, V., and Fleury, P.: Hydrological Modelling of a Karst Aquifer under Active Groundwater Management Using a Parsimonious Conceptual Model, in: H2Karst, Besançon, France, https://hal.archives-ouvertes.fr/hal-01844603 (last access: 28 July 2021), 2011. a
McGovern, A., Lagerquist, R., John Gagne, D., Jergensen, G. E., Elmore, K. L., Homeyer, C. R., and Smith, T.: Making the Black Box More Transparent: Understanding the Physical Implications of Machine Learning, B. Am. Meteorol. Soc., 100, 2175–2199, https://doi.org/10.1175/BAMS-D-18-0195.1, 2019. a, b
McKinney, W.: Data Structures for Statistical Computing in Python, in: Python in Science Conference, Austin, Texas, 56–61, https://doi.org/10.25080/majora-92bf1922-00a, 2010. a
Müller, J., Park, J., Sahu, R., Varadharajan, C., Arora, B., Faybishenko, B., and Agarwal, D.: Surrogate Optimization of Deep Neural Networks for Groundwater Predictions, J. Global Optim., 81, 203–231, https://doi.org/10.1007/s10898-020-00912-0, 2020. a, b
Muñoz Sabater, J.: ERA5-Land hourly data from 2001 to present, Copernicus Climate Change Service (C3S) Climate Data Store (CDS) [data set], https://doi.org/10.24381/CDS.E2161BAC, 2019. a, b, c, d, e
NASA: GPM – Global Precipitation Measurement, http://www.nasa.gov/mission_pages/GPM/main/index.html (last access: 8 June 2021), 2016. a
Nash, J. E. and Sutcliffe, J. V.: River Flow Forecasting through Conceptual Models Part I – A Discussion of Principles, J. Hydrol., 10, 282–290, https://doi.org/10.1016/0022-1694(70)90255-6, 1970. a
Nogueira, F.: Bayesian Optimization: Open Source Constrained Global Optimization Tool for Python, GitHub, https://github.com/fmfn/BayesianOptimization (last access: 15 April 2020) 2014. a
Pedregosa, F., Varoquaux, G., Gramfort, A., Michel, V., Thirion, B., Grisel, O., Blondel, M., Prettenhofer, P., Weiss, R., Dubourg, V., Vanderplas, J., Passos, A., and Cournapeau, D.: Scikit-Learn: Machine Learning in Python, J. Mach. Learn. Res., 12, 2825–2830, 2011. a
Petrič, M., Kogovšek, J., and Ravbar, N.: Effects of the Vadose Zone on Groundwater Flow and Solute Transport Characteristics in Mountainous Karst Aquifers – the Case of the Javorniki–Snežnik Massif (SW Slovenia), Acta Carsolog., 47, 35–51, https://doi.org/10.3986/ac.v47i1.5144, 2018. a
Petsiuk, V., Das, A., and Saenko, K.: RISE: Randomized Input Sampling for Explanation of Black-box Models, arXiv preprint: 1806.07421 [cs], http://arxiv.org/abs/1806.07421 (last access: 13 November 2021), 2018. a, b
Rajaee, T., Ebrahimi, H., and Nourani, V.: A Review of the Artificial Intelligence Methods in Groundwater Level Modeling, J. Hydrol., 572, 336–351, https://doi.org/10.1016/j.jhydrol.2018.12.037, 2019. a
Seibert, J.: Multi-criteria calibration of a conceptual runoff model using a genetic algorithm, Hydrol. Earth Syst. Sci., 4, 215–224, https://doi.org/10.5194/hess-4-215-2000, 2000. a
Sezen, C., Bezak, N., Bai, Y., and Šraj, M.: Hydrological Modelling of Karst Catchment Using Lumped Conceptual and Data Mining Models, J. Hydrol., 576, 98–110, https://doi.org/10.1016/j.jhydrol.2019.06.036, 2019. a
Sit, M., Demiray, B. Z., Xiang, Z., Ewing, G. J., Sermet, Y., and Demir, I.: A Comprehensive Review of Deep Learning Applications in Hydrology and Water Resources, Water Sci. Technol., 82, 2635–2670, https://doi.org/10.2166/wst.2020.369, 2020. a
SNO KARST: Time Series of Type Hydrology-Hydrogeology in Le Lez (Méditerranée) Basin – MEDYCYSS Observatory – KARST Observatory Network – OZCAR Critical Zone Network Research Infrastructure, SNO KARST [data set], https://doi.org/10.15148/CFD01A5B-B7FD-41AA-8884-84DBDDAC767E, 2021. a, b
Srivastava, N., Hinton, G., Krizhevsky, A., Sutskever, I., and Salakhutdinov, R.: Dropout: A Simple Way to Prevent Neural Networks from Overfitting, J. Mach. Learn. Res., 15, 1929–1958, 2014. a
Stevanović, Z.: Karst Waters in Potable Water Supply: A Global Scale Overview, Environ. Earth Sci., 78, 662, https://doi.org/10.1007/s12665-019-8670-9, 2019. a
The pandas development team: Pandas-Dev/Pandas: Pandas 1.0.3, Zenodo [code], https://doi.org/10.5281/zenodo.3509134, 2020.  a
Thiéry, D. and Bérard, P.: Alimentation en eau de la ville de Montpellier – captage de la source du Lez – études des relations entre la source et son réservoir aquifère, Tech. rep., BRGM No. 83, SNG 167 LRO, BRGM, http://infoterre.brgm.fr/rapports/83-SGN-167-LRO.pdf (last access: 30 June 2021), 1983. a
Van, S. P., Le, H. M., Thanh, D. V., Dang, T. D., Loc, H. H., and Anh, D. T.: Deep Learning Convolutional Neural Network in Rainfall–Runoff Modelling, J. Hydroinform., 22, 541–561, https://doi.org/10.2166/hydro.2020.095, 2020. a, b
van der Walt, S., Colbert, S. C., and Varoquaux, G.: The NumPy Array: A Structure for Efficient Numerical Computation, Comput. Sci. Eng., 13, 22–30, https://doi.org/10.1109/mcse.2011.37, 2011. a
van Rossum, G.: Python Tutorial, https://ir.cwi.nl/pub/5008/05008D.pdf (last access: 4 May 2022), 1995. a
Wunsch, A.: AndreasWunsch/CNN_KarstSpringModeling: v0.1 (v0.1), Zenodo [code], https://doi.org/10.5281/zenodo.5184692, 2021. a
Wunsch, A., Liesch, T., and Broda, S.: Groundwater Level Forecasting with Artificial Neural Networks: A Comparison of Long Short-Term Memory (LSTM), Convolutional Neural Networks (CNNs), and Non-Linear Autoregressive Networks with Exogenous Input (NARX), Hydrol. Earth Syst. Sci., 25, 1671–1687, https://doi.org/10.5194/hess-25-1671-2021, 2021. a, b, c, d, e
Yin, W., Kann, K., Yu, M., and Schütze, H.: Comparative Study of CNN and RNN for Natural Language Processing, arXiv preprint: 1702.01923 [cs], http://arxiv.org/abs/1702.01923 (last access: 29 January 2022), 2017. a
Zeiler, M. D. and Fergus, R.: Visualizing and Understanding Convolutional Networks, in: Computer Vision – ECCV 2014, edited by: Fleet, D., Pajdla, T., Schiele, B., and Tuytelaars, T., Springer International Publishing, Cham, 818–833, ISBN 978-3-319-10590-1, 2014. a, b